Having lived on our food storage for so long, and still having a very reduced income (our income has been cut by over 70%; in 2007 we went 8 months without income; in 2010 we made half of what we did in 2007), we have needed to continue to have something to eat, and to build our pantry at the same time for the inevitable months when we will not be able to afford to go shopping. In 2010, we fed our family AND restocked our pantry for .70 per person per day. In 2011, we ate and stocked out pantry for .40 per person per day.
When you don't go to the store very often, and then you only have $20 to spend, with no idea when you'll have more, it can be troubling to know how best to spend that money to feed your family.
I have learned to take our frugality to a different level. Where I used to feed my family of 8 for $2-$5 for all of us (sometimes including leftovers), I have been unable to afford to do that. I have had to look at continuing to lower our meal prices, so that I can feed my family for .50 or $1 for all of us.
How do you do that? How do you take the cheap meals and make them for less? How do you serve someone a meal for .04?
Pick out your least-expensive meals, and make them for less.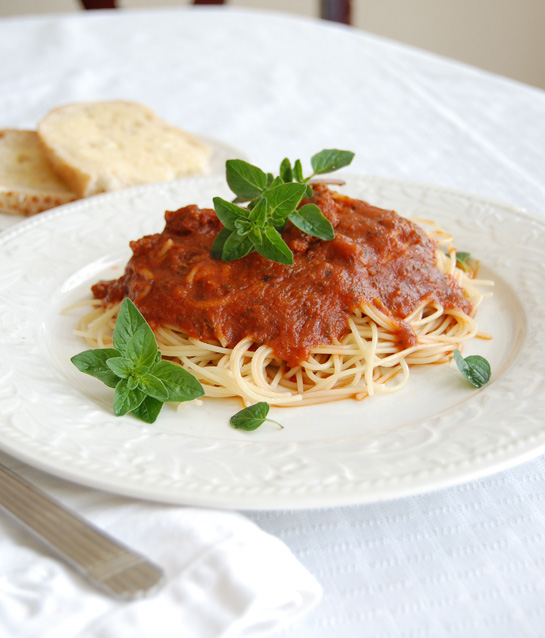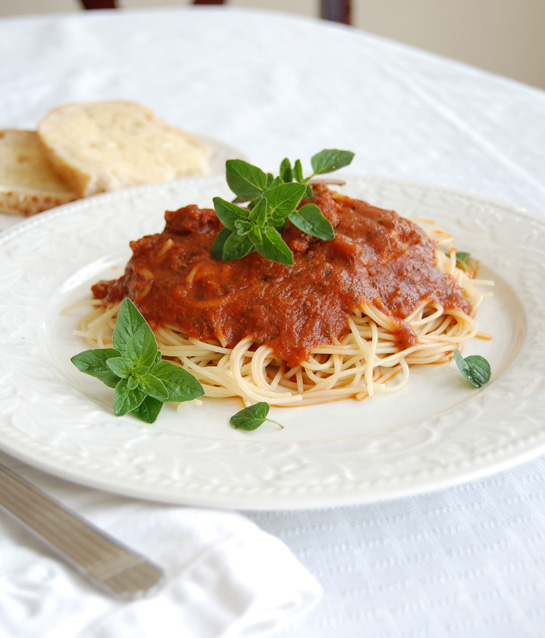 Spaghetti is a pretty inexpensive meal. If you make it without meat, it is even less expensive. If you buy the pasta for $1.00 a box on sale, that is a start, but it isn't the least expensive way to go. My family eats a pound of pasta for dinner now, and my children are still small. I found that I could get a pound of pasta for .87 at Sam's Club, and for a long time, that is what I did. I then found out that one store near me was selling pasta for .50 a pound. In 2010, they had pasta on sale for that price just twice during the year. I was able to get enough pasta to last us quite a while. I bought enough vermicelli to make spaghetti (I prefer it over spaghetti noodles), and I was also able to buy fettucini, 2 sizes of shells, rotini, and penne rigate at that price.
We love spaghetti sauce. We like our noodles to be swimming in sauce. It would take 3 or more jars of prepared sauce to do this. A long time ago, I started making my own sauce, using 2 28 oz. cans of tomato sauce, along with some bulk herbs. I could get the 28 oz. cans for .89 each at Walmart. I had looked around, and this was cheaper than the lowest sales prices at my grocery store. Still, this had become too expensive for us.
One day at Sam's Club, I took my husband with me, and he decided to look at some things I had never noticed before. He saw #10 cans of tomato sauce for under $3. They had pasta sauce as well, right under $5, in the same size can. I knew I could season it for less than $2, and decided to try to make spaghetti sauce in a bigger batch than I previously had. I found that my sauce-loving family could have 3 pounds of spaghetti well-covered from the sauce in that one container (if you like less sauce, it would go even further). My family really loves the taste of a little meat in their sauce, so I found that I could use the tiny amount of meat that I had been using to cover one pound of spaghetti to cover 3 pounds.
By reevaluating the costs of your meals, you can really lower your budget.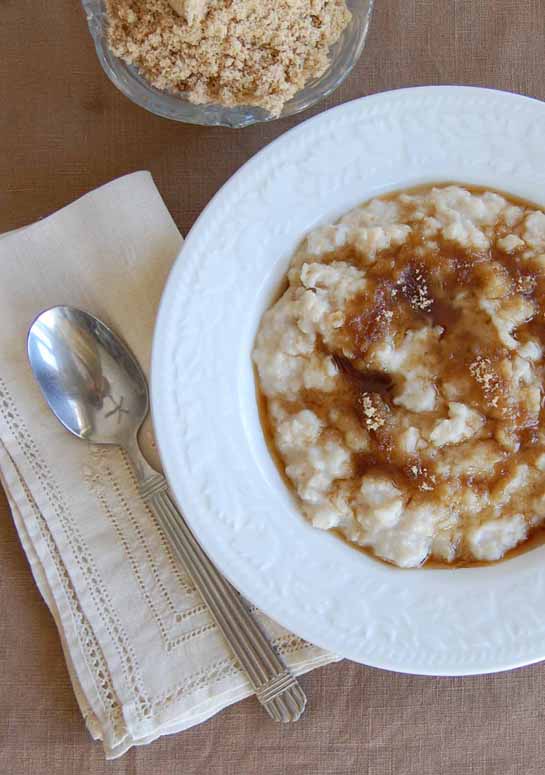 Oatmeal is a staple meal for us. We ate through all of the oats that we had previously stored (we had 135 pounds when we started living on our food storage). I was very worried about how we were going to replace it. I found that the least expensive way to do this was to buy it in bulk bags, and to just use those bags of oats to refill my buckets that I had oats in to begin with. Vacuum sealed, 45 pounds of oats fits in a 6 gallon bucket, but if you are just pouring it in, about 22 pounds of oats will fit in. We go through about 75 pounds of oats a year (I know this now!). We sometimes make oatmeal cookies, and we use oats to make a meatless chicken fried steak on occasion. Our main useage of oats, however, is simply for oatmeal. You can buy rolled oats in 25 or even 50 pound bags. There are several places to buy oats listed on my bulk foods and grains page. If it costs me $39.60 for 75 pounds of oats (prices from May 2011), and we were to just eat it for breakfast, that's .76 of oats a week, or .19 a meal for the approximately 4 meals of oatmeal we eat for breakfast. My husband doesn't eat oatmeal (he usually has potatoes for breakfast), so divide .19 by 7 people, and that's .027 per person for oats. Add a little brown sugar and powdered milk (we add the milk while cooking), and it's still not very much; perhaps .05 per person. (My family uses 4 cups of rolled oats at breakfast). That leaves .65 per person for the rest of that day, to feed us and to fill our pantry.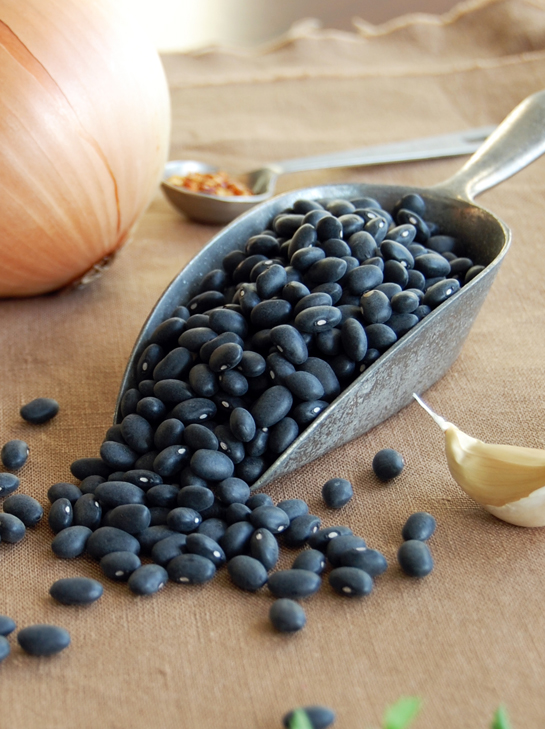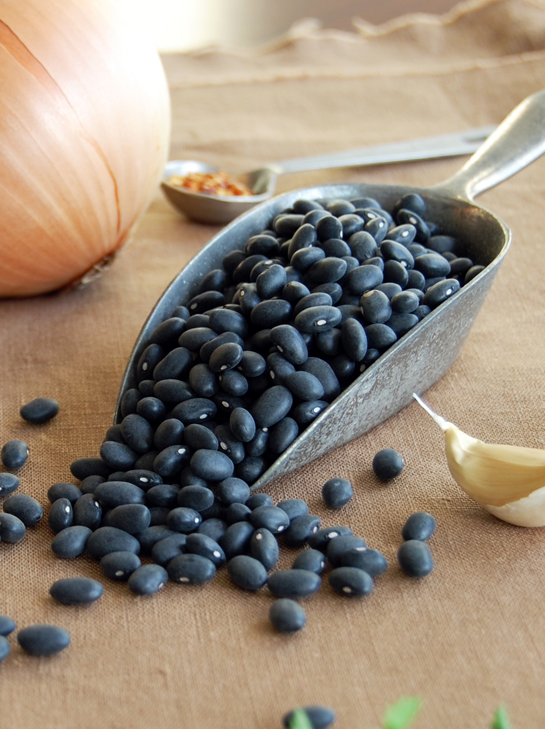 Lunches at our house are usually leftovers, or soup. I make several soups. Many of the soups that I make include beans. While beans are a relatively inexpensive food, they have increased in price to about $1.25/lb. (in the 1-lb. bags). I have sometimes used canned beans to make soups, but that is one of the most expensive ways to eat beans. To have the convinence of cooked beans, I cook up large batches of beans at a time and freeze them in smaller sizes (if you have a pressure canner, you can also can beans at home). I have switched to buying beans in 25 lb bags. They are about .68 a pound when bought that way.
We also eat bean and rice burritos once or twice a week. Long-grain white rice is the least expensive food to purchase. We buy our rice in 50lbs bags. We go through a 50 lb bag in about a year.
We usually have bread with our soup. I buy flour, yeast, and salt in bulk from Sam's Club. I can make a loaf of French bread for .25.
Dinner at our house is often meatless. We make several meals without meat. In the summer I make stir fry with lots of vegetables instead of meat (I'll use Swiss chard and peppers from the garden, along with sprouted mung beans and lentils from the pantry, and some carrots I bought for .39 a pound at Sam's Club). In the fall and winter, we have baked potatoes for dinner. In the spring, we have salad with French bread or Rosemary Olive Oil bread. We often have soup and bread.
That doesn't mean that we go without eating meat. We have changed the meat that we eat, however. As meat prices have continued to rise, it is harder to find meat under $2 a pound. Still, there is meat under that price. Most of it is turkey and ham, and the lowest prices occur in November and December. This means that when turkeys are on sale for $7 or $8 in November (.39/lb), I will get as many as I can. When I only had the freezer above my refrigerator, I would get 7 turkeys in November. I would cook 4 during November. We would eat one, and freeze the cooked meat from the other 3 to use in any dishes that call for chicken, such as enchiladas, chicken curry, and chicken caccitore. The other 3 turkeys would stay in my freezer for a few more months. Now that we have a separate freezer, I get more turkeys (my goal is to have 1 for each month). Turkeys at this price usually require a minimum $25 purchase. We will get most of the $25 purchase in potatoes (they're on sale at .20 a pound then). We also are friends with some older couples who don't need a turkey (but will certainly be spending at least $25 a shopping trip) who would be happy to pick up one or two turkeys (depending on the store limit) for us.
Hams are on sale in December for around .77 a pound, and they don't usually require a minimum purchase at all of the stores (though some stores do). Again, limits are 1-2 hams. We'll have ham one night, have ham and eggs another day, have ham sandwiches a few times, etc. We freeze the cooked ham that we won't eat in the first 1-2 days, so that we can use it later. We also freeze the ham bone when we're done, so that we can save it to add flavor to bean soups and baked beans.
When we do eat meat, we eat it sparingly.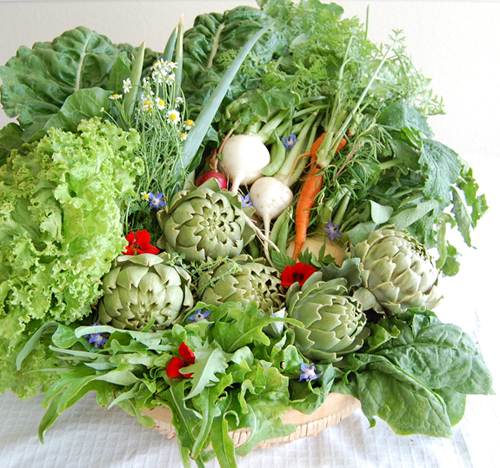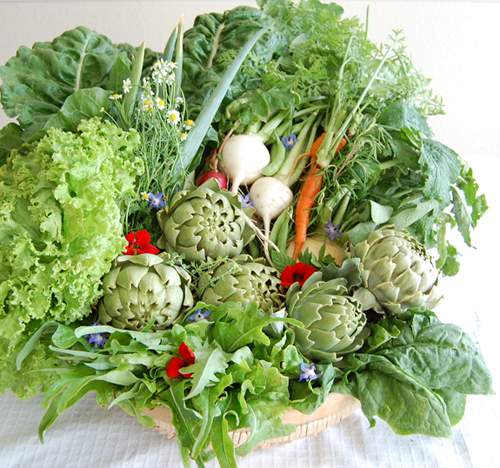 There are a couple of different strategies to having a lot of fruits and vegetables. We love to have lots of fruits and vegetables, whether it's a fruit salad at breakfast, grapes and peaches for a snack, salad, smoothies, a side of vegetables, a vegetable tray for snacks, etc. It may seem impossible to have fruits and vegetables in your budget. We do several things:
Buy fruits and vegetables in season. When they are at their lowest prices and taste the best, they are in season. This means grapes, peaches, nectarines, plums, zucchini, peppers, green beans, and tomatoes in summer. It means apples, potatoes, and hard winter squash in the fall. It means oranges, clementines, lemons and limes in the winter. Spring is peas, lettuce, and broccoli.
When it's in season, buy more. Buy more broccoli to blanch and freeze to use when it's not in season. Buy several hundred pounds of peaches and pears in August and can them. (If you are getting them from the grocery store, go the first day of the sale and ask the produce manager to order as many boxes as you want to can. They will order them for you and they will come with the next delivery). You'll be buying peaches at the peak of ripeness, when the juice comes dripping down your arm and the flavor is amazing—and you'll be able to eat them at that price all year long. Home-canned peaches are so much tastier than store-canned peaches, and much less money. One year the cashier told me that I had saved over $1000 on my receipt that day, since I was buying the peaches on sale.
Buy the least expensive choice more often. You still need some variety in your diet, of course, but when you have apples and oranges, and one is $1.49 a pound and the other is $.89 a pound, buy lots of the one that is .89 a pound. Your family will still get fruit, and you'll have a lot more to feed them. If you watch the sales carefully, you may even find a week when oranges are 6 lbs for .98, and apples are .50 a pound. When they are .50 a pound, I make applesauce.
Potatoes are the cheapest produce around. We love to eat potatoes, and they're the second cheapest food (after rice). We eat around 800 pounds of potatoes a year. You can read more about all the ways that we eat potatoes here.
Grow your own. We don't have a huge yard, but we make use of what we have. All of our trees are fruit trees. Our walls are covered in grape vines, espaliered fruit trees, and blackberry bushes. We eat in season when things are ripe. A packet of lettuce costs me $4, and it has 750 seeds in it. Lettuce at the store is $1.49/head, and we'll eat a whole head or more of loose leaf lettuce for dinner. We don't eat lettuce in the summer, because we have hot summers, and lettuce doesn't grow then. We eat lettuce in the spring and fall, and sometimes in the winter as well.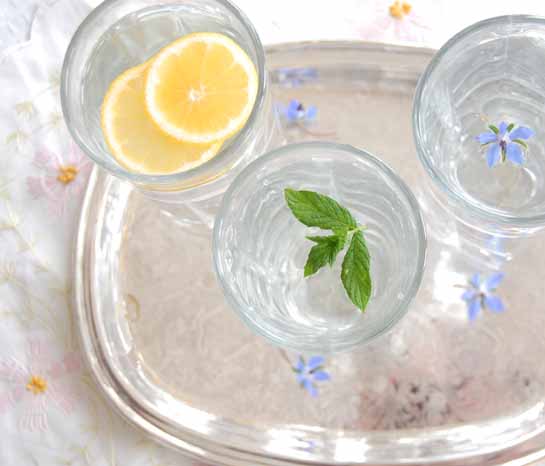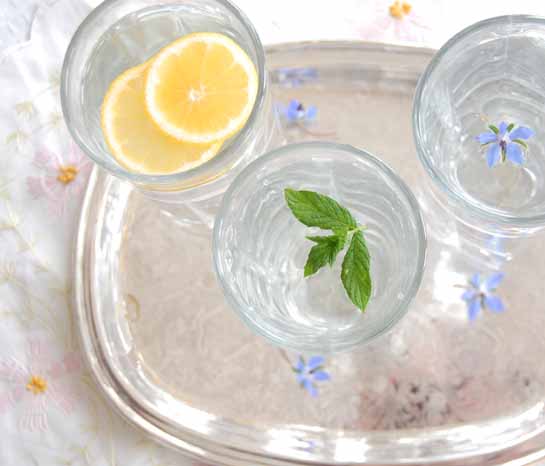 Lastly, drinks. The simplest solution to reducing the cost of drinks is to drink water. We like our water to be cold, so we fill containers in the fridge with water. This keeps us from running the tap to wait for cold water (it never gets cold in the summer where we live) and also helps to get rid of the chlorine taste, because as the water sits, that taste dissipates.
If you want to make your water a little fancier, you can float mint springs, cucumber slices, citrus slices, or edible flowers in your water.
Here are some more posts I've written on eating for less:
Doing Without: What I Don't Buy