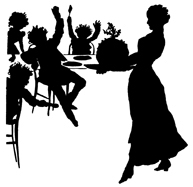 Our Family's Experience
And How I Came to Have the Pantry That I Do
This is a story that I wrote originally as a guest post on February 25th, 2009 here.
My friend Donna wrote to me and told me that she had several people ask her how I stocked my "walk-in pantry" like I did.
First of all, I'd like to explain that I certainly didn't always have this nifty, air-conditioned, insulated pantry in my garage.
However, this is the second one I've had.
I'll explain.
This is the second house that we have owned. In our first house, we had a pantry with a door in the kitchen. It had a lot of wasted space in between shelves. When I first started working on filling it, my husband realized that the shelves weren't going to hold the weight of all those cans of refried beans I had bought on sale for 33 cents a can (those beans were my first big purchase; I bought about 6 cases of them when they went on sale for that price! I knew it would be a lot of cheap meals of burritos).
So, my sweet husband decided he would figure out how to use the space better. First, he took out the existing shelves and replaced them with the same kind of shelves that just happened to be 2 inches deeper. These came right to the inside door frame. He put them closer together, and I figured out what would go on each shelf. I planned a couple of short shelves for cans, where I would stack cans of beans no more than 3 high.
Then, he used 2 of the original shelves (that weren't as deep) up high in the cabinet. There was all this wasted space above the door, but I had to be able to reach it. Up there went things like big tall boxes of cereal—skinny, lightweight items. In between I also put boxes of Rice a Roni bought on sale, and on the bottom on the floor I kept large containers of oil. I had one shelf for baking goods as well—flour, baking powder, etc.
As I kept buying good sales, though, we realized this space wasn't big enough to enable us to really stock up. On the back side of my pantry was a coat closet the same size as my pantry. I live in Las Vegas, and most of the year, I don't need a coat. I moved the coats to the bedroom closets. My husband put in extra shelves in this closet as well, but not quite as far in; I still needed to keep the vacuum in there. I started keeping canned soups and more cereal in that closet.
Somewhere along the way, I got a Sam's Club card. When I saw the price of pasta, I bought lots of pasta. I got an under the bed box and put it under my bed and filled it with pasta.
Then I started buying rice at Sam's Club, in the big 50lb bags. The price was so much better than the price at the grocery store that I thought we could save a lot of money. I put the bags of rice up high in my bedroom closet.
During this time, my husband had built an office in half of our garage. He put a window a/c unit in one wall, and he worked in there. Eventually he was able to move to a large location, and I suddenly had an empty room with an a/c unit in it.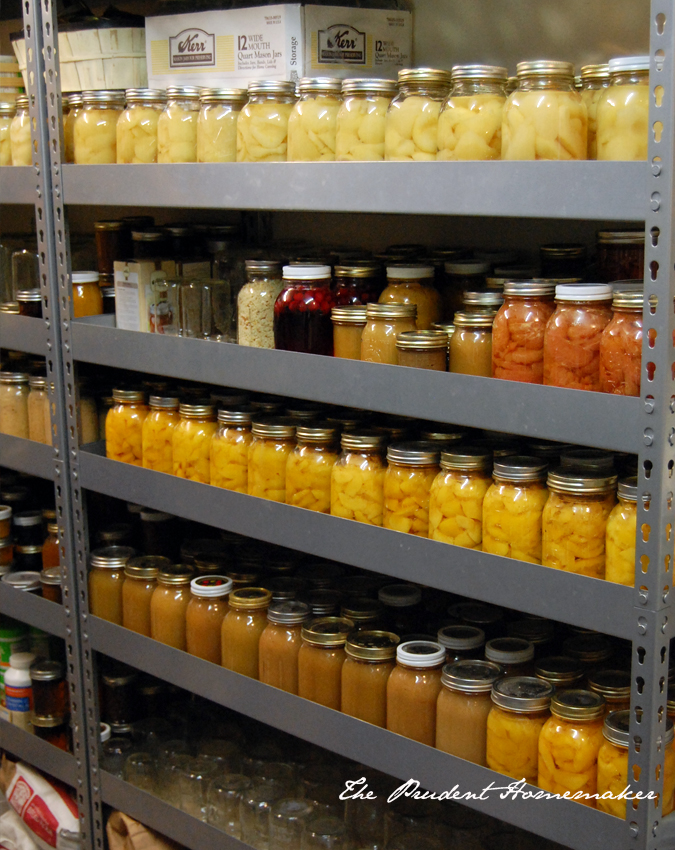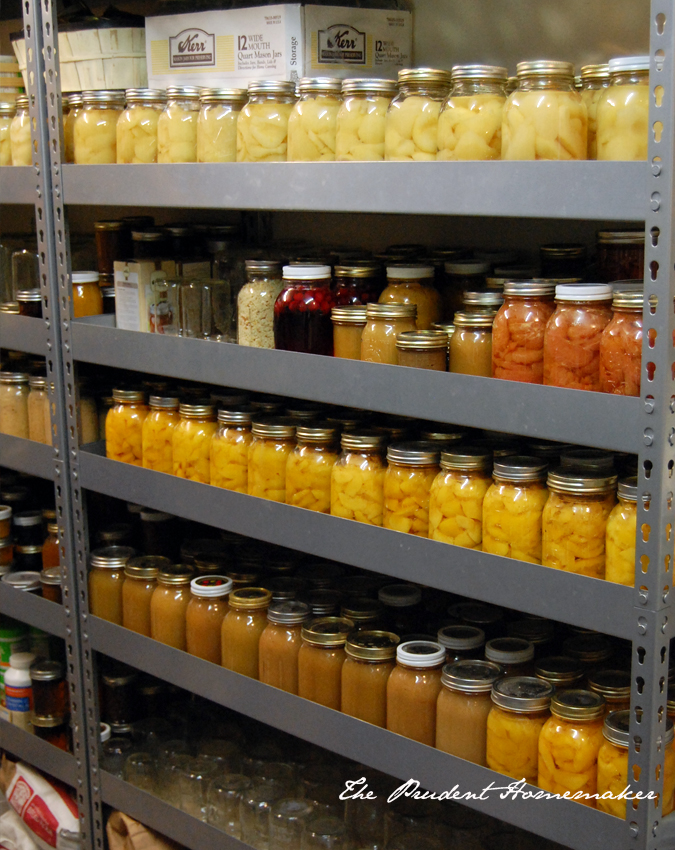 At that point, we bought shelves. We tried a couple of kinds, but in the end what worked the best for us were called Gorilla shelves. They are the metal shelves you see in the pictures of my pantry. They can hold the weight of as many cans as I want to put on them without bending.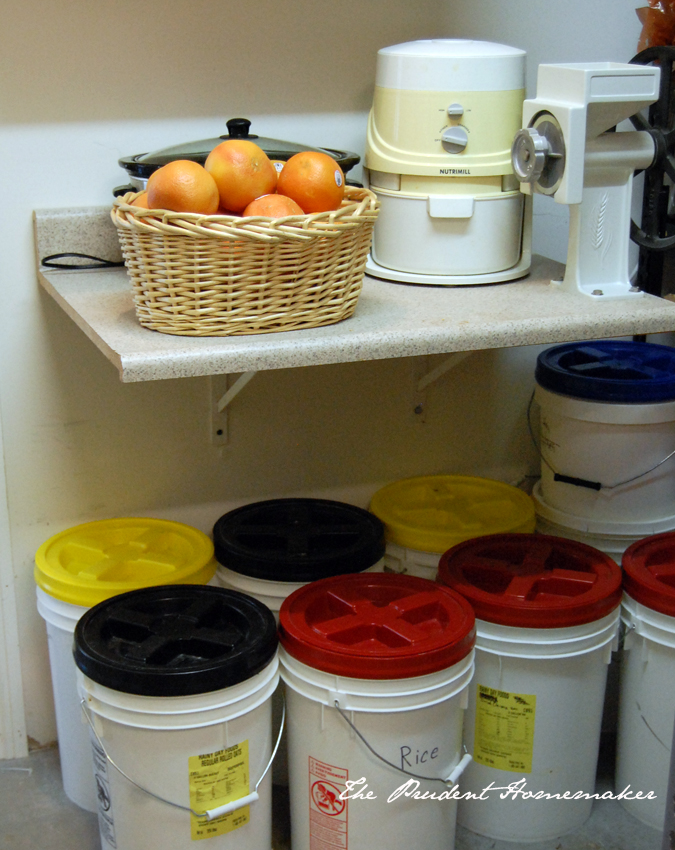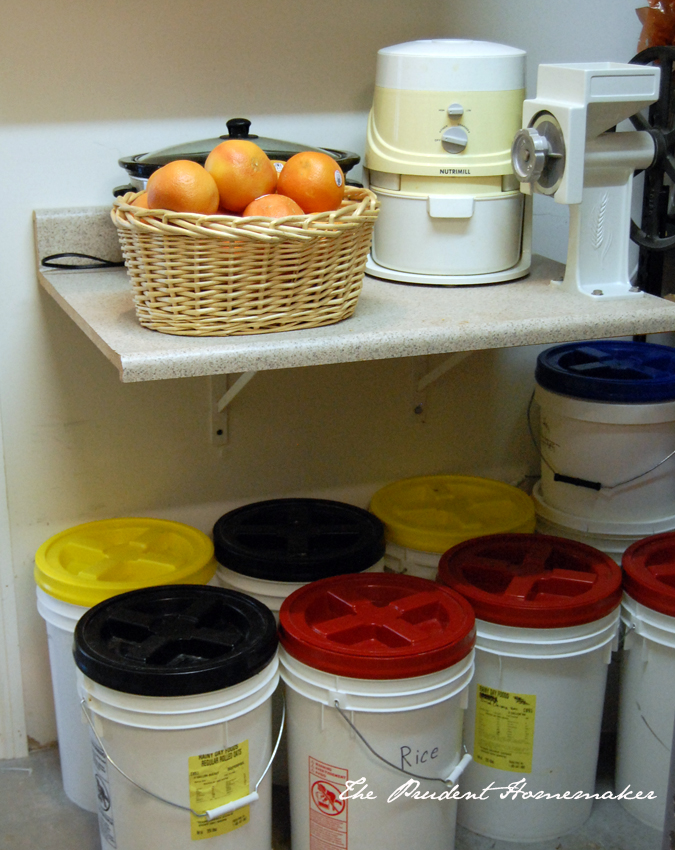 At that point, I started really stocking up whenever we were able to, and I worked on getting a year's supply for us. I placed my first order with Walton Feed; it was my first time buying wheat. I ordered with a group of people in order to get a discount on shipping. I bought a wheat grinder soon after that (from Pleasant Hill Grain).
Why does having all this food matter, anyway?
Because for the last two years, that's what we've been eating.
You see, my husband works in Real Estate. Like any sales job, we only make money when we have sales. Sometimes, we have enough sales to cover everything, and sometimes we don't. For the last couple of years, as the housing market has been on a sharp decline in Las Vegas, my husband has watched his salary drop in half. This does not leave me enough to buy food most of the time. I always knew this was a possibility, as we often needed to rely on what we had on the shelves, depending on the paycheck, but I never dreamed it would be a constant for more than two years.
Before his sales started dropping, we had moved into a bigger house to accommodate our growing family. This house had a three car garage. We built a room in the one-car garage for a pantry, since we had liked it so much before. We turned our pantry into a mud room, and I filled the coat closet with extra shelves and put my sewing fabric in it.
I stocked up at our big case lot sale before we moved in, and shortly after that, I placed a second order with Walton Feed to get our pantry filled up. I filled in the missing basics—oats, powdered milk, more wheat, and things like dried celery and carrots, pearled barley and powdered eggs.
It's funny how things work out. No sooner did I do all that and move into my new house did real estate start its decline. It went rolling forth at a rapid pace, with houses dropping $10,000 a month (and they still are, 2 years later) in value.
And suddenly, our income stopped, just like that. It continued for months.
I was so grateful for that food! I started learning how to do things I hadn't done much before. I started really working on making bread, because if I didn't bake it, we didn't have it.
We ran out of Rice a Roni and cold cereal. I started cooking breakfasts and figured out how to make my own rice mixes. I learned how to make yogurt from powdered milk.
I prayed that we would not lose our house, and that we would be able to buy some more food at the case lot sale in the fall (they have them twice a year here).
Our families were kind. My parents went on vacation and left us the food in their freezer. My in-laws gave us some money to get peaches and pears to can, as we had eaten ours. Those two fruits, along with some canned mandarin oranges, were our only fruits for most of that year. (Pears were on sale that year for .25 a pound. I canned a year's worth of pears, including sugar and lids, for $65. $10 of it was the 25lbs of sugar I used).
God was good to us. We had a sale just in time to not lose our home, and there was enough that I felt that I could buy some things at the case lot sale. I bought canned pineapple, green beans, corn, mandarin oranges, and flour. I had no idea when I would be able to buy food again.
Christmas came, and through the kindness of others we were given some gift cards to local stores. I got diapers (I had finally run out after months, and I had three in diapers during that year), cheese, eggs, oil (we ran out of oil), and some apples. It's been over a year and I still remember what I bought! We used a gift card to a grocery store to get some meat when it went on sale in January.
Lots of other things happened during that first year living on our food storage. I became pregnant. My daughter broke her arm.
My husband sold his motorcycle (our only other vehicle besides our car) to help pay the mortgage one month. We planted a garden and not much grew. My sweet midwife (who had delivered my previous four children) delivered my fifth child out of the kindness of her heart.
We have had more sales since then, and for a few months last year I was able to really stock up on some things. I didn't buy just whatever I felt like, though. I bought oil (again), flour, sugar, and canning lids. I bought cheese, margarine, potatoes, sour cream and eggs. I planted a garden again, and prayed over it. This time, we had much more to eat from our garden, and we rejoiced in having fresh food from our garden.
Things were still tight. My in-laws, my grandmother, and my parents brought us some things occasionally. They also helped us to get peaches and pears for canning. I couldn't afford the case lot sales, but my mother bought us a case of corn and a case of mandarin oranges.
November came and we were blessed to be able to stock up again—I bought 200 lbs of potatoes at .26 a pound, and I got turkeys for .33 a pound. I was able to get a few other things as well.
During the last two years, we have also been able to eat thanks to the kindness of others. We were given apples on more than one occasion. Friends from far and near shared with us. People who were moving gave us canned goods and foods from their freezers that they didn't want to move. Many blessings came to us from others that helped us in other ways as well. The Lord let us know that He was taking care of us, and showed us how we are always in His debt.
I have run out of things. I ran out of toothpaste a few times. Somehow a gift card made its way to us, and I was able to get some more toothpaste. I had a good amount of other toiletries saved up already. If there was a sale, I would buy as many as I could afford. I stacked them under bathroom sinks in rows like at the store. I have not couponed much, but I am seeing that there are coupons for soaps and shampoos and lotions that I use, so I am using those to stock up on those things that are low if a chance to shop comes along. I am still using lotions I bought 3 years ago; I am so thankful for them!
Do I try to continuously stock up? Yes, and my own opinion is that everyone should. I think some hard times are coming quickly for our country, and I wish I could convince everyone to stock up. I can't continuously stock up now, but I'm glad I did before because it meant that I have food now. If you are able, though, you can decide to buy a certain amount of food each shopping trip to store. If $5 a week is all that is all you can spare, spend $5 a week. Buy sugar or flour or oil that week. If canned goods are on sale, buy more of those. If you start only buying things when they are at the lowest sales price and stock up, pretty soon you will only have to buy when things are at their lowest prices, and it will give you more money to buy more food. Everyone has a different grocery budget, so how much you spend on stocking up each month will depend on your budget. I would encourage you to stock up on the basics. Don't worry about getting fruit-roll ups on sale and with a coupon for 37 cents. Spend your 37 cents on something of substance: buy salt, flour, oil, rice, oats, pasta, sugar. (By the way, if you have a Sam's Club card, you can buy 4 lbs of salt for 87 cents; it is 50 cents for a little over 1 lb at Walmart. Please look around and make up a price book so that your money will buy you as much food as possible).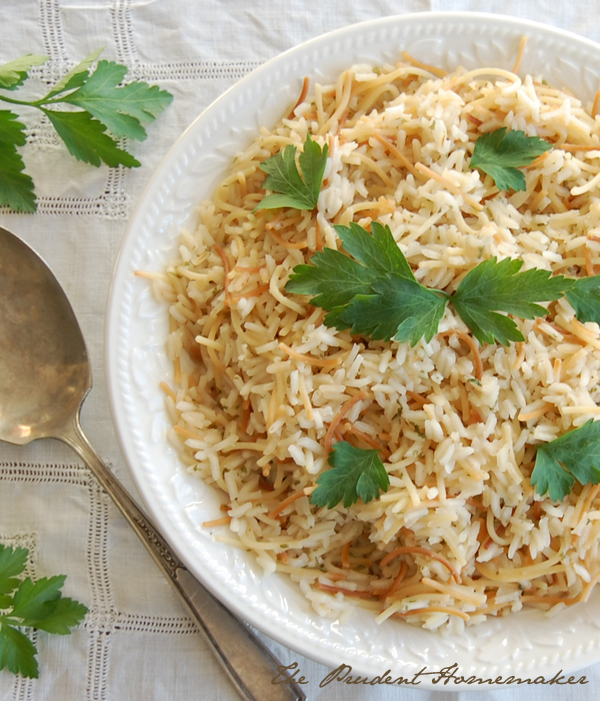 It's important to store the basics. I'll never go back to buying cold cereal. It's not worth having my children hungry again before I've even had a chance to finish the breakfast dishes! Another thing I'll never do is think that the 10 for $10 sales on Rice a Roni are a good deal. In order to feed my family, I need 3 boxes. At $1 each, that's $3, just for the side dish! Making my own from rice bought in bulk helps me to keep our costs down much more; most of our family meals are $5 or less for the entire meal.
Because we have run out of some things, if I get a chance to spend $20 on food, I spend it very carefully.
One thing I buy is potatoes. Per pound, potatoes are cheaper than anything else—cheaper than beans, flour, meat, etc. If I watch carefully, I can get potatoes on sale as well. I want my money to go as far as possible.
Another thing we have done is restock the basics. If I know I can go to the store, I don't buy bread and milk, even though I might like to. I buy oil, because I don't know when I'll get to go to the store again, and I don't want to run out before that time. We currently use about 1 gallon of oil a month, because of all the baking and other cooking that I do. I usually make French Bread, which doesn't call for any oil, but if your bread uses oil, you might need more oil in your storage.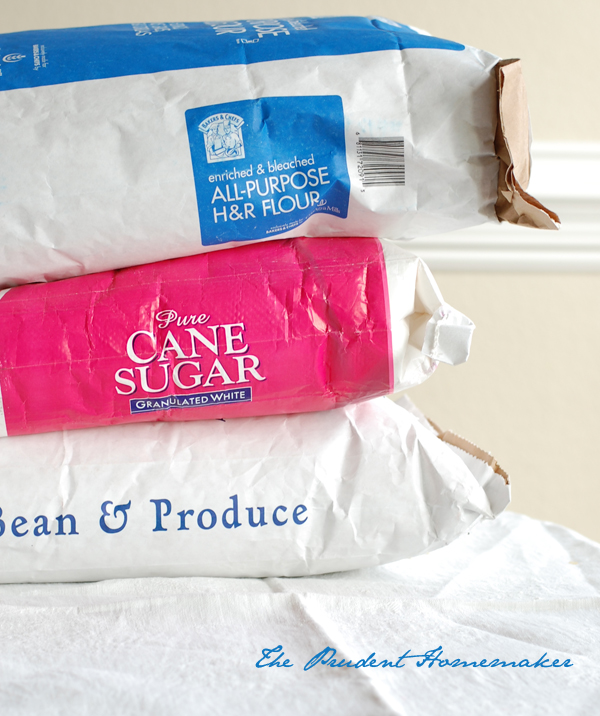 What are the basics? Wheat, flour, oil, sugar, honey, salt, yeast, oats, rice, beans, pasta, and fruits and vegetables. And chocolate. These things will keep you alive, and most of them can be stored for a long time. What was that about chocolate? Oh, yes, let me explain: you can never have too much chocolate in your food storage. Cocoa powder, dark chocolate, white chocolate, chocolate chips of all varieties . . . .
No matter what you are storing, it needs to stay cool. Constantly fluctuating temperatures are not good for food. The cooler it is, the longer it will last. White flour will last 1-2 years (whole wheat flour is not as long; about a couple of months) before it goes rancid. Oil is fine if you keep it cool for a couple of years. Here is a chart for the storage life of some items.
Self-rising flour won't last as long; anything that has shortening (like muffin mixes or Bisquick) and baking powder and soda doesn't last as long. I just read that baking powder and soda can go rancid in 6 months, but mine went rancid recently and I had it a couple of years; it didn't leaven as well, though, when it was older. I got some new baking powder and there was a big difference in the height of my biscuits.
White sugar will last 30 years or more. While you put oxygen packets in with other things for long-term storage, do NOT put them in sugar; your sugar will be rock hard if you do.
Brown sugar is made of molasses and white sugar. You can store both of those and make your own brown sugar if you want, but it is cheaper to buy brown sugar than molasses. You can store brown sugar in an airtight container with a little terra cotta piece inside. Someone gave me one; it's a little piece of terra cotta shaped like a bear (About $3.50). I think you could use a regular tiny terra cotta saucer for lots less (about $0.35). You soak it in hot water for about 30-60 minutes. Then you bury it in your container of sugar. It will soften hard brown sugar, and it will keep your other brown sugar soft. I am so glad to have one of these; it is wonderful. I keep about 6 pounds in a plastic container at a time like this; the others I keep in bags and add to the container as it gets low. You have to soak the terra cotta in water about once a month for it to keep being effective.
How much do you need?
If you use a food storage calculator, it will give you minimal amounts to keep your family alive for a year. For regular eating, you will need more than that–about three times as much, I've found out (especially three times the oil).
What do you store grains in?
I have mine in storage buckets (shown above). There are places listed there that sell grains and food-grade buckets.
I ordered my grains in the buckets (I spent a bit more and ordered mine in mylar bags in the buckets) from Walton Feed. I got old-fashioned oats, hard red wheat, hard white wheat, powdered milk, etc in the 6 gallon buckets. I also ordered dried carrots, celery, and pearled barley. I ordered extra buckets and Gamma Seal lids, and a tool–a bucket opener. I also got water barrels for emergency water storage. The bucket opener will open the water barrels too.
You can also store food in #10 cans, though if you live in a real humid area, the buckets will last longer.
If you need more space, 16 buckets will fit under a twin bed. You can replace the box frame under the mattress with buckets if you want, and just cover it with a bed skirt.
Why is wheat so important?
Stored properly, wheat can last 30 years. If you have wheat, you can make a total meal out of it–whole wheat buns, with a gluten patty (made from wheat) and wheat sprouts on it.
Some people are concerned about healthy food versus frugality. Is it possible to have both?
Yes, it is. And no, it isn't. It depends on your budget. But there are some things you can do.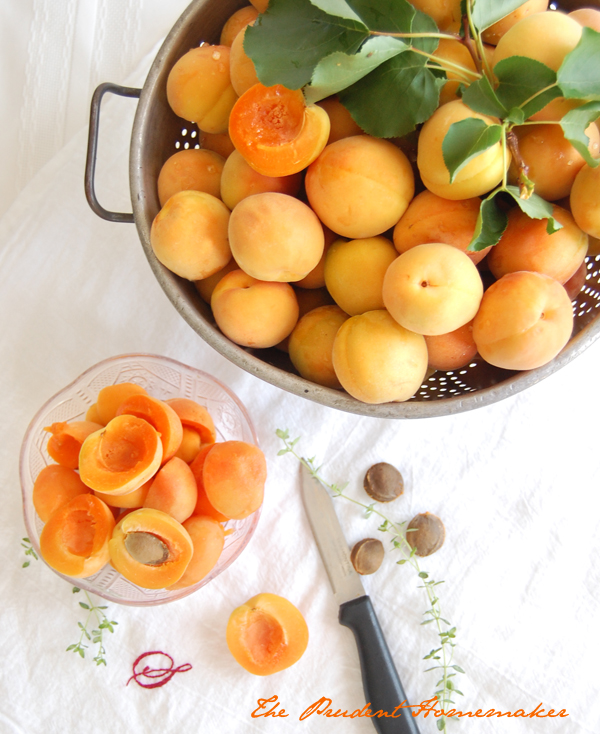 If you want organic food for cheap, grow your own and learn about organic gardening. You can still use organic sprays and fertilizers.
There may come a point, though, where it's more important to have something to eat than if it's the healthiest food.
That said, though–you can store wheat berries and grind your own wheat. You can also store white flour if you like white bread (I do!) and if you don't have the money for a wheat grinder, this is the cheapest way to get started with food storage. Look at the stores for the big bags of flour (and rice) and buy those giant bags. You will want to get some buckets to store it in to keep the rodents and bugs out. Don't store your buckets on the floor; get them up a little off the floor to keep it dry underneath.
You don't need to store sugar cereal or Poptarts. You can store oats and wheat (and/or flour) instead.
Your pasta can be whole wheat. Be aware that whole wheat pasta does not have a shelf life as long as white pasta.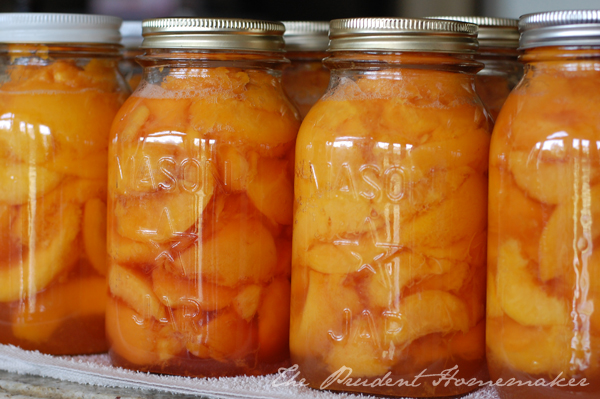 Canning your own fruits and vegetables ensures that you know what goes into them. If you can grow your own, it's even better financially.
I canned pears for a week to get the pears that you see in my pantry. I stayed up late that week canning, too. It would be different if I had children big enough to help, but right now I assign them to play with the little ones while I can. (Canning time is our school break. We don't have spring break; we have a break in the fall while I can). We will eat those two shelves of pears in a year; it is 7 boxes of pears from the grocery store. I bought them on sale at .50 a pound (the year before they were .25 a pound). I went to the produce manager (who ended up asking the store manager) to order me 7 boxes the first day of the sale. They came in on Friday morning. I don't can on Sundays. I started canning Monday morning and canned all week. The last day of canning, when the fruit is getting mushy, I make baby food and pear sauce (same thing). You can do the same thing with peaches and apples, etc. It took more than 25 pounds of sugar to can those pears. Please put lots of sugar in your storage. It is possible to can without sugar, but it is so much tastier with sugar.
What do I do? I store wheat and have a wheat grinder, and I store white flour as well. I don't buy fruits and vegetables from the store; I grow as much as I can in my garden and buy the rest as frugally as possible.
Donna asked me how many fridges and freezers I have. Right now, I just have a fridge/freezer combo in my kitchen. That's it. I used to have a second fridge/freezer in my garage, but it died. A second fridge/freezer is really helpful for a large family. When whole chickens go on sale for 59 cents a pound, you can stock up (same with other meats). If you don't have a second one, don't despair! Do learn to can, however, so that you can put food aside that you've grown and bought on sale at prices that are only that low once a year. (Update: I was able to procure a second freezer a couple of years after this was written).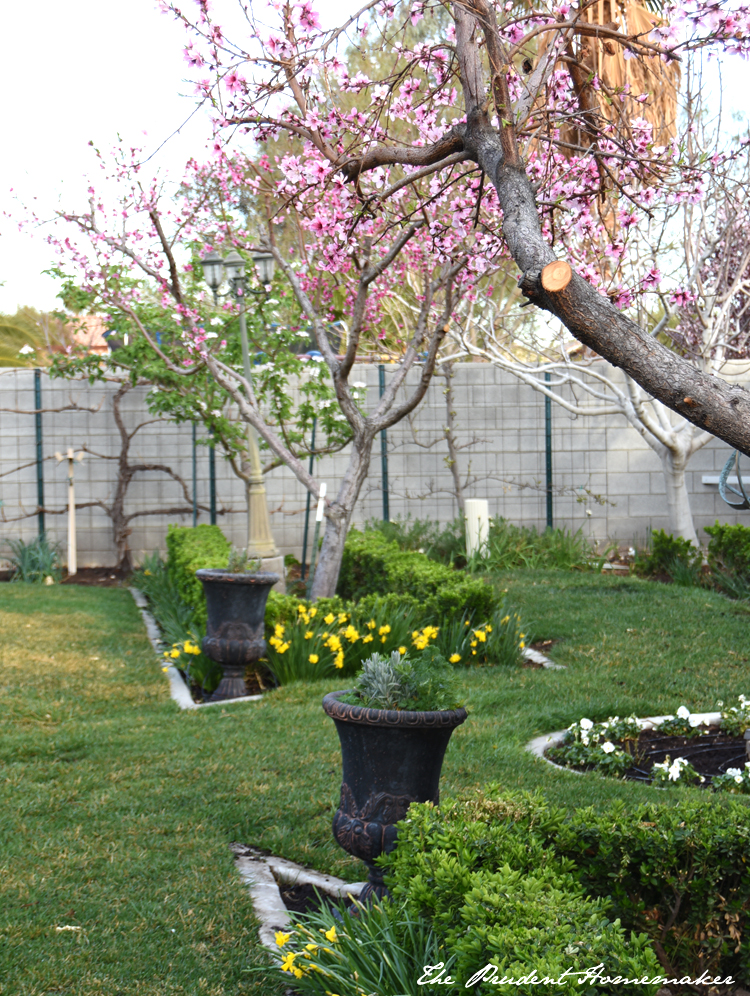 The most important thing you can do to ensure food for your family is to plant as much as possible in your own yard. Put fruit trees in your yard–as many as you can fit. Buy semi-dwarf varieties so that you have different kinds of fruit ripening at different times of the year. Learn what grows where you live and be diligent this year in getting your garden in. Do not delay. You will be thankful for it.
Yesterday (February 24th) I ate lettuce and green onions from my garden. For $1, you can buy a packet of lettuce seeds that will give you many heads of lettuce—less than one head of lettuce will cost you at the grocery store.
That's how I've stocked my pantry and put food on our table. And God is so good; look at all that He has given us!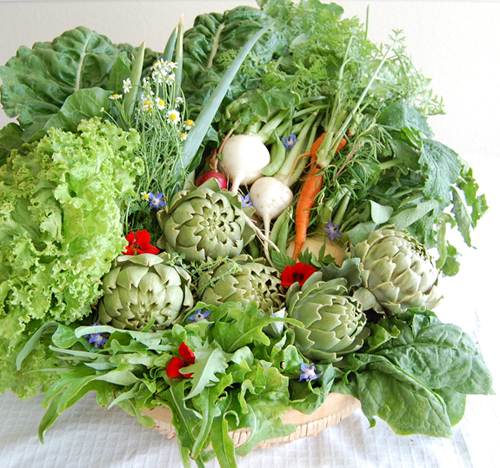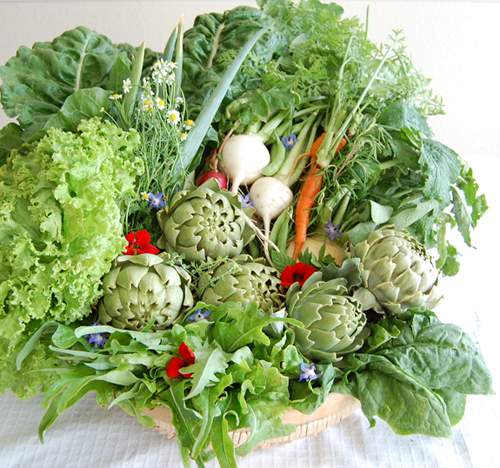 May 2009 Harvest