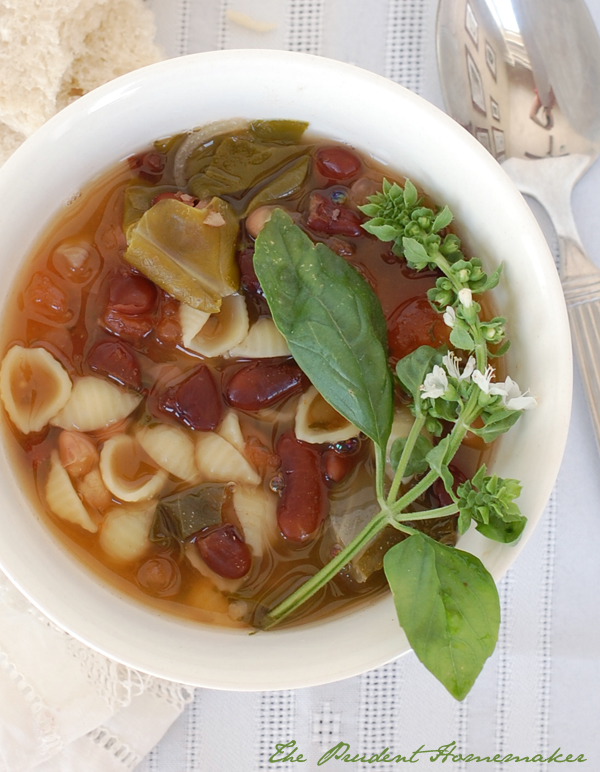 This is my children's favorite soup. This soup is on the menu for lunch almost every week.
2 cups cooked kidney beans
2 cups cooked cannellini beans (you can substitute cooked great northern beans or navy beans)
1 28 oz. can diced tomatoes, including liquid, or 1 quart tomatoes
2 Tbsp chicken bouillon powder
1 Tbsp dried basil, or 3 tbsp fresh chopped basil
2 tsp dried parsley
1 tsp dried oregano
1/2 tsp dried granulated garlic or 2 minced garlic cloves
2 Tbsp dried onions or 3 green onions, chopped small
1-2 cups Swiss chard, chopped small, or other greens, such as kale, collard, or grape leaves (optional)
8 cups water
1 cup shell pasta
Dump all ingredients into a pan and cook until hot and noodles are cooked through.
Summer version: Add 1 cup diced zucchini to cook with all ingredients except beans, until the zucchini is soft and opaque. Add the beans. Cook until hot.
Winter version: Add diced potatoes in with all ingredients except beans. You can dice canned potatoes and add them in any time, or use dried hash brown potatoes and add them in at the beginning with extra water. Wait to add the beans until after the potatoes are soft.

Notes: I buy Knorr chicken bullion powder in a 2.2 pound container from Sam's Club.
I buy my beans in bulk.
I grow Swisss chard and green onions year-round in my garden.
I buy potatoes on sale in November for .10 to .15 a pound and use them throughout the winter.