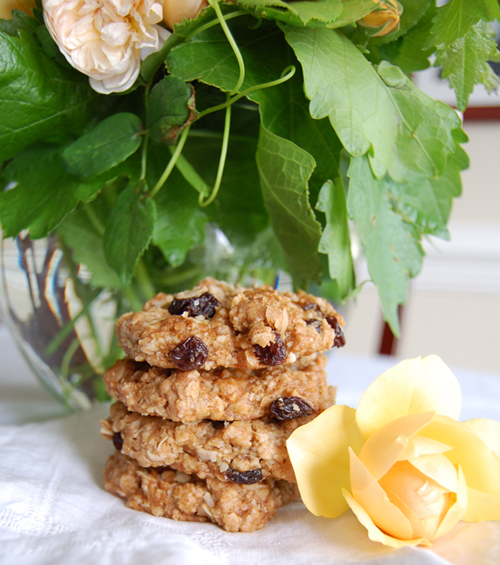 2 1/2 cups (5 sticks) unsalted butter, softened
1 ½ cups firmly packed brown sugar
2 eggs (or 2 Tbsp powdered egg plus 4 Tbsp water)
1 tsp salt (omit if using salted butter)
6 cups old-fashioned or quick oats
Place raisins in a small saucepan and cover with a small amount of water. Simmer for a couple of minutes until raisins have absorbed most of the water. This will keep the raisins moist as they bake in the oven. Drain any excess water. Set aside to cool.
In a large bowl, cream butter and sugars. Add eggs and vanilla; beat well. Add all dry ingredients except oats; mix well. Add oats and raisins and mix by hand.
Let dough cool in refrigerator about 30 minutes. Preheat oven to 375º.
After dough has chilled, make cookies by dropping dough by rounded tablespoonfuls onto ungreased cookie sheets.
Bake cookies 8-9 minutes. Cool on cookie sheets for one minute, then move to a wire rack to finish cooling.

Notes: To make these for even less, buy the oats, brown sugar, sugar, vanilla, raisins, and spices in bulk. The best prices I've found locally for most of these items (plus the butter) is Sam's Club, except for the oats. I buy oats in a 25 pound bag from Winco for under $15.