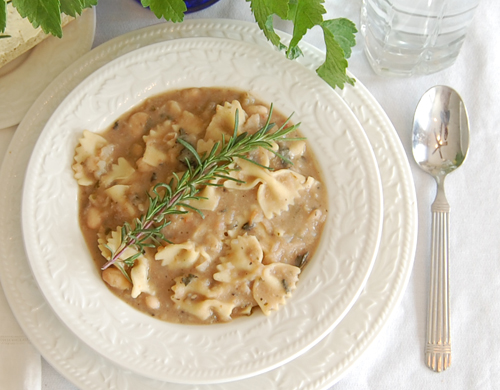 Serves 8-10
1 lb. dried great northern beans (3 cups)
2 Tbsp unsalted butter
2 ribs celery, diced, or ¼ cup dried celery plus ¼ cup water
2 medium onions, peeled diced, or 4 Tbsp dried onion, reconstitued
4 cloves garlic, diced, or 1 tsp dried garlic
2 medium potatoes, diced (or use 2 cups dried hash browns, diced or sliced potatoes, soaked in water to rehydrate)
1 14.5 oz can diced tomatoes, drained (or 1 1/4 cups chopped tomatoes)
1/4 tsp black pepper
3 1/2 cups water
2 Tbsp plus 1 tsp chicken bullion
4 tablespoons finely chopped rosemary, or 2 tsp dried
1/4 cup packed fresh basil leaves, chopped, or 1 ½ Tbsp dried basil
1/4 cup fresh packed parsley leaves, chopped, or 1 ½ Tbsp dried parsley
5 large fresh sage leaves, chopped, or 2 tsp dried sage
16 ounces farfalle (bow-tie) pasta
2 tsp salt
Place beans in a large stockpot or pressure cooker, cover with cold water, and let soak overnight. Drain beans. Cook beans in 10 cups fresh water in the same pot (a pressure cooker or a large pot). Cook until tender. Using a large slotted spoon, remove 1/3 of the beans into a bowl and set aside. Leave all extra water in the pot.
In a medium saucepan, melt the butter over medium-low heat. Add celery, onion, and garlic; saute until they are translucent and starting to brown. Add rosemary, chicken bullion powder, potatoes, tomatoes, pepper, parsley, sage and 3 1/2 cups water. Cook until potatoes are tender.
Add salt and allow soup to cool.
Puree the beans from the pot and the contents of the medium saucepan together in small batches in a blender. Pour all blended items together back into the large stockpot. Add the reserved whole beans back into the stockpot.
Meanwhile, bring a large pot of water to a boil over a high heat. Add pasta and cook until slightly underdone (5 to 6 minutes). Drain and add the noodles to the large stockpot (or pressure cooker). Stir the noodles into the rest of the soup.
Warm over medium-low heat.

Notes:
I buy my beans in bulk to get them for less. My fresh herbs come from my garden.