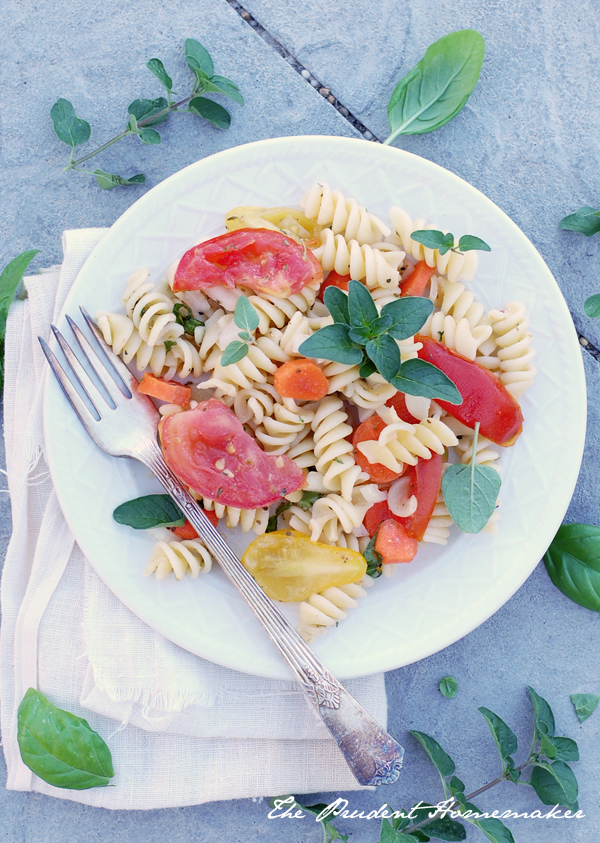 I've often thought it would be nice to have a pasta salad on one of our many hot days of the year. Las Vegas has over 5 months of 90º plus temperatures. Summer evenings are usually around 111-113º F. Lettuce doesn't grow in those temperatures (and tomatoes won't set fruit that hot) but I can usually get a few tomatoes in July that set in April. Carrots and onions are two of the least expensive vegetables for me to purchase, but they can also be grown in your garden. Watch for sales on pasta and stock up to keep the price down. This salad works well as a side dish, but my family has been eating it as a simple meatless meal.
1 lb (454 g) rotini or other pasta
3 carrots, sliced
1/2 red onion, minced
6-7 medium tomatoes*, or equivalent amount of cherry, grape, or pear tomatoes, chopped
1 cup Italian Dressing
Cook rotini in boiling water. Run pasta under cold water to cool, and drain.
Add carrots, onion, and, tomatoes.
Pour dressing over the top and stir to combine. Refrigerate before serving.

Notes:
* Change out the tomatoes for broccoli, sugar snap peas, zucchini, cucmbers, or whatever vegetable (s)you have on hand.
To prevent a wasting the other half of your onion, chop it and freeze it to use in cooking at another time. If you don't have red onion, and only have white or yellow (as I did in the photo above), use that.
I get carrots for .39 a pound in a 5 lb bag at Sam's Club.