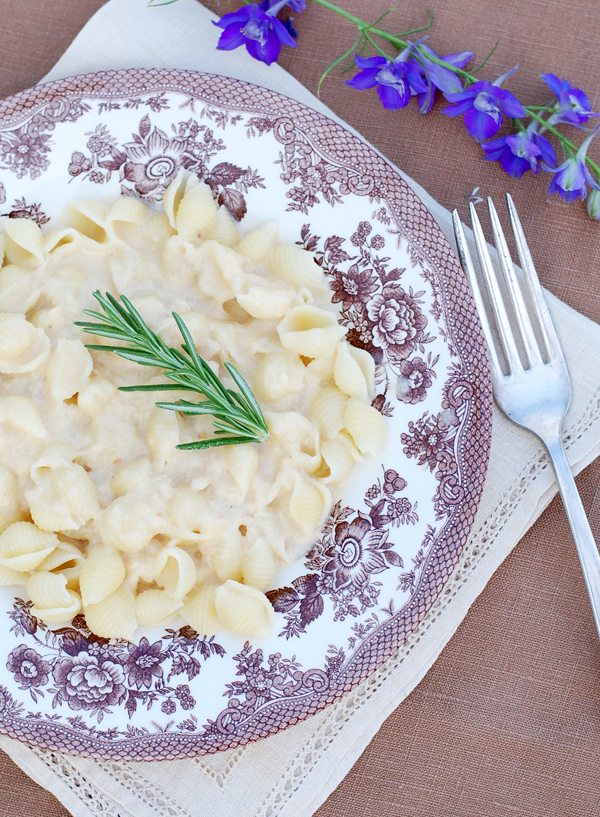 As we continue to eat from our pantry, we have many meatless meals. While we often have a simple alfredo sauce over fettucine noodles, I found myself wanting something that would also have more protein in it. The children loved this dish, and it was a very simple way to include protein. If you cook the beans ahead of time and freeze them in freezer bags, you can pull out the beans to make a quick sauce, for a fraction of the cost that canned beans would cost you. I usually cook 4-5 cups of dried beans at a time.
While this is served plain here, you can also add in extras, such as sun-dried tomatoes, steamed spinach or steamed broccoli.
2 cups cooked white beans (Great Northern, Cannelini, or Navy will work)
1/2 cup grated parmesan cheese
1 12 oz. can evaporated milk, or 1 1/2 cups cream
1 1/2 tsp granulated garlic
1 pound pasta (I used small shell pasta)
Cook pasta until al dente.
While pasta is cooking, blend milk, beans, parmesan cheese, and garlic together. I use an immersion blender
to blend it right in the pan. Cook in a small saucepan over medium low heat, stirring regularly.
Drain pasta.
Spoon sauce over pasta on individual plates.

Notes: I buy my white beans in bulk fom the LDS Cannery. I buy parmesan cheese and granulated garlic from Sam's Club. I keep evaporated milk in my pantry; I get it on sale at case-lot sales at Smith's. You can also stock up during holiday sales in December (plus there are usually coupons as well at that time). I buy pasta at $1 or les a pound on sale.