Makes one 9-inch pie
Crust:
1 cup flour
1/2 tsp salt
1/3 cup plus 1 Tbsp. shortening
2 Tbsp water
Preheat oven to 475º.
Mix flour and salt in bowl. Cut in shortening with pastry blender until shortening is the size of peas.
Sprinkle with water, one tablespoon at a time. If dough does not come together, add more water, a tablespoon at a time, until flour is moistened (but not sticky). Gather dough together with fingers so it cleans the bowl. Press together into a ball, and turn out onto a lightly floured counter.
Roll dough out to about an inch larger than your inverted pie pan.
Fold dough in half and carefully transfer it to pie pan.
Unfold dough.
Fold pastry edges under, even with pan, and pinch edges between your thumb and forefinger (or finish as you prefer). Prick dough with fork.
Bake for 8 to 10 minutes.
Reduce oven to 350º
3 eggs
2/3 cup sugar
Dash salt
1 cup dark corn syrup
1/3 cup butter or margarine, melted
1 cup chopped pecan halves (plus enough unbroken halves for decorating, if desired)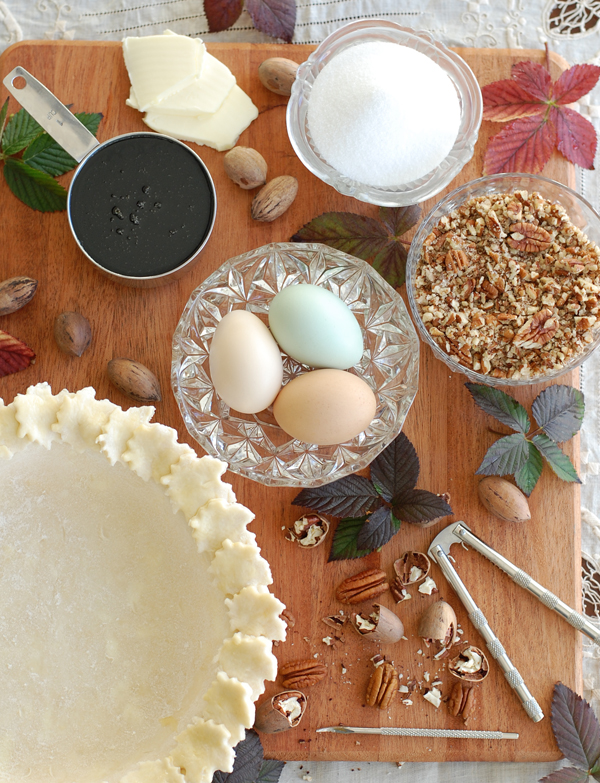 Beat together first five ingredients. Add chopped pecans and stir to combine.
Pour into pie crust.
Bake for 50 minutes, or until knife inserted halfway between center and edge comes out clean.
Cool before serving.

Notes: I buy my sugar, flour, butter and pecans in bulk from Sam's Club. I get corn syrup on sale during the holidays.