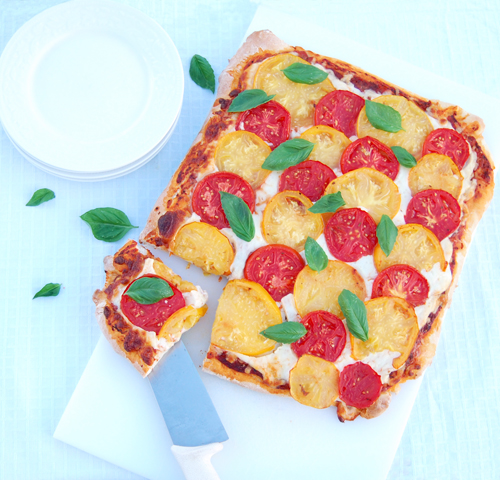 Makes 2-3 Pizzas
Crust:
2 Tbsp yeast
2 ½ cups warm water (between 105º-110º F).
2 tsp sugar
2 tsp salt
¼ cup oil (any oil you chose will be fine; I use vegetable oil)
5 cups flour
Sauce:
1 #10 can (105 oz., or 2.7 kg) tomato sauce
3 Tbsp balsamic vinegar
1/4 cup dried basil
3 Tbsp dried oregano
2 Tbsp dried parsley
2 1/2 tsp granulated garlic
1/4 cup dried onions
1/3 cup olive oil
Mozzarella Cheese
Food Storage Toppings: canned olives, canned chicken, canned ham (or frozen), BBQ sauce, turkey (frozen or canned)
Garden toppings: tomatoes, basil, peppers, onions, pesto sauce
Preheat oven to 450º.
Grease 2 pizza pans or 2 large cookie sheets (or 3 if you are dividing it to make 3 pizzas).
In a glass measuring cup or bowl, dissolve the yeast in the warm water. Allow it to rest about 5 minutes until it proofs (it will bubble up and become foamy).
In a large bowl, mix all remaining ingredients. Add the yeast and water after it has proofed.
Lightly flour your counter and dump out the dough onto it. Flour your hands and knead the dough for 5 minutes.
Using a dough scraper or a knife, divide dough into 2 pieces.
Use a floured rolling pin to roll out the dough to fit your pizza pans or cookie sheets.
Add sauce, cheese, and toppings.
Bake for 12-15 minutes until the crust is lightly browned.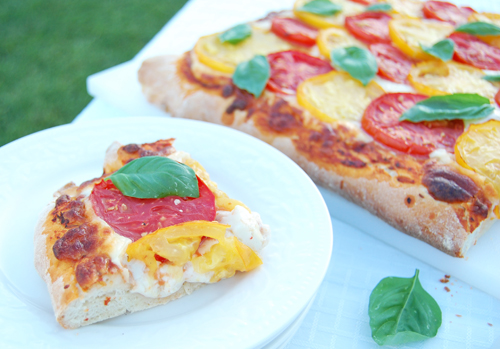 Notes: If you want, you can use this same recipe to make 3 pizzas, with thinner dough. It really depends on your preference.
I buy all of the ingredients in bulk at Sam's Club.
You will have enough leftover sauce to freeze some to make pizza again, or to use over pasta.