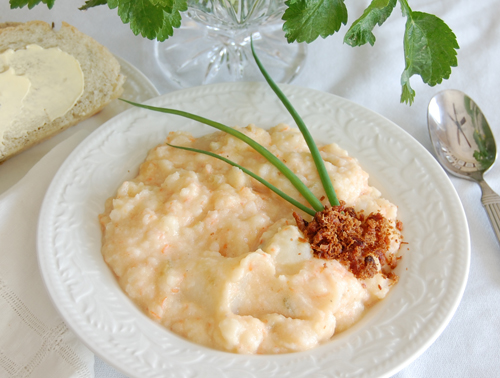 About 30 russet potatoes (around 6 pounds)
1 carrot (or 1/4 cup dried carrots)
1 stalk celery (or 1/4 cup freeze-dried celery)
1 Tbsp freeze-dried onion (or one leek), or one small onion, choppped finely
16 oz. sour cream
1 cup grated cheddar cheese
1 lb cooked, crumbled bacon (I use Hormel Bacon Bits)
Boil potatoes, celery, carrot and onions like in a large pot until tender.
You may choose to leave the potatoes unpeeled if you prefer. Peeled potatoes make a creamier soup.
Dump out some water, but not all. Blend in a blender (I use an immersion blender to blend it right in the pan).
Add sour cream and cheese, and stir to combine.
Cook again, stirring well, until soup is heated and cooked through.
Serve with bacon bits on top.

Notes: I get my potatoes for .10-.20 a pound in November, and stock up on lots of potatoes during the pre-Thanksigivng sales. I buy sour cream on sale. I get carrots, bacon bits, and cheese in bulk at Sam's Club.