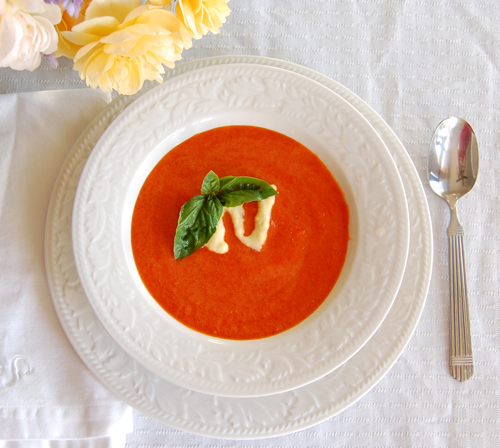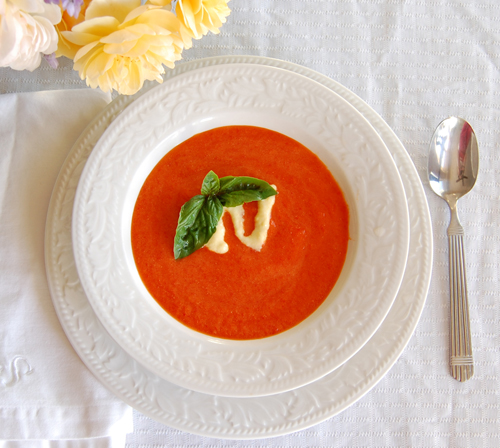 8 medium red sweet peppers
1 small yellow sweet pepper
3 cloves garlic
olive oil
1 14 ½-oz. can chicken broth
½ cup sour cream or heavy cream
Fresh basil leaves for garnish
Preheat oven to 425º.
Remove stems, membranes, and seeds from pepper. Place peppers, cut side down, on foil-lined baking sheet. Add garlic. Brush peppers and garlic with oil.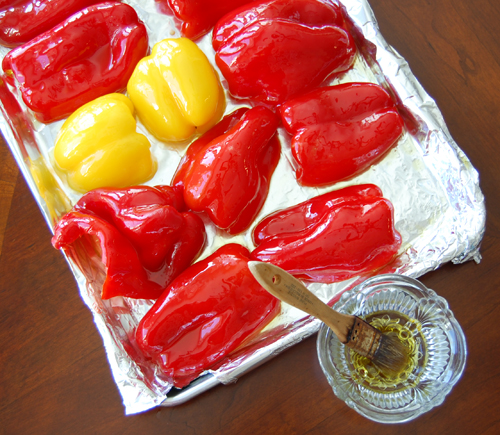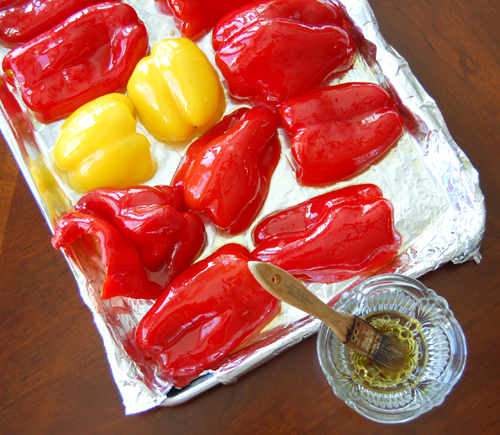 Bake 20 to 25 minutes or until skins are bubbly. Wrap peppers in foil; let stand 20 to 30 minutes or until just cool. Using a paring knife, pull skins off peppers.
Bring broth to boiling; reduce heat. Simmer, uncovered, 7 minutes or until liquid is reduced by one-third. Cool slightly.
Meanwhile, in blender, combine roasted yellow pepper and ¼ cup of cream. Blend until pureed. Transfer to small bowl. Cover and chill in the fridge while you finish making the soup.
In same blender container blend half the cooked red pepper mixture at a time until smooth.
Strain, if necessary. Place strained mixture back in saucepan.
Stir in remaining cream. Cook and stir until heated through. Ladle into serving bowls.
Swirl 4 tablespoons yellow pepper cream into each serving. Top with basil. Makes 4 servings.