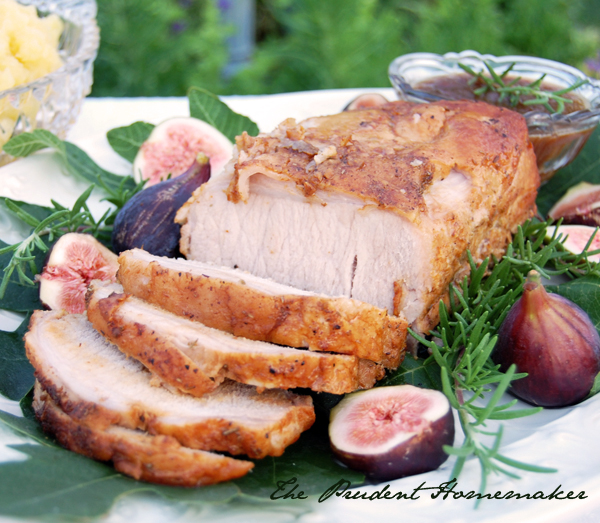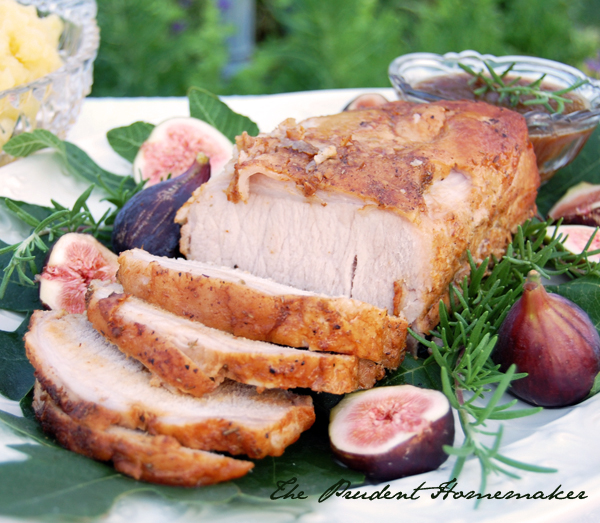 2 TBSP olive oil
dried, ground rosemary, or 5-6 springs rosemary
lemon pepper
1 cup chicken broth (or 1 cup water plus 1 tsp bullion)
1/2 boneless pork loin roast (about 4 1/2 pounds)
Preheat oven to 425º.
Pour oil into the bottom on a roasting pan and swirl to coat the bottom of the pan.
Place pork roast in the pan (fat side up, if one side is fatter. This will ensure that the juice drips down through the meat, making a moister roast). Generously sprinkle roast all over with lemon pepper and rosemary (if using springs, you can pull the needles off and aprinkle them on).
Add one cup of chicken broth to the bottom of the pan and cover with the lid.
Roast in the oven until an instant read meat thermometer inserted into the center of the pork registers 145º (about 1 hour).
Using a large sharp knife or an electric knife, cut the pork crosswise into 1/4-inch-thick slices.
Arrange the pork slices on plates. Drizzle with warm fig sauce. I like to serve this with mashed potatoes and put fig sauce on the potatoes as well.

Notes:
I buy pork roast on sale in September and October and put it in my freezer.
I serve mashed potatoes with this. We put the fig sauce on both the roast and the potatoes.
Fresh rosemary comes from my garden; it grows all year-round in a zone 9.
If you live somewhere colder (zone 7 or less), dig up your rosemary and bring it indoors during the winter.