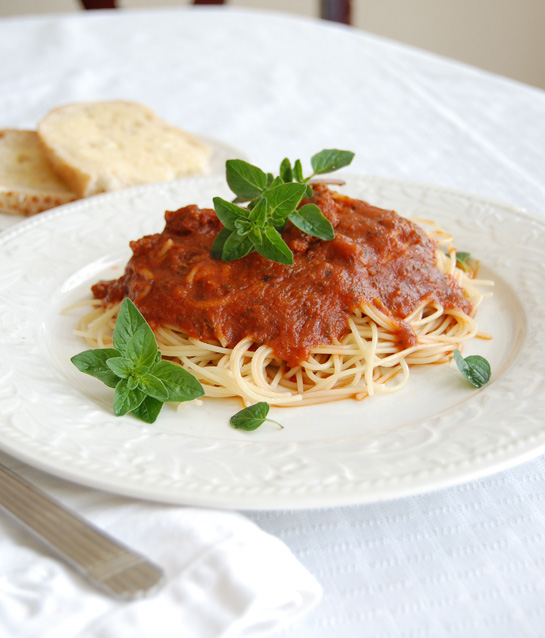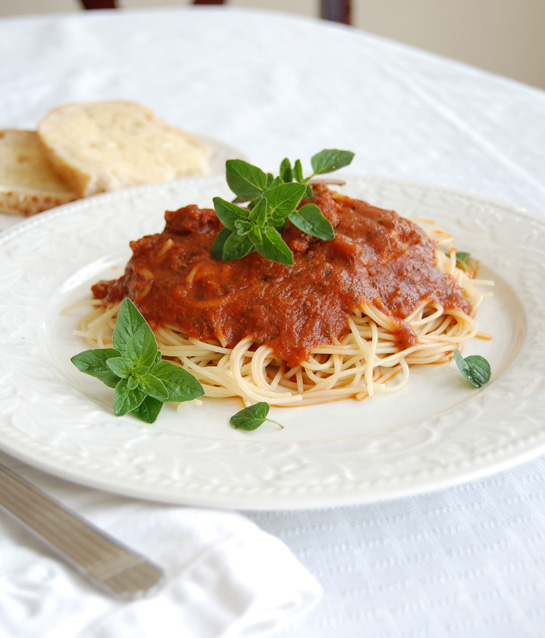 Sauce:
1 #10 can (105 oz., or 2.7 kg)tomato sauce
3 Tbsp balsamic vinegar
1/4 cup dried basil
3 Tbsp dried oregano
2 Tbsp dried parsley
2 1/2 tsp granulated garlic
1/4 cup dried onions
1/3 cup olive oil
spaghetti, vermicelli, or other pasta
Cook on the stove until heated through.
You can add cooked meat to the sauce or meatballs if you like.

Notes:
I buy all of my spices, my olive oil, and my tomato sauce at Sam's Club. The tomato sauce is less than $3 for the huge can. Depending on your family's preference for sauce, it can cover 2-5 pounds of pasta. We like lots of sauce on our noodles (about twice what you see in the photo above), so it covers 2 pounds for my family. I usually cook 2 pounds of pasta at a time for our family.
We save the extra sauce in the freezer. Sometimes we just keep the sauce until the next day, and use it to make pizza.
My family prefers a meat sauce. We found that we could use just a little meat to flavor the sauce, without making it too expensive. When I buy ground beef (on sale), I cook it up in batches with dried onions and granulated garlic. I then freeze in in 1 1/2 cup amounts (give or take). When I'm making saace, I just throw the frozen meat right in.
I used to buy the pasta at Sam's Club. It's around .87 a pound. I then found that Smith's has pasta on sale for .50 a pound a couple of times a year; now I stock up there.