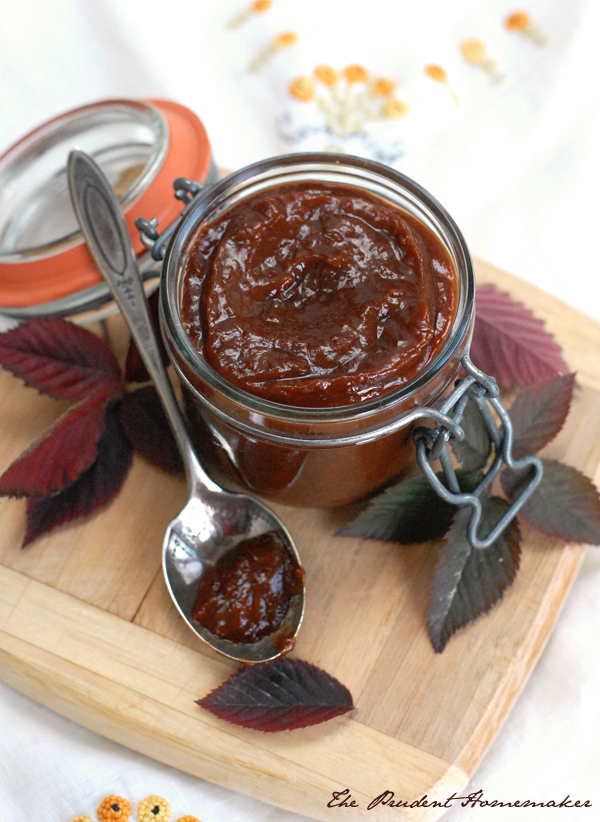 Growing up, I often heard my father comment, "That's 75 cents worth of steak sauce on your plate!" His point was simple: steak sauce is expensive, so pour less on your plate. Of course, I love steak sauce, and have no problem eating it with a spoon. I always ate every bit that was on my plate.
This steak sauce won't cost you .75 a serving; in fact, it will cost you a lot less.
Be sure to let it cool before you taste it! I burn my tongue at least 4 times every time I make this, because I cannot wait!
2 cups (472 ml) tomato sauce
2 tsp onion powder
1/4 tsp garlic powder
1/4 cup (52ml) water
1/4 cup (52 ml)Worcestershire sauce
1/4 cup (52 ml) lemon juice
1/4 cup (52 ml) white vinegar
3 Tbsp brown sugar
2 Tbsp molasses
2 tsp mustard powder
1/3 cup raisins
Combine all ingredients in a small saucepan.
Simmer uncovered for 20-30 minutes until the sauce has thickened, stirring occasionally.
Blend sauce in the pan with an immersion blender. (Or, you can wait until the sauce has cooled and blend it in a regular blender).
Let sauce cool and refrigerate.

Notes:
I buy lemon juice, vinegar, tomato sauce, onion powder, garlic powder, raisins, and brown sugar is bulk from Sam's Club. I buy tomato sauce in a 106 ounce can (a #10 can) for under $3. You can use a 15 oz. can of tomato sauce and add an ounce of water to it.
I buy mustard powder in bulk from San Francisco Herb Company.
This sauce is great anywhere you like steak sauce. I usually use it on black bean burgers and pork roast.