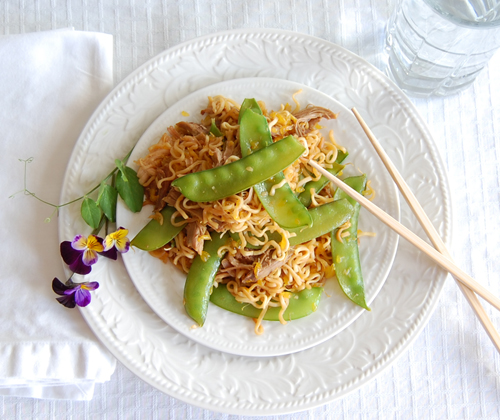 Serves 4-6
2 cans mandarin oranges, drained
½ tsp garlic powder
½ tsp ginger powder
3 sprinkles red pepper flakes (just shake it three times into the pan)
1 ½ cups chopped, cooked chicken or turkey (or 1-2 cans chicken)
2/3 cup soy sauce
3 ½ cups sugar snap peas or snow peas
3 packages ramen noodles (just the noodles; not the seasoning packets)
In a large frying pan (I use a 5 quart one with high sides), combine mandarin oranges, spices, chicken (or turkey) and soy sauce.
In a medium sauce pan, bring approx 7 cups water to a boil. Add noodles and peas to the water. Cook until noodles are soft, stirring frequently. They cook very fast, so watch carefully.
Drain water from noodles and peas. Add noodles and peas to saucepan. Cook over medium-high heat, stirring to combine, until everything is heated through.

Notes:
To make this for less, buy mandarin oranges on sale for .33 a can. Buy the spices in bulk (I get mine at Sam's Club). Buy the Ramen noodles on sale for 10 cents a package. Buy turkey on sale at Thanksgiving for 33 cents a pound, and freeze the cooked meat in bags to add to this and other things.
The peas cost very little, as they came from my garden.
To make this completely from food storage, use canned chicken. This is more costly unless you have bottled the meat yourself (that was on sale).
Instead of sugar snap peas, substitute an equal amount of bean sprouts. Start the sprouts 4-5 days before you plan on making this meal. I usually make this with mung bean sprouts, but as our garden is doing well, we switched to peas. A handful of bean sprouts should grow to be enough for this meal, though you could easily use more.
This meal feeds my entire family for less than $2.