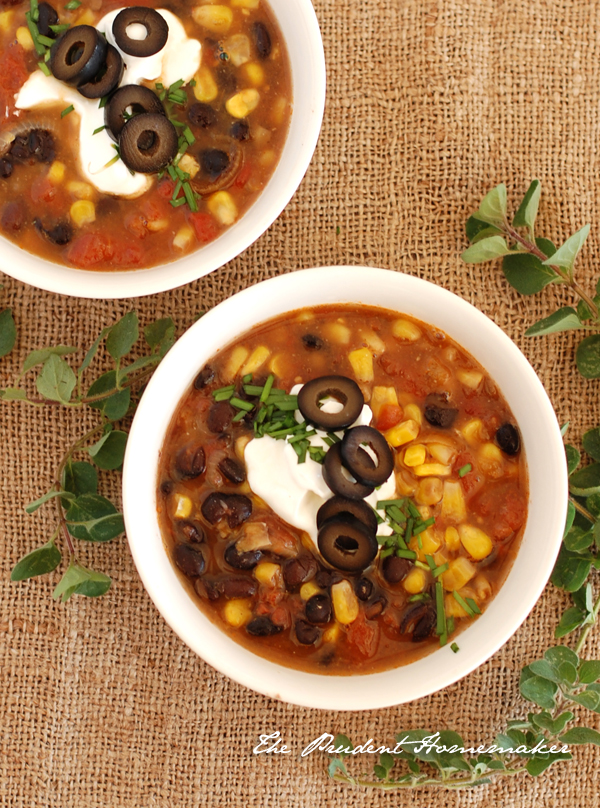 Serves 8
4 cups corn or 2 cans corn
1 quart tomatoes or 1 28 oz can diced tomatoes, including liquid
5 cups cooked black beans
6 cups chicken stock, or 6 cups water plus 6 tsp chicken bullion
3 Tbsp taco seasoning
1 tsp dried onions
1 tsp granulated garlic
Optional toppings:
cheddar cheese
black olives
sour cream
tortilla chips
chives for garnish
Heat all ingredients through.
Serve by itself, or if you have it, top with cheddar cheese, black olives, sour cream, and tortilla chips. In place of tortilla chips, you can use homemade or store bought tortillas cut into strips.

Notes:
I buy the taco seasoning and granulated garlic in bulk from
Sam's Club
.
I get olives on sale in November and December. There are usually coupons at that time as well.
I purchase onions on sale for .20 a pound before Christmas. I slice them and dry them in my dehydrator.
The chives come from my garden.
I buy the bullion from Walmart. They have a large container of Knorr chicken bullion (it's a powder that you can just measure out) for just under $5.
I buy canned corn on caselot sale at Smith's and on sale before Thanksgiving.
I buy black beans in bulk, cook a large batch, and freeze the cooked beans to throw in recipes.