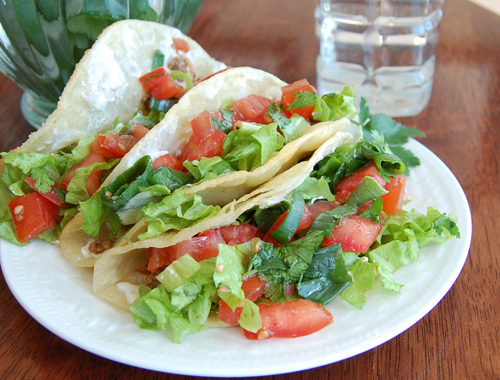 Tacos are my husband's favorite meal. It is possible to eat tacos while living on your food storage. If you want fresh ingredients, a garden is neccessary, but you can make tacos without using fresh ingredients.
How many you make is totally up to you (as is how spicy you like them).
Corn Tortillas (homemade or store bought)
Cooked Ground Beef or cooked Lentils
Taco Seasoning to taste
Salsa
Dried Onions or green onions
Tomatoes
Lettuce
sour cream (optional)
Oil for frying
Combine cooked beef and/or lentils in a large bowl with taco seasoning and salsa. Stir to combine. Put the bowl in the microwave and heat it when your shells are almost ready. Stop the mircowave to stir it several times. If you don't have a microwave or you want to warm this on the stove top, that is fine as well.
Warm oil on high in a frying pan on the stove. If you have a large pan, you can cook two shells at once. You don't need a deep amount of oil to cook the shells. An eighth of an inch will work just fine–it just needs to cover the bottom of the pan.
Use tongs to place a tortilla in the hot oil. When the tortilla bubbles up, fold it in half. Cook it about 45 seconds, and then flip it over to cook the other side.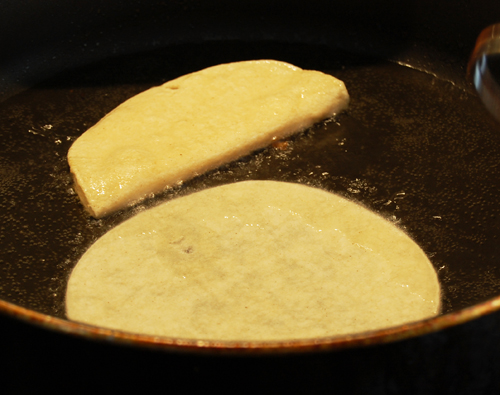 Then add your second tortilla to the pan.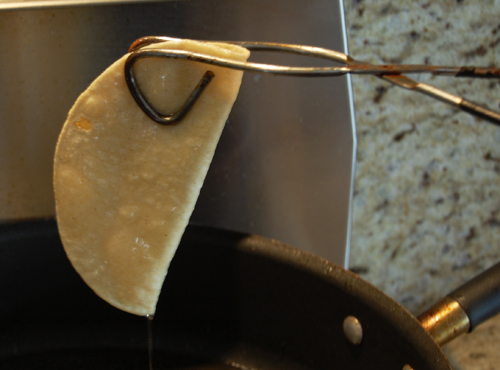 When the first tortilla has cooked about 45 seconds on the first side, pick up the taco shell with tongs.
Hold shell over the pan and let the excess oil drain back into the pan. Transfer shell to a plate covered with paper towels.
Warm the meat/lentils.
Stuff tacos!

Notes:
We make tacos when we have lettuce in our garden. We don't usually have lettuce and tomatoes in the garden at the same time, as lettuce likes cooler weather. We usually make tacos with lettuce from the garden (winter through spring) and use drained, canned diced tomatoes on our tacos. In the summer, we use fresh tomatoes from our garden, and lettuce if we are able to go to the store (Sam's Club sells 6 romaine hearts for $2.42). In the picture above, we had both tomatoes and lettuce at the same time because of an unusally long and cool spring.
I buy the tortillas at Sam's Club in a 100 count bag for around $3.27. I also get the taco seasoning there in bulk. If you're living on food storage, you can make your own tortillas instead.
I buy ground beef when it is on sale, cook it, and keep it in the freezer.
My family does not care for lentils. However, when I cook them and add taco seasoning and salsa and use them in tacos, they do not mind them at all. Lentils are usually $1 a pound, but when cooked they grow in size to be about twice as large, which is like having them for .50 a pound. You can also buy lentils in bulk.
Just cook these according to the directions on the package(it takes about 30 minutes). You can freeze any extra.
I buy sour cream when it goes on sale at it's lowest price.