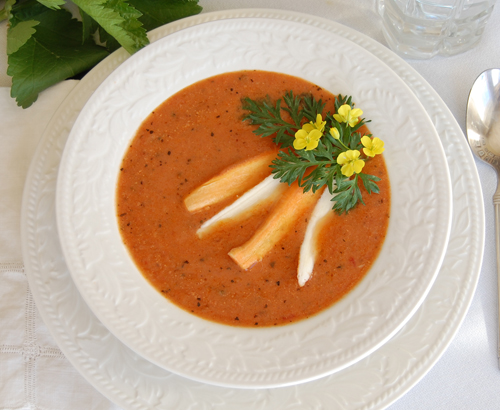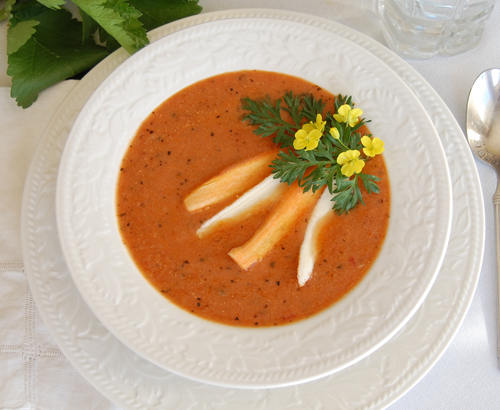 When I was invited to speak in February 2009, they served a beautiful luncheon comprised of salad, soups and breads. Since I was speaking on food storage, it was exciting to see that all of the soups and breads there were things that could be made from food storage. Since we had been living on our food storage for a couple of years at that point, and we regularly have soup for lunch and often for dinner as well, I looked for something that would be different than the soups that we normally eat. I picked this soup. Boy was I delighted! It was delicious!
When I went home to make it, I realized that I didn't have enough carrots in my yard to make the soup, nor did I have enough dried carrots left in my storage. However, I did have something new growing in my garden that would be the perfect substitute for carrots—parsnips! It was so tasty that I included that option in the recipe. I also made some other changes to make it more food storage friendly, as I didn't have fresh cream, onions, broth or garlic to use.
Serves 8-10
1/3 cup extra virgin olive oil
10 carrots/parsnips or a combination of the two (you can use dried carrots; soak in water to rehydrate them first)
1 large onion, chopped, or 1/3 cup dried onion (soak in 1/3 cup water to rehyrdrate)
1 ½ Tbsp dried basil
2 cloves garlic, chopped, or 1 tsp dried granulated garlic
2 28 oz cans diced tomatoes
4 cups chicken broth, or 4 cups water plus 4 tsp chicken bullion
1 1/2 cups heavy cream, or 1 can undiluted evaporated milk
salt
pepper
Parmesan cheese
Blend canned tomatoes in the blender until pureed. Pour into a large bowl or other container.
In a large saucepan, warm the oil. Add the carrots and parsnips, onions, garlic and basil, and sauté until softened (about 10-12 minutes).
Remove from heat and let cool enough to run through the blender with a small amount of the chicken broth to make blending easier.
Return the blended carrots and onions to the pot. Add the tomatoes and remaining chicken broth and bring soup just to a boil. Lower heat to medium, and add cream (or evaporated milk) and stir to combine. Season to taste with salt and pepper.
Garnish with parmesan cheese and fresh basil (in summer), or, if you're making this soup in the spring and you don't have fresh basil, use thinly sliced carrots and parsnips to garnish.

Notes:
To make this soup for less, I get the olive oil, dried basil, paremsan cheese, granulated garlic, salt and pepper in bulk from
Sam's Club
. If I don't have carrots or parsnips in my garden, I get 5lbs of carrots from Sam's Club for around .39 a pound.
I buy dried onions in bulk.
I get the diced tomatoes and chicken bullion powder (the bullion is the Knorr bullion in the giant 2.2 pound container) at Walmart. You could also substitute home-canned tomatoes.
I get the evaporated milk on case-lot sale, or on sale in November/December with coupons.