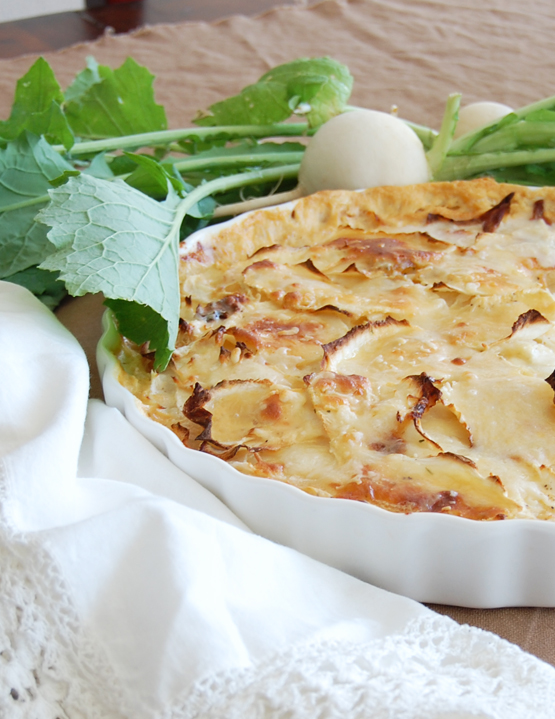 2 to 10 turnips (depending on the size of your turnips and the size of your pan)
1 1/2 cups grated mozzarella cheese
2 Tbsp butter
2 tsp chicken bullion
salt and pepper
1 tsp granulated garlic
Preheat oven to 375º.
Wash turnips thoroughly. Cut off any greens (these can be cooked in another dish if you like). If using store-bought turnips or turnips where the rind has started to harden (from being in storage), you can peel the turnips as you would an apple. However, fresh turnips from the garden do not usually need to be peeled. The outside skin has the most bite, and the inside is more mild, so if you wish to peel them for that reason, go ahead! (I have not had to peel the Tokyo Cross turnips that I grow at all).
I use the attachment
on my Kitchen-Aid to slice these super thin. You could also use a mandolin
, if you have one, or a food processor that slices. You can also try slicing them really thin, though I couldn't cut them as thin as I could using the Kitchen Aid (and it was a lot faster!) They need to be fairly thin so that they are well cooked before the cheese is melted.
Put butter in the bottom of an 11-inch tart pan (or a 9 x 13 inch pan). Put in the oven to melt. After the butter is melted, remove pan from oven, and swirl the pan to coat the bottom of the pan with butter.
Layer the bottom of the dish with a single layer of turnips. Sprinkle with salt, pepper, granulated garlic and a little of the chicken bullion. Pour a small amount of evaporated milk around the top of the turnips. Sprinkle with part of the cheese.
Repeat the steps above, adding more layers of turnips, until your pan is full (about 4 layers). Make sure to have plenty of cheese for the top.
Cook in the oven for 30 minutes, until the cheese is melted and browned.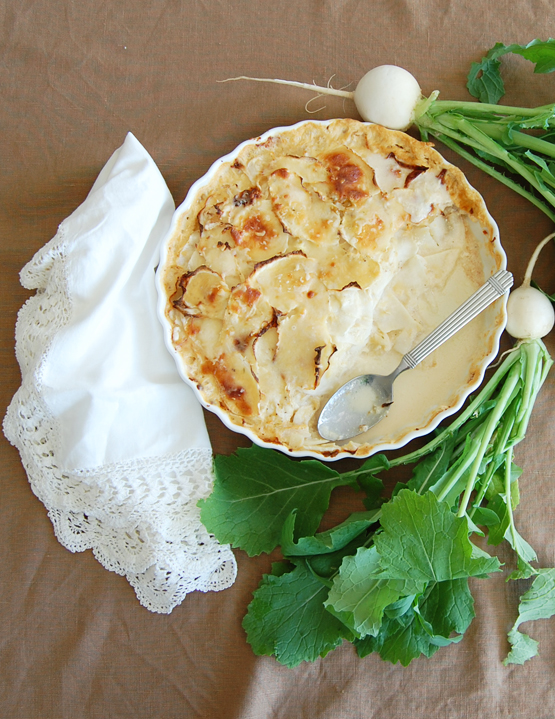 Notes:
I buy mozzarella for less than $2 a pound at
Sam's Club
. I grate it and keep it in my freezer.
I also buy my salt in bulk from Sam's Club.
I buy powdered bullion at Walmart in a 4 lb container. You can use homemade broth instead, however; just decrease your milk slightly.
You can harvest your turnips small or large, as long as it's cool. Once it warms up just a little, turnips will bolt. I plant turnips in the fall and again in January. One other nice thing about growing turnips during these months is that I have turnip greens to eat in the winter as well.
The white turnips that I grow are Tokyo Cross Hybrid.These are very mild.
The red and white turnips are De Milan Rouge (which are open-pollinated). These have more of a bite to them.