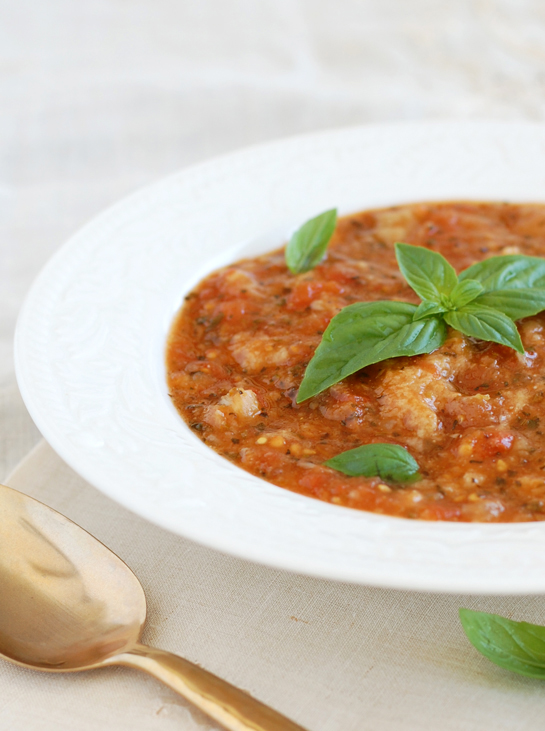 In Tuscany, frugal cooking abounds. Leftover bread is often incorporated into meals to make it go further. This is a great way to use up those last bits of bread. In addition, it's an excellent and simple meal that can be made completely from pantry ingredients.
1-2 cups hard dried bread, ripped into 1 inch or less size pieces
2 cups chicken broth, or 2 tsp bullion plus 2 cups water
2 Tbsp freeze-dried onions (or one medium onion, diced)
2 Tbsp olive oil
1 tsp granulated garlic, or other dried or fresh garlic to equal 4 cloves
2 24 oz. cans diced tomatoes, or 2 quarts canned tomatoes
2 Tbsp dried basil
1 Tbsp dried parsley
1 Tbsp dried oregano
2 Tbsp balsamic vinegar
Parmesan cheese (optional)
Soak bread in 2 cups chicken broth. Set aside to soak.
In a stockpot, reconstitute freeze-dried onion by adding a small amount of water and allowing to sit for a few minutes. Add olive oil and cook for about 2 minutes, until onion begins to brown (if you skip this part, the soup will not be as flavorful). Add garlic and cook for another minute.
Add tomatoes, spices and balsamic vinegar to the pot.
Add bread and broth to the pot, and stir well.
Cook on medium low until all hot and flavors absorbed, stirring regularly.
Serve hot or cold.
Top with grated parmesan cheese.

Notes: I save bread and set it aside for this soup on a regular basis. I just rip up the ends of loaves and leftover pieces so that they will be small enough. I let them sit out in an uncovered bowl until they are dry. When they are completely dry (i.e., hard like croutons) I put them in a bag to use for soup.
I buy my balsamic vinegar in a liter bottle, and my spices in bulk from Sam's Club. I also buy olive oil there in a 3-liter bottle.