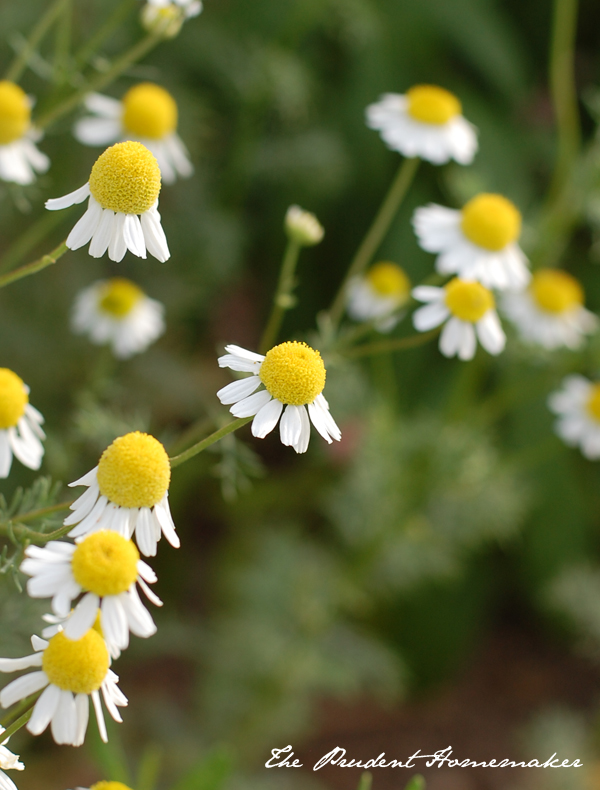 This post contains affiliate links.
Most of the time, we drink water at my house. I start the morning off with a 16 ounce glass of water, and I drink many more glasses of water during the day.
For many years, I have grown peppermint and chamomile in the garden. I had the children cut the chamomile when it was ready, and I cut the peppermint and brought it in before we had our first frost about 5 weeks ago.
The peppermint will grow back when it warms up, but the leaves need to be harvested before it freezes.
Both of these are really easy to grow. Mint can be in full sun to filtered shade. You can buy a tiny plant at the nursery in the spring and gather plenty by frost (you can also plant mint from seed; I have the most success from a plant). You can take cuttings from that plant, put them in water, and have them rooted in a short time. You can then have more mint plants to take over your garden to share with friends. Mint spreads by runners and seeds and can be quite invasive, so choose a dedicated spot for it. Some people prefer a pot, but mine kept drying out in our extreme heat, so last year I purchased a new plant and put it back in the garden.
I put some dried peppermint leaves in a tea ball
and fill the cup with boiling water, and let the tea ball soak for a few minutes. You can use a teapot
if you wish, or you can heat a regular pot on the stove, or heat the water in the microwave.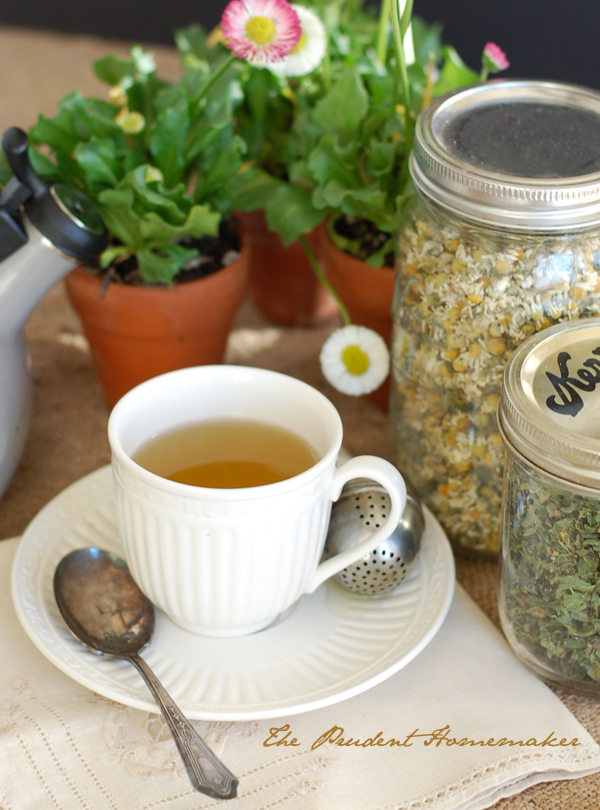 Chamomile is easily grown from seed. There are two types of chamomile: Roman and German. I have had the best success with German Chamomile. The seeds are very tiny and are sprinkled over the top of the soil, as they need light to germinate. If planted in an undisturbed place (where you don't till) they can reseed all on their own. Chamomile is quite fun, as the flowers look like tiny daisies. To harvest it, you cut the flower heads and dry them. I usually assign this job to the children. (I also allow them to pick some to make crowns). This year I planted seeds in the front yard, where they will be able to grow among the other white flowers in the white garden. You can sometimes purchase chamomile as plants, but you'll need several, so buying seeds is the more economical way to go. You can find seeds from several different seed companies.
Both herbs are lovely for an upset stomach, and peppermint is wonderful in combating queasiness. I enjoy having them on occasion on a cold day, though peppermint tea* would also be lovely iced.
Growing your own herbs for herbal teas is much less expensive than buying it in a tiny box of tea bags, or than buying dried herbs in bulk.
Do you like to drink herbal teas? Do you grow any of your own herbs for that purpose?

* Note: Americans generally refer to herbal infusions as herbal teas (even though they do not use the tea plant), whereas they are known as tisanes (pronounced "tee zans") in other places. I prefer the term tisane, as it is more clear, but I defer to the term most commonly used in my country.
I primarily drink herbal teas for medicinal purposes. I drink red raspberry tea, which strengthens the uterus, and is helpful during pregnancy as well as during the menstrual cycle. It is high in iron, and helps remove back pain, menstrual cramps (I find that it is more effective than ibuprofen), and helps remove pregnancy pains.
During my last pregnancy, I also brewed a mixture of half red raspberry and half nettle tea to increase my iron, as I was anemic.
Red raspberry does not grow well here, and I do not grow nettles, so I purchase those cut and dried in bulk from San Francisco Herb Company. They also sell peppermint leaves.