Every so often, we redo the chore assignments in our house. Changing things out is good for everyone: children learn new skills, and the boredom that sets in from doing the same chore can be relieved by doing a different chore. We usually change chores every 6 months, but it has been quite a while since we last made any changes to the chore assignments, and it was showing the last couple of weeks.
We changed up the assignments, giving both my 6-year-old , my 5-year-old, and my 3-year-old additional responsibilities. We changed the definition of a few chores (sweeping both halls is now one chore done once a day, and it includes picking up anything on the floor in those halls; it used to be part of sweeping other areas). We lightened the load of the oldest two children a bit by dividing some chores into smaller parts and giving those smaller parts to other children.
So far, so good!
There is no way that I could do everything in the house that needs to be done by myself, nor would I want to; It is important to me that my children learn to work, and to work well.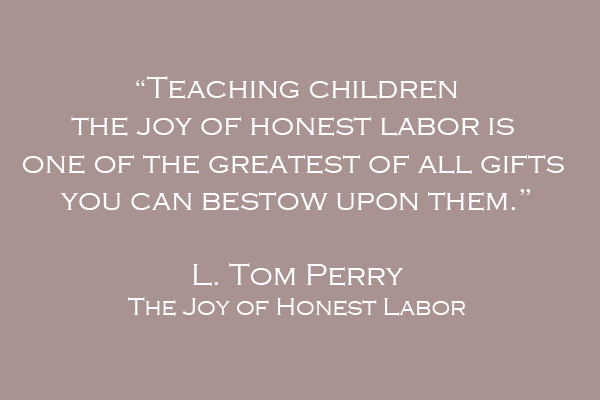 We have 6 chores times in our house. They are before and after breakfast, lunch, and dinner. Some things that we list as chores aren't really chores (such as getting dressed and brushing one's teeth) but by putting them on the list it helps the children remember to do them.
Our ages:
Winter: 11
Cyrus: 10
Ezrom: 8
Liberty: 6
Wren: 5
Elsa: 3
Ivory is 1 and has no chores, but we do ask her to help pick up toys when we are picking up. She usually puts several of her toys away with us.
Here is our current chore schedule:
Cyrus: Pour drinks (this is water at our house)
Ezrom: Take out trashes (this includes emptying all trashes in the house, and taking the big cans out to the curb and bringing them back up on the two days a week when the trash man comes)
Liberty: Pick up living room
Clear spots to the counter
Winter: Wipe table and chairs
Ezrom: Sweep and mop the kitchen
Liberty: Sweep the floor under the table
Elsa: Pick up girls' bathroom floor (pick up clothing that was left behind, which was usually hers)
Winter: Pick up living room
Cyrus: Pour drinks And Set Table
Ezrom: Clean boys' bathroom (mirror, counter, sink, bathroom door handle and surrounding area, and toliet. On Saturdays this chore includes sweeping and mopping the bathroom floor.)
Liberty: Clean girls' bathroom
Winter: Wipe table and chairs
Cyrus: Sweep and mop under table
Winter: Put away clean dishes and pick up library
Cyrus: Pick up library and pour drinks
Ezrom: Wipe table and chairs and s
et table (the table gets sticky after our afternoon snack)
Liberty: Pick up and vacuum living room
(We then have family scripture study, sing hymns, have family prayer and the children says individual prayers. Elsa is tucked into bed while the others do their chores. On Monday nights we have
family home evening
, where we sing more hymns and have a short lesson on a gospel topic.)
Cyrus: Sweep and mop under table
Ezrom: Sweep and mop kitchen floor
Liberty: Sweep and mop by piano
Wren: Wipe table and chairs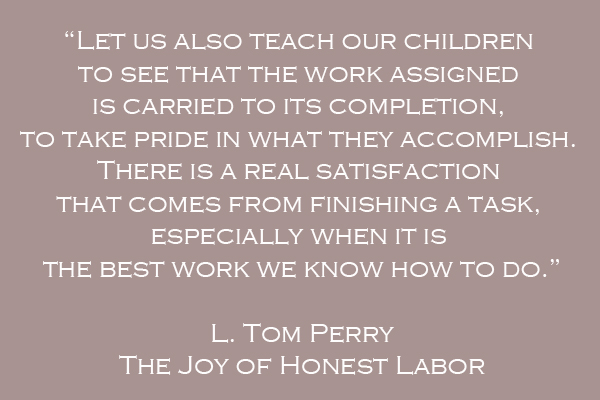 Of course, this doesn't mean my house is perfectly clean all the time (in fact, far from it!) The floor always looks like it could use a sweep and mop. With 7 children home all day, it gets dirty quickly. Toys get played with often. Toddlers love to change clothes often. We go through a lot of dishes. Having several short chore times is needful to keep things under control.
Some additional reading:
"The Joy of Honest Labor" by L. Tom Perry (online talk; the quotes in this post are from that talk)
Managers of Their Chores by Steve and Teri Maxwell. This book really opened my eyes to what my children could do and helped me to implement our chore system many years ago.