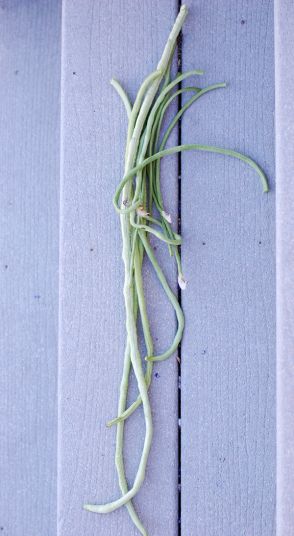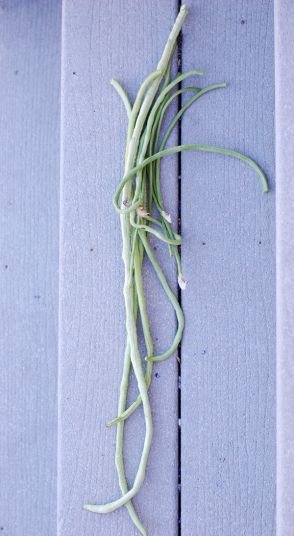 That is my green bean harvest.
It's a normal year for green beans here.
You see, green beans are like tomatoes–and zucchini, squash, pumpkins, peppers and cucumbers.
When it's above 90º, they don't like to set fruit. They don't even flower much. They just try to stay alive.
We have over 5 months of above 90º temperatures. Summers are around 116º, cooling to 104-113º at night.
This means that I struggle to get any of those items to grow in my garden. This year I've harvested 1 yellow squash, 1 zucchini (that was so hard we had to peel it and it was still almost impossible to eat), 14 cucumbers, 2 handfuls of green beans, and no squash, pumpkins, or peppers, though I planted them.
Heat stops production. We get 2″ of rain a year here. The ground is so hard that you have to jackhammer holes to plant trees. In fact, I had to soak the ground for 4 days before it was soft enough to be moved with a backhoe. The backhoe could not dig it before that. We replaced dirt 2 feet down in our garden, but the old dirt has a way of working itself back up, rocks and all. The dirt has a ph between 8-9, so it is very alkaline. The water is full of salts; it leaves salt deposits on the top of the dirt.
Did I mention that it's hot?
In fact it was 107º in the shade yesterday.
Given these temperatures, I do not grow most of my family's food. I would love to! And if I lived in a more mild climate, I could grow a lot more in the same space–a whole lot more, in fact.
But with 20 tomato plants, there are still not enough plants to can tomatoes–or even enough plants for us to get our fill of fresh tomatoes.
I struggle to grow zucchini. I have 3 plants still alive (others have died, thanks to bugs), and they rarely flower, becuase it's too hot. There is one flower on one of the plants right now, and it's a male flower. This means no zucchini for me! On a good year I get 5 zucchini. From 5 plants.
I don't give up. I keep trying, working with different planting schedules, hoping my plants survive the heat long enough to produce again in the fall. I plant Swiss chard, because it is awesome and it grows here. Rosemary and green onions do well here too. For everything else, well, I have to wait until it cools down.
Garden Harvest:
September is when I mainly harvest herbs, squash, and cucumbers. Our butternut squash didn't produce this year, and the zucchini have left me empty-handed. I'm hopeful to get something when it cools down and my plants decide to make some female flowers again. In the meantime, we're enjoying the herbs and the 14 cucumbers. I'm also picking grape leaves for making stuffed grape leaves.
Garden Chores for September:
Fertilize fruit trees. This fall fertilizing will help ensure that you have fruit next year. I use this mix for fertilizing my trees in fall:
3 cups Cottonseed meal (this is your nitrogen; it makes branches and leaves)
1 cup Soil Sulfur (to lower ph; we have a super high ph here of 8-9!)
1 cup bone meal (this helps the roots in winter and also helps fruit production in spring)
1/2 cup iron
1/3 cup Epsom Salt (this provids magnesium to the tree)
I mix together the ingredients in a bucket and scratch the following amounts into the soil around the tree:
For Trees planted one full year: 1/2 cup per tree.
For Trees planted two years: 1 cup per tree.
For Trees planted 3 years or more: 1/2 cup for each inch of trunk diameter per tree.
I use a smaller amount for fertilizing fruit bushes and grape vines. I don't measure it; I just sprinkle a small amount under them and scratch it in.
Fertilize grass If you want green grass in fall and winter, fertilize it again a few times before it freezes.
Reseed grass. We'll be reseeding this month when it cools down at the end of the month.
Weed. I've been indoors most of the summer. The weeds have grown out of control while I've been avoiding the heat and have been sewing. I'll be doing lots of weeding soon, in between sewing birthday gifts and clothes.
Fertilize and prune roses. It's been too hot for the roses to flower. They've gotten tall. I'll cut them back for a fall flowering. I look forward to having flowers in the garden again.
Plant a fall garden.
In most Northern hemisphere climates, you can direct-sow Swiss chard (silverbeet) from seed now. Swiss chard grows to 15º F (approx. 10ºC) so you can harvest it for a long time. It can often survive below a heavy snow layer for much colder temperatures than that (a friend of mine has found it that way below her heavy lake-effect snow in upstate New York).
A fall garden is often overlooked. It's a chance to plant some cool weather vegetables again. In warmer climates like mine, it's the best time to get started with cool weather crops. Here is my garden calender for the year. Make sure to check out what I'll be planting over the next several months.
I usually add sterile, bagged manure to my fall garden before planting. You can also add new soil to your garden, as well as fertilizer.
Some of you are probably thinking, that's great, Brandy, but I live in a zone 4. It snows in the winter and the ground actually freezes here. I can't garden in the winter.
I know you're thinking that because so many of you have said it! "Oh, if I lived where I could grow produce year-round, then it would be different."
Guess what? You already do.
And in fact, you are at an advantage to me, because you live in a cooler climate. You are able to grow multitudes of berries that only grow in zones 7 and below (it's too hot here for raspberries, gooseberries, currents, etc.) You can grow enough tomatoes to can, and to dry. You can grow so much zucchini that you sneakily give it away.
Ladies, my garden harvest is small, because the heat stops production.
If you live where it's cold, you have a great advantage, and you can grow so much more than I can.
Have you ever heard of Elliott Coleman? He's the man from Maine who wrote the book Four-Season Harvest: Organic Vegetables from Your Home Garden All Year Long
. He harvests fresh Brussels Sprouts for his Christmas dinner from his garden–in Maine. More recently he wrote The Winter Harvest Handbook: Year Round Vegetable Production Using Deep Organic Techniques and Unheated Greenhouses
.
If you don't know how to grow cool season crops in the winter, you'll need a little equipment. Cold frames, hoophouse and greenhouses are your friend. A raised bed will avoid the ground freezing problem. You can harvest your own lettuce, Swiss chard, radishes, turnips, parsnips, green onions, leeks, and more, all winter long.
Since I've always lived in the desert, though, don't take my word for it. Take Yolanda's word for it. She lives in a zone 5 in Indiana, and her garden in February was bigger than mine.
Here was my rasied bed in February: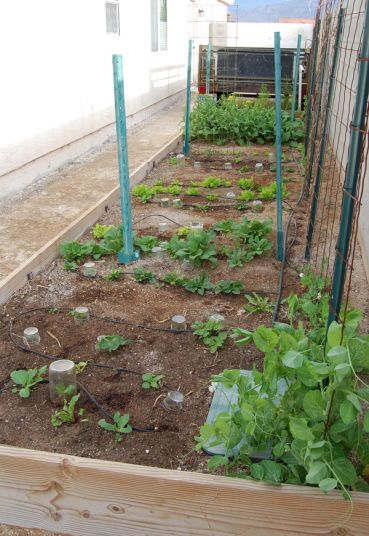 The dark and light spots in the dirt are caused by the salts in the water here.
(You can click on her photos to make them bigger.) Make sure to check out that November garden and March garden photo too.
Do you see that she has more in about the same amount of space? Not only that, but she doesn't have to water it in the winter.
Yolanda's garden is awesome. She gets much more than I do, even though she lives in a colder climate. Yolanda's pretty awesome, too. She is the mother of 6 grown children, whom she also homeschooled. One of those is her lovely daughter April. I've met all of her daughters, but April's my favorite 🙂 April and I are different in fashion choices, family size, education choices, and more–but we are still friends. I know some of you who read this blog are a lot more like April than like me. I love that we can still be friends and learn from one another! April actually introduced me to her mom because her mom and I have a lot in common. Besides gardening, cooking and homeschooling, Yolanda also sews. She blogs at Simply Homemaking.
I will be waiting to plant my fall garden until the end of September, when it's cool enough for seeds to germinate. If you live somewhere cooler, you can plant yours now.
And if you live somewhere cooler, you can grow a lot more food that I can. In the same amount of space or smaller, in fact.
Try it!