I stayed home all week except for Saturday, when I left to go garage sale shopping with my mom (she drove). We hit up a couple of community garage sales as well as a rummage sale.
I went with a list of needed items and Christmas gift ideas. I found several books for the children that I will use as Christmas gifts. I also found 3 other items for the children for Christmas. My daughter mentioned that she wants to learn to knit; I bought her a large pair of knitting needles and a skein of yard for .50. I found a small quilt for another daughter for $5, so I won't be making her a blanket for Christmas. I bought a 1000 piece puzzle for my grandmother's Christmas gift for $1.
I received some hand-me-downs from a reader, that included several of the clothing items that were on my list. Only one of the many sales that we visited even had children's clothing, so I was very glad to get some needed items!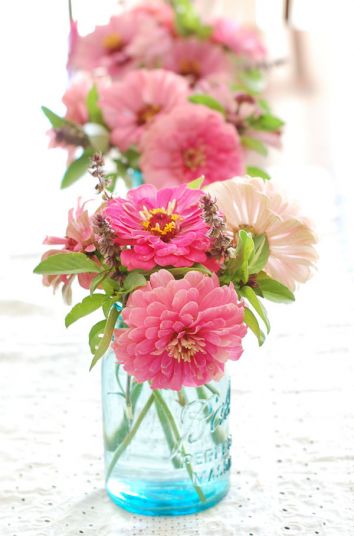 I cut zinnias and Thai basil from the garden and put them in these vintage blue canning jars that I found at one garage sale. I know the old blue jars go for a lot. I bought them for $1 each.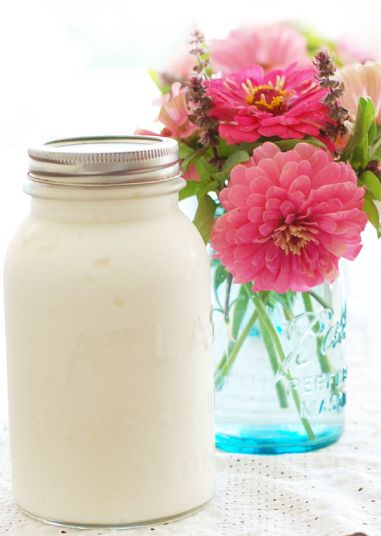 I made homemade Greek yogurt.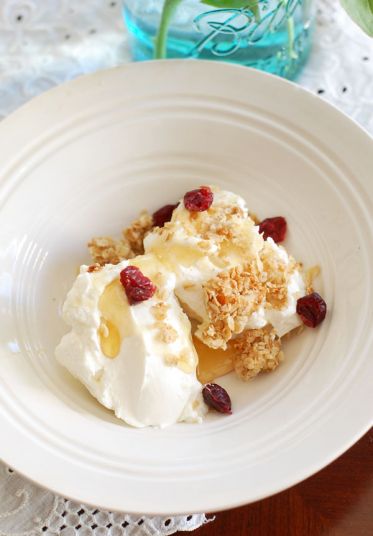 I went through some hand-me-downs that we had been given for my daughter. I had her try on the dresses that were also one size up, and to my surprise, they almost all fit! She will now have plenty of cold-weather clothing for this year, without me having to sew any for her, except for something for church. This will free up so much time for me. I still need to make some things for her for warm weather, which is the other 9 months of the year. One of the items didn't fit right at all (a strange cut) and I am going to re purpose it.
I cut out a winter church dress for her using fabric that was recently given to me.
I cut out a pair of shoes for my daughter using some of the same fabric. I'll be writing about these more soon.
It rained last week (it even hailed twice one night!). We get so little rain here, and we got quite a bit. I was able to turn the water off to the garden for several days. It cooled things off so much that we were able to to turn off the a/c for most of the week (though we will have to run it again this next week, as it will be in the upper 8o's again).
My mom has the same floor plan, and lives next door to me. I found out that my gas bill was exactly $9.99 more than hers for this last month. We both have gas cooking, gas water heaters, gas heat, and gas dryers. She does 4 loads of laundry a week; I do 22 extra-large loads. I cook all meals at home and I cook larger amounts. I use my oven (which is larger than hers; we changed ours) almost every day. She usually has a cold breakfast, while we have a cooked breakfast most days (unless we're having yogurt). She also eats out a lot (so she doesn't use the stove as much). I have 9 people to bathe, where she has just 2. I also did some canning last month. Seeing that our difference for 7 more people is only $9.99 a month (even on a canning month), I will continue to use my dryer to dry laundry, because it is costing me very, very little to run. I already knew it was a small amount, but so many people have asked why I don't line-dry my laundry. Now you can see why I do not, in addition to the time I save hanging so much laundry, the cost of lines and poles, allergies, dust storms, and the time I would need to spend ironing. My amount of gas used for canning is also very small, so canning food in season also is a great money-saver.
I bought no food this week.
A friend gave me 4 dozen eggs this week from her friend who raises chickens. She has a smaller family and couldn't use all of them.
I watched one free show on Hulu this week.
I received a free copy of Martha Stewart Living magazine in the mail as part of my free subscription.
My husband wore a shirt that was given to us. A family who was moving out of state earlier this year gave us the last of the things they weren't moving to add to our garage sale earlier this year. Among those things were a few long-sleeved shirts in just my husband's size, in like-new condition. He didn't have any long-sleeved shirts, so this was a great blessing. It's not cold enough for him to wear a long-sleeved shirt very often, but the cooler weather this week had him bring it out.
What did you do to save money this week? Did you purchase any used items for Christmas gifts?