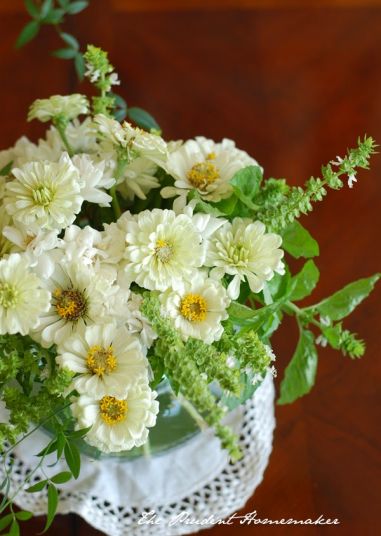 I cut flowers from the garden for the house.
I cut lots of basil and made a large batch of pesto. What we didn't use on sandwiches, I put in the freezer in several bags to use later. I armed the sandwiches on the panini press that I bought earlier this year at a garage sale (for $5). I've wanted to make these for years, and I finally have enough basil and a press to make them! I'm planning to make several batches of pesto with the rest of the basil and freeze it to make these again in the future.
I collected seeds from my basil plants to plant next year.
The weather was milder than it has been, so I only needed to run the air conditioner for a few hours on two days last week (saving me $65, according the the electric company's weekly report).
My husband mended one of my clothes drying racks this week. I have a gas dryer and dry most things in the dryer, but I also wear a lot of thin clothing (as we have 5-6 months of above 90º temperatures) that cannot go in the dryer, so I use these to hang those to dry.
Winter downloaded two free songs from the library's website.
I dumped the compost into the garden. I'll be working it in this week, but dumping it out allowed Cyrus to start filling it, layering shredded paper and grass as he cut the grass.
I bought two pairs of jeans for Cyrus and four for Ezrom for $2 a pair from a Facebook garage sale post. The jeans were in like-new condition. On the way home from picking these up, I stopped at three actual garage sales. At one I bought three necklaces ($5 total), which I will give to three daughters for Christmas. At another, I bought two small carry-on size suitcases (that looked brand-new) for $2 each.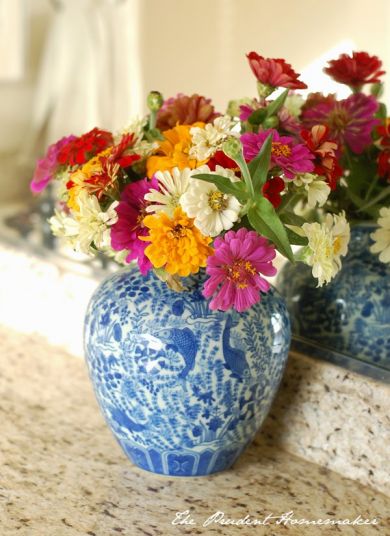 Thanks to the Facebook garage sales, I was made aware of a couple of neighborhood garage sales on Saturday. I took my list with me. I was not able to find a lot from my list, but I did find three t-shirts for the girls for .50 each, and a handful of other small items, including a blue and white Chinese vase ($2) that I filled with zinnias from the garden. I had been wanting something like this, and was delighted when I found this one.
I canned 12 quarts of pears.
My husband and I watched the pilot episode of a new show for free on Hulu. It's called Forever, and U.S. readers can watch it here. We liked the first episode enough that we will keep watching.
What did you do to save money last week?