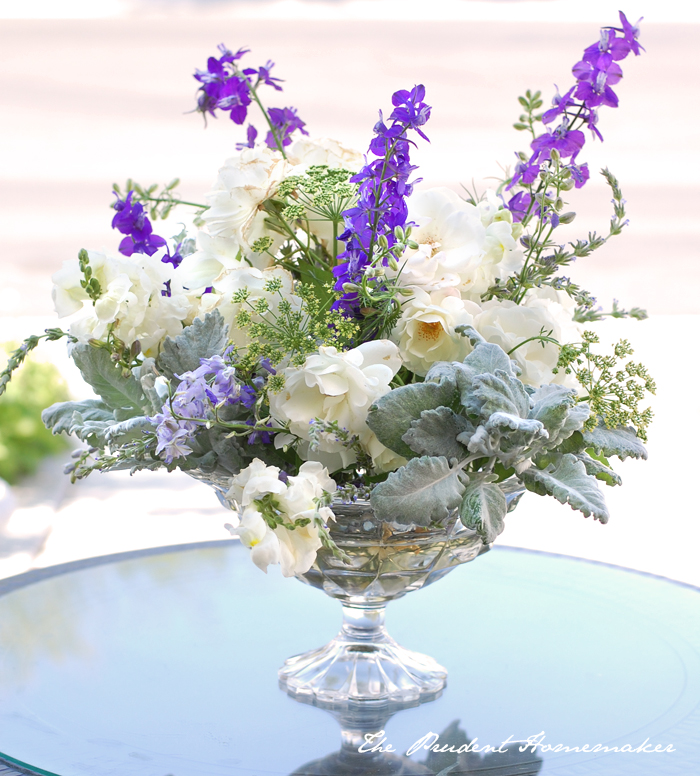 Iceberg roses, snapdragons, dusty miller, lavender, larkspur, and parsley flowers in the crystal pestal vase I bought the week before last at the garage sales for $2
I picked lettuce from the garden almost every day this week. We had many salads. I gave lettuce to a friend of mine, who trades eggs with me for lettuce. She brought me 5 dozen eggs.
I picked strawberries from the garden.
I cut flowers from the garden for the entry table (shown above).
We celebrated Ivory's birthday this week. I cut flowers from the garden for the table.
I made her a dress from a piece of fabric that I bought a couple of years ago for this purpose; it was the last bit left on the bolt and I loved it.
I made her two headbands (one to match the dress, and one white one that she can wear with that dress or another dress) and a bracelet to match. I'll have pictures of her gifts in an upcoming post.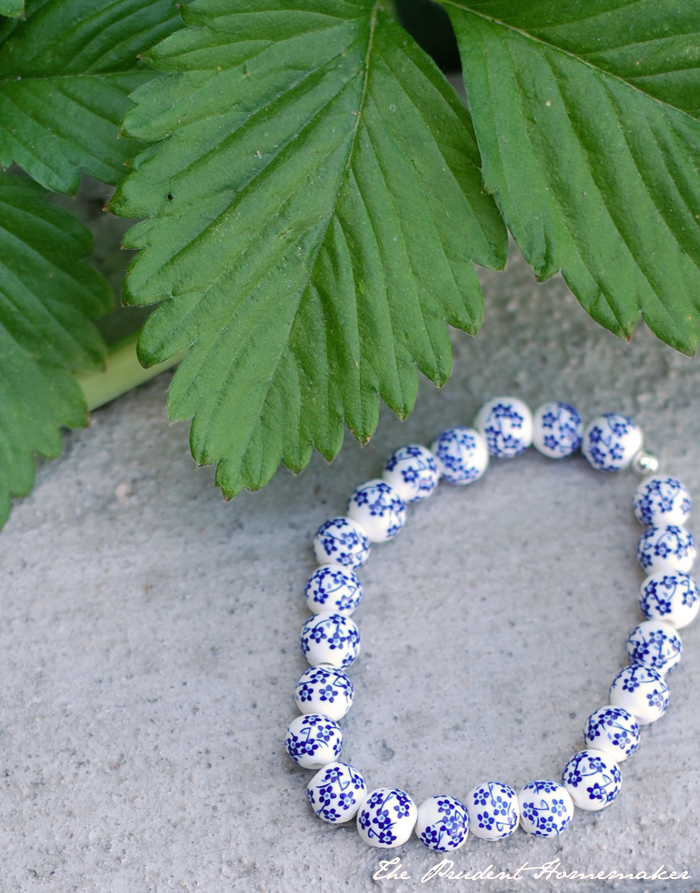 I made myself a similar bracelet with some of the same beads. I bought these beads sometime last year with the intention of making these two bracelets. I never had made mine, and it took me two minutes to string the beads on some stretch elastic.
I spent several days doing some spring cleaning.
I mended two pairs of pants. I knew my husband had a big hole in the front of his pants, and I thought we was going to discard this pair. I found it in the hamper, however, so I decided to mend it before I washed it, so that the hole wouldn't get any bigger. I mended the hole and put it through the wash. When it was done washing, I checked the hole to see if it needed any more mending. It needed a bit more on one edge, so I fixed that part. I was so thrilled to have saved these jeans that I thought were destined for the trash. I then folded the pants–and as I did, I noticed an even bigger hole in the back! Neither my husband nor I had seen this new hole. I mended this one too, and hopefuly he will get some more use out of this pair of jeans.
My mom went to a local rummage sale on Saturday morning. I found a few more items on my garage sale list, including a Rook game (for $0.50!) , a mandolin (also $0.50!), an aluminum water bottle with a carabiner attached ($0.25). We stopped at two small garage sales on the way home and I found a blouse for myself ($1), a long-sleeved t-shirt for Winter ($1), and an Edith Nesbit book for the children ($1).
I used several coupons at Target and I'll send in a rebate on the items that I bought for another $15 back.
I used a couple of $10 off coupons at the nursery. I decided to make some additional changes to the garden this year, including a few more flowers (I bought a 6-pack of begonias for $2.98 for the full-shade spot near the front door, where the primroses are done blooming). This is different that my original plans for the garden this year, but plans can change! I bought two hibiscus plants so that I can make hibiscus tea. This is my first time growing hibiscus. I found that they will need to come indoors when it gets close to 34ºF, so I will be looking for some pots for these. I also bought two gold raspberry plants. Raspberries have never done well for me in the past, but I want to try again, as they are one of my two favorite fruits (the other being clementines). These could be a frugla addition to the garden, or a fail–I'll just have to see!
What did you do to save money last week?