Not a ring.
A coupon.
Really.
(And you thought I was frugal!)
I had no idea it was coming. We had been dating for 4 months. It was my birthday and he asked what I wanted. There wasn't really anything I wanted, so I said, "I just want you."
He took that to heart. He took it to God in prayer.
He told me we were going out to eat. I came to his house after work and found him, sick. He gave me flowers. He was so sick that he said he had to pull over to the side of the road to toss his cookies on the way home from buying the flowers.
I could tell our night out wasn't going to go as planned.
He said, "I have another present for you, but I didn't finish it. Wait a minute and I'll finish it."
I waited in the living room. In a couple of minutes, he called me in. He rested in bed, so sick, and I sat on the edge of his bed.
He handed me an envelope–just a plain, white, standard–sized envelope, that was a little puffy.
I opened it.
Inside was a stack of coupons.
They had things on them like, "One Free Hug and Kiss", "One Free Public Display of Affection",  "One Free Toenail Polish", etc. At the bottom of every coupon, it said, "Coupon must be redeemed with Steve Simper. Coupon not valid with any other offer. Coupon void where prohibited. Cash value of coupon 1/20 cent."
I was thinking this was an odd birthday gift. I read through several coupons, and when I had 2 left, the second to last said, "One Free Horseback Ride." Wow, I thought. That's pretty cool. And there's one left besides that! I wonder what's on that one.
My jaw literally dropped when I read the next one, because I had no idea what was coming: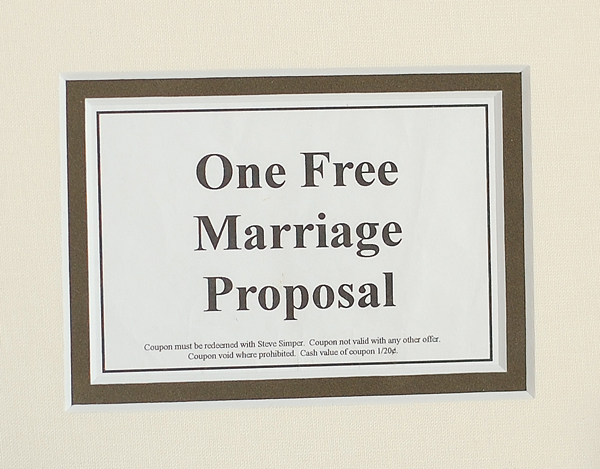 He was so sick I couldn't just give it to him then! So, the next night, when we had dinner with my parents for my birthday, he asked my dad's permission to marry me, and the next day, I got to pick the place. (He was planning on me just giving him the coupon at dinner, but since we never made it out that night, I chose Descanso Gardens). I found a rock under a wisteria vine, sat down, and that is where I gave him the coupon. He got down on one knee and proposed.
And I said yes.
We were married 2 1/2 months later. I got to choose my own ring (wise man, my husband; I knew exactly what I wanted for a ring, and I'm so glad I got to choose it).
Today I celebrate 12 years of marriage.
And I have a framed coupon that hangs on my wall.