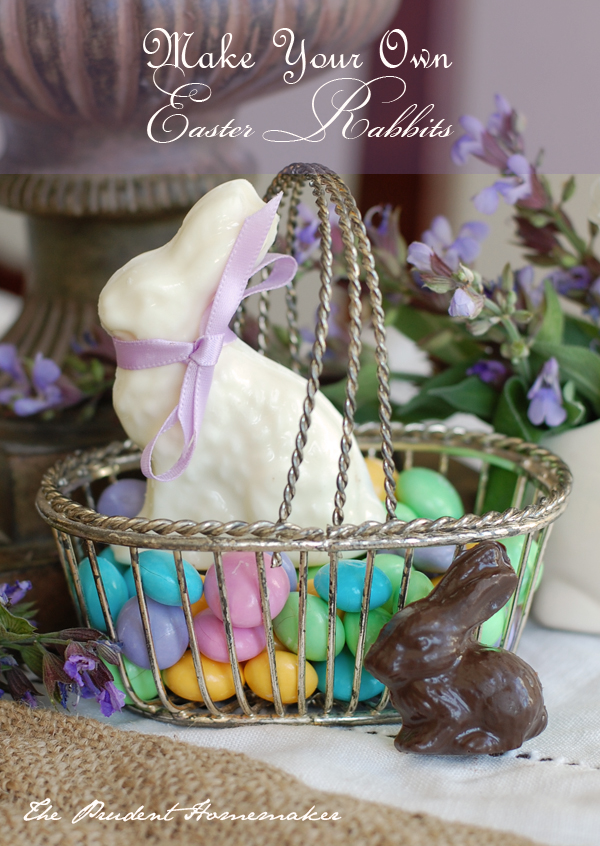 These simple rabbits are quick and easy to make. I use chocolate wafers, which don't need to be tempered.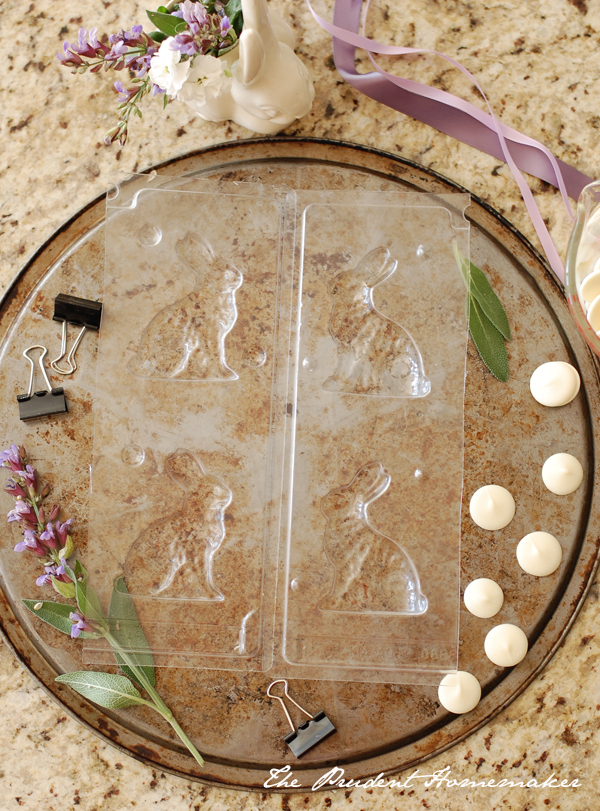 Supplies:
Rabbit molds. This mold is my favorite
, but I also like this one
for a large rabbit, this this floppy-eared large rabbit,
and this one for small bunnies
Melting chocolate wafers. I like these white chocolate
ones and these dark chocolate
ones.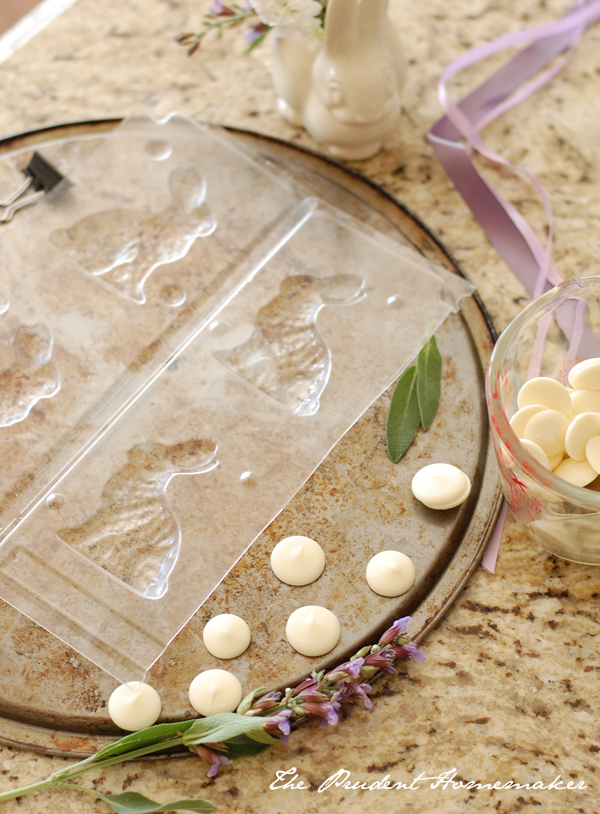 Directions:
In a glass bowl, melt a small amount of wafers for 1 minute in the microwave, stopping to stir after 45 seconds, and then stirring them after 1 minute to finish melting all of the chocolate. (No micrcowave? You can melt them in a double boiler, or in a metal bowl set over a pot of boiling water on the stove).
Use a spoon to fill each rabbit cavity, and then gently tap the mold on the counter or table to remove air bubbles. Put the mold in the refrigerator to help speed up the cooling process. When the chocolate has cooled to a solid, turn the molds over and gently push or shake the rabbits out.
If making a two-sided rabbit, cut the mold in half with scissors, and cut off the edges of the mold. Fill one side of the mold and put in in the refrigerator to harden.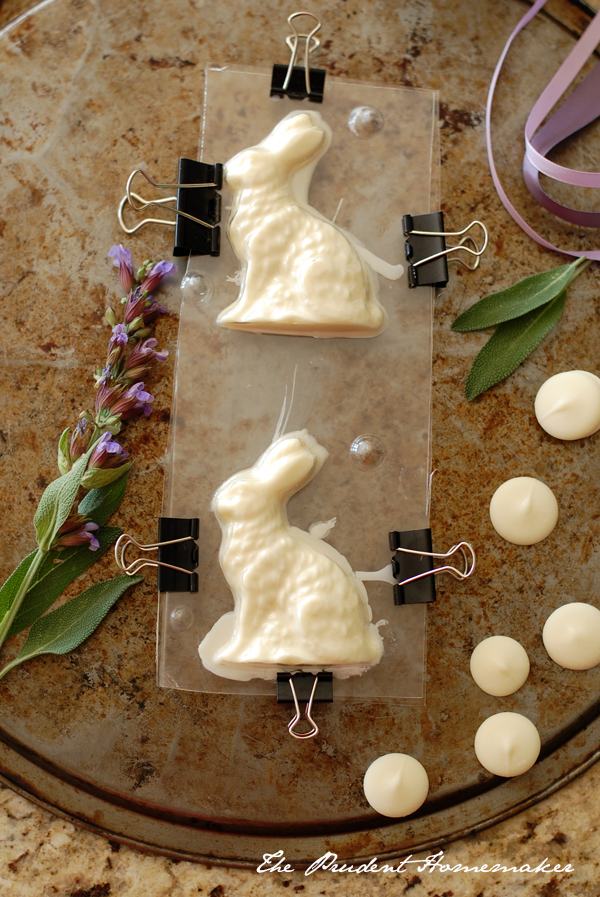 After one side has cooled, melt and fill the remaining side. Tap the mold on the counter to remove air bubbles, and then add a little extra chocolate to the top of the rabbit, to act as the glue. Remove the cold rabbits from the fridge and line them up on top of the warm rabbits. Use clips to keep the mold closed and lined up while the rabbits cool. Return this to the fridge for it to finish cooling.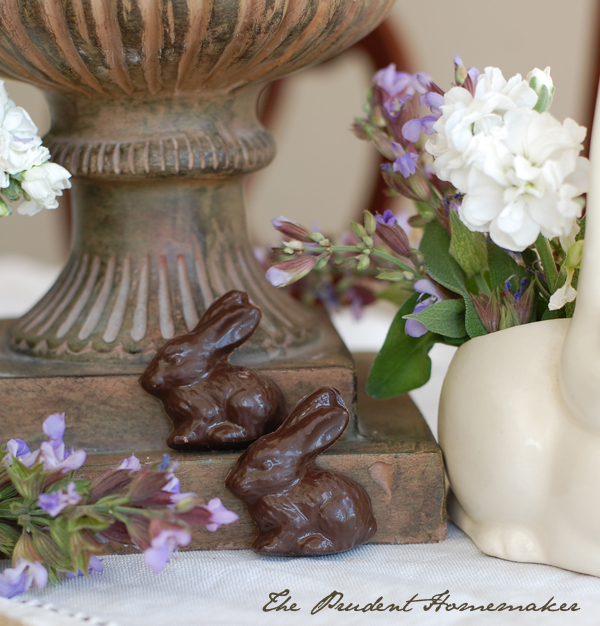 Cost breakdown:
Is making your own Easter rabbits worth it? That depends on several things, including your chocolate preferences.
Yes, you can buy the small rabbits with the blue eyes that are $1 each from the dollar store.
My personal favorite is the kind that comes wrapped in goil foil with a red ribbon around the neck. Those run $2.50 to $3 each on sale for the medium-sized rabbits (they come in severa sizes) that are 4.3 ounces each. On sale, these run $0.58 to $.70 an ounce, and would have me out $17.50 to $21 for my 7 children. That's more than I want to spend on what is only part of our Easter candy.
Amazon's price for the 12 ounce bag
is $3.98 (with free prime shipping or free shipping on orders over $35). This makes the chocolate $0.33 an ounce. For a sweeter deal, you could use a Swagbucks gift card to order chocolate this way, as well as the molds, making for no cost out of pocket.
Sam's Club carries two 2-pound bags (4 pounds total) for $15.76. This puts your cost at $0.25 an ounce for the chocolate.
The mold price is going to be highest your first year, of course, but isn't an issue each year after that. If I was just going to buy one mold, I would buy this one
, which is currently $4.51, with free shipping. Each side of the mold holds 1.4 ounces. You can make a flat rabbit, or put the two sides together for a solid rabbit of 2.8 ounces. You could also fill the inside with a filling of your choice–peppermint patty rabbits, or caramel rabbits, for instance. A solid 2.4 ounce rabbit would be $0.60 for the chocolate. Your cost per rabbit for the mold will depend on how many rabbits you make–and how many years you use the mold. This is a smaller rabbit than many at the store, but unlike many of those, yours will most likely be solid, so it will be a decent amount of chocolate for a child. If making a larger rabbit, such as with the other molds, you may want to keep it one-sided.
I like to put these in a container at the back of the refrigerator prior to Easter, to keep them ready for Easter.
This is my third year making my own Easter rabbits.
I combine these with candy I get for very little, by combining coupons and sales. We fill the same plastic eggs each year with the little candy for an egg hunt, and I give the children their Easter rabbits at breakfast. If you start in the next day or so, you can grow your own Easter grass in time for Easter, and put these rabbits in them on your table. I've done this before for our Easter centerpiece, and I plan to do it again this year, too. Here is a beautifully photographed tutorial on how to grow your own wheat grass.
If you're looking for more frugal Easter ideas, check out my Easter Pinterest board!