Saturday night I felt like I was coming down with a slight cold, and by Sunday I felt very tired. It took until around Friday before I started to feel better. I pretty much shelved my list of goals for the week.
Since I was resting, though, I decided to read. I read 5 books this week!
The Lightning Thief

The Sea of Monsters

The Titan's Curse

The Lost Hero (Heroes of Olympus, Book 1)

The Son of Neptune (Heroes of Olympus, Book 2)
Yesterday I started The Mark of Athena (Heroes of Olympus, Book 3)
and I finished that one today. I was really glad that before reading this one, I had recently read Archimedes and the Door of Science, because the part about Archimedes was so much more interesting to me because of it! (The book about Archimedes is amazing! I highly recommend it!) I also was glad to have read about Horatius fighting at the bridge, even though it was a brief mention. I think my daughter (whose books I borrowed) enjoyed these books even more because she had read about these things first as well in our history studies.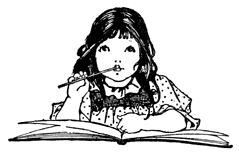 Last Week's Goals
1. Work on green dress for Winter.
2. Make waistband and finish skirt for Winter. Some progress is better than no progress.
3. Continue to embroider handkerchief at night. Not finished, but I did work on it!
4. Continue to prune trees in the garden.
5. Spread manure in the garden.
6. Replant where seedlings were eaten/nothing came up, depending on weather.
7. Cut out new dress for Winter. This will be a church dress for colder weather that I'll give to her on her birthday or Christmas. I wasn't able to do this, but I was able to cut out the bodice and collar for a dress for Liberty, which isn't a surprise (so I could do it in front of the children). I also cut out the front to two drool bibs for the baby.
8. Eat at least 3 dinners al fresco.
9. Work on eating from the freezer.

I realize that I could set easier, more attainable goals each week, but seeing as these things still need to get done, I will continue to set my goals high. I'm also hoping that since I cooked a turkey on Saturday (and I didn't freeze any of it), that we'll be able to have some meals that are quicker this week, which should help make my more time-consuming goals more attainable.
This Week's Goals
1. Work on Green dress for Winter (maybe? Hopefully!)
2. Finish skirt for Winter
3. Continue to embroider handkerchief at night
4. Plant more seeds in the garden
5. Cut out new dress for Winter
6. Take pictures for tutorial
7. Spend some time organizing the pantry
8. Prune trees for Thursday's trash (have trash cans full)
9. Organize part of the library
10. Sew bibs
11. Praise each child each day