For the third day of A Gift a Day, I made simple bracelets.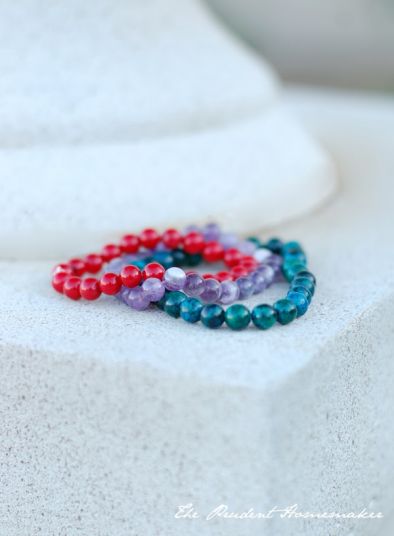 Bead Bracelets
Supplies:
beads
clear elastic cording (I purchased the smallest diameter cording; it comes on a small reel abouthe size of a ribbon reel)
Tools:
your own two hands
scissors
Ruler and measuring tape (if you don't have a measuring tape you can use a piece of string or even cut paper, measure the recipient's wrist, and then measure the string or paper).
Time:
The total time for one bracelet is 3-5 minutes.
Today I made three bracelets.
I measured all of the girls' wrists. I added a couple of inches in length to the piece of elastic that I cut. I knotted one end, leaving enough to tie the finished bracelet closed (about an inch). I then strung the beads on by hand. I added a few more beads so that the bracelet wouldn't be too tight, making it about 1/2″ – 3/4″ (1.5 – 2.0 cm) longer than the person's wrist measurement. After that, I tied the end of the bracelet to the knotted end.
Cost:
The cost will vary depending on the beads you use and the price you pay. I bought new beads for all of these bracelets and new elastic cording. The cording should allow me to make many bracelets in the future as well.
I bought the beads on sale for 50% off at Michael's. All of these beads are currently available. Some strings were longer than others. I will keep any leftover beads to use in other projects. These cost me $1.60 to $3.10 each, depending on the beads.
Did you make any gifts today? What did you make?
If you would like to be notified each day when I've posted about what I've made, type your email address in the Follow box on the right-hand side of my blog and click "submit."