For the second day of A Gift a Day, I made an apron for Cyrus in his favorite color. He loves to cook, and he is learning how to make new things in kitchen all the time.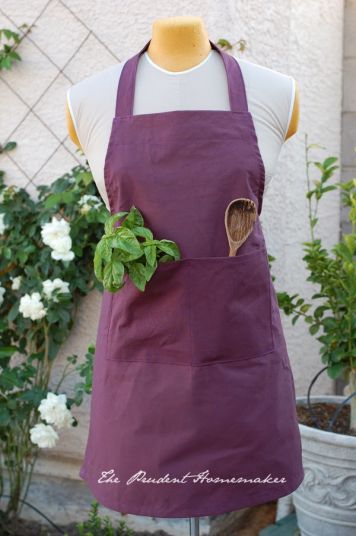 Apron
Supplies:
1 yard of cotton duck fabric
thread
Tools:
scissors
sewing machine
Time:
The total time for one apron is about 3 hours, including cutting out the fabric and sewing it.
Today I made one apron.
There are a lot of free apron patterns that you can use to make aprons (such as these 40) and lots of fabric choices. I chose cotton duck because it is heavy and last longer than thinner aprons. I didn't use a pattern; instead, I copied an apron that I already had. I simply laid down my existing apron, and traced around it, leaving a 1/2″ seam allowance around the apron.
It will be a big large on him, but because it is a heavy-weight apron, it should last him several years, during which time he will probably become taller than I am.
Cost:
$3.39. I ordered the fabric last year on Black Friday from Fabric.com. I ordered it with other fabric and since my order was over $35, shipping was free. The fabric was on sale plus I received an additional 15% off my order as part of the Black Friday special.
Did you make any gifts today? What did you make?