A few years back, we were in need of new Christmas stockings. Our family had grown, and we didn't have enough matching stockings for the family.
At the same time, I had been seeing beautiful miniature stockings online made from vintage grain sacks. I loved the simple red stripes at the top and I especially loved the fact that the stockings were tiny. Small stockings (rather than ones that could fit an entire adult's arm) mean there is less to fill, and I can have a wrapped gift sticking out of the top, which is something I had always wanted to do. That didn't work with our previous stockings, which were so long I could fit all of our gifts for each person in with room to spare.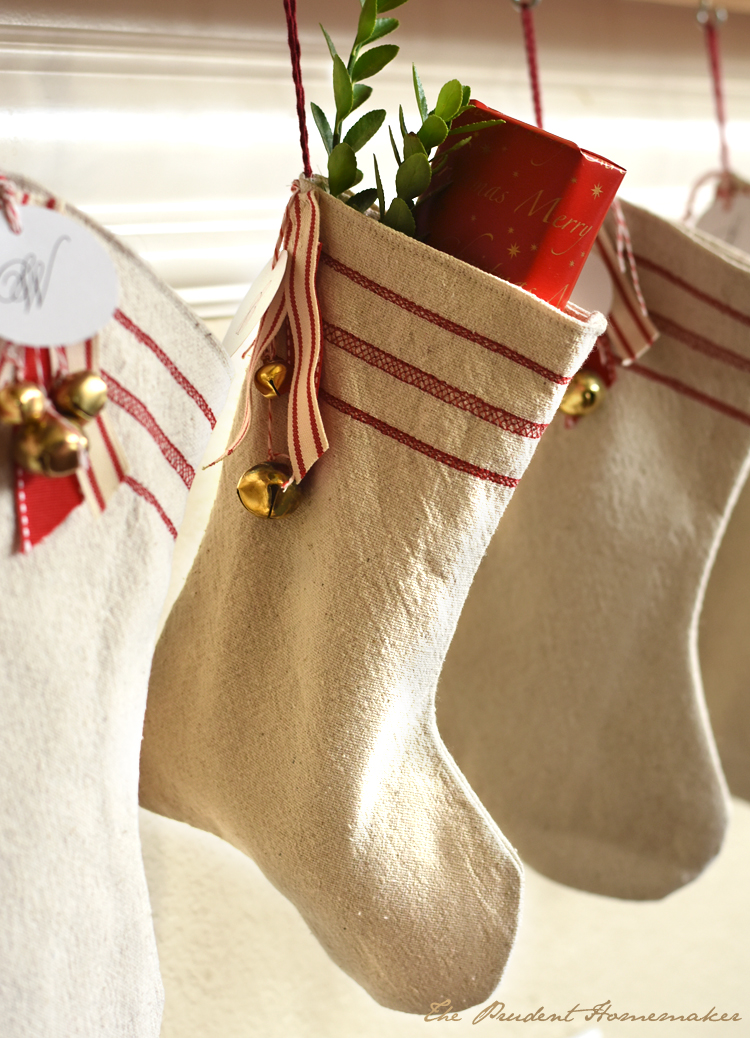 I drew up a small stocking pattern and set to work. I didn't have vintage grain sacks, nor a budget for them, so I used my sewing machine to sew red stripes on some painter's drop cloth that I had previously bought at the hardware store. (Note: Our city got an Ikea store last year; they have dishtowels for $0.79 each that have red stripes at the top which would work beautifully to make these stockings).
Last year, with our new baby, I wasn't worried about hanging a stocking for him. Now that he's a year and a half, it's time for me to make a stocking for him too!
You can make your own small stockings out of your fabric of choice. Not a fan of red stripes? Try cutting up a velvet skirt or dress, or an old sweater that you find at the thrift store! Repurpose an old sheet to use as the lining.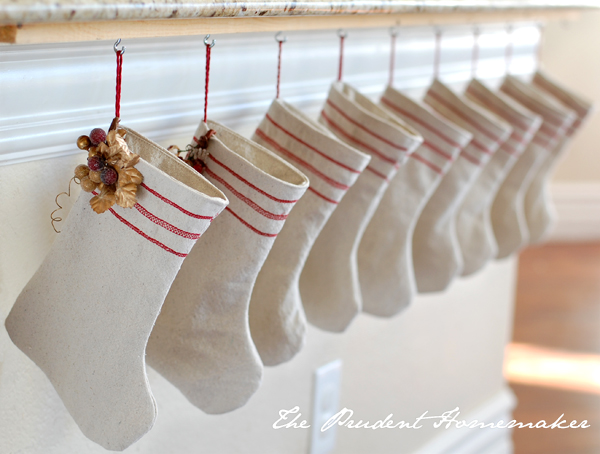 When it comes to filling the stockings, consider the simplest things.
In the toe, put a clementine or an orange. These are always on sale at Christmastime in the U.S. (Readers in the Southern Hemisphere, please share your favorite summer fruits for stockings in the comments below!)
Include some candy and/or nuts. I like to buy some candy from the bulk section at Winco when it goes on sale right before Halloween and give that (this year I bought peppermint patties). Candy canes, purchased on sale, work well. I like to make homemade candies too, such as peppermint bark, which I put inside in plastic bags. For nuts, look at buying them in bulk from Sam's Club, Costco, Winco, or another place that sells bulk nuts. If you grow your own, whole nuts in the shell look pretty in stockings as well. If you prefer cookies to candy, a beautifully decorated Christmas cookie or two is a nice, edible gift.
For gifts, I like to keep the cost down. Most "inexpensive" stocking stuffer ideas that I see include several gifts that are $10-$20 each. Most years, that is my entire Christmas budget per person (candy and nuts come from my regular grocery budget, rather than my planned gift budget), which means I need to lower that amount considerably to keep within my budget for the year. I usually include two to three gifts per person in stockings. Here's some of what I like to include:
For my daughters:
Jewelry. I find pieces at garage sales for $1 an item. I'll make jewelry from repurposed or garage sale pieces. Broken or old costume jewelry is great for this purpose. I've also bought beads, elastic, and jewelry findings on sale to make pieces between $0.15 to $1 each.
Small toys. Garage sales are also a great place to find small toys. I found a number Legos for a total of $0.50 this year, and I'll divide these up between my four younger girls.
Art supplies. I purchase these for $0.25 to $1 at back to school sales.
Hair ribbons. I buy them on sale by the spool and cut them on the diagonal (to reduce fraying) in lengths for the girls.
Homemade barrettes.
Hair elastics. I buy these in packages of 100 from the dollar store.
Bobby Pins. I get these from the dollar store.
Hair brushes. I also get these from the dollar store.
For my sons:
Legos. Garage sales are again my source for the least expensive small Lego stocking stuffers.
More Candy and/or nuts. My boys like to have the same candy as their dad.
Ties. My boys wear a tie to church every Sunday. I find them at garage sales for $0.50 to $1 each.
For both boys and girls:
Toothbrushes. I buy them in packages of 4 or 5 for $1 from the dollar store (last Christmas I saw this same deal at Walmart too).
Chapstick. I often buy a bulk package and divide it up. I look for coupons and sales to get the price lower than $1 each.
Bouncy balls. You can buy a bag (usually of 6) in the party section of several stores.
Puzzles. The dollar store has small puzzles that fit in stockings.
Earbuds. Again, I get these at the dollar store.
Bookmarks. Homemade bookmarks are a favorite gift at my house. My children are avid readers who always have a book going.
For my husband:
His favorite candy. At my house, this means a large bag of peanut M&Ms and/or a bag of Werther's. I can always find coupons and sales on these to get the price down considerably.
This is all I usually get my husband, but this year I'm thinking of adding a restaurant gift card using points I earn on Swagbucks. We don't usually exchange gifts between the two of us, so this would be a surprise. It also won't cost me anything at all!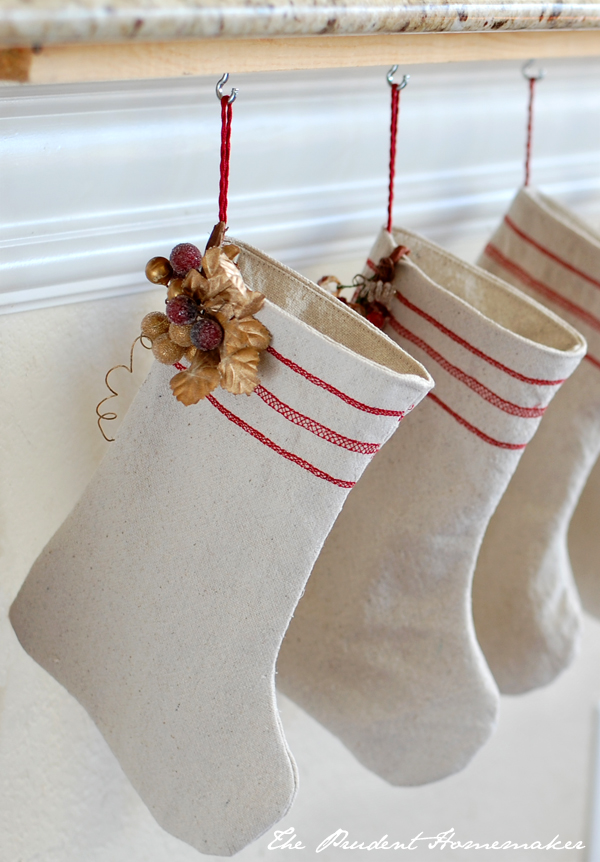 Reducing the size of your stockings makes it easier to fill a stocking and keep within a tiny budget. There's no need to feel obligated to spend money on stocking stuffers that will end up broken and unwanted before the New Year. Let your gifts be simple.
As I was writing this post, I asked my 12-year-old son what he loved getting in his stocking. He immediately mentioned the clementine, then candy, and then bouncy balls! And only then did he mention Legos. What my children have come to remember is the simple traditional items that we have included, and they look forward to them every year!