Both Elsa and Ivory have recently asked me for a crown to wear when they dress up as princesses. We've had a good number of dress-up crowns in our house, but none have survived the first three daughters to pass down to daughters four and five. Most crowns are plastic, and all of the little girls at my house leave them on the floor, where someone ends up stepping on them.
I've made a fabric crown in the past for Cyrus (this one) but I wanted a more dainty look for a 4-year-old and a 2-year-old. I attempted my own design with fabric in the past, and that crown never did get finished, as turning it right-side out was too difficult. This time, I decided to use felt, so that I could avoid the need to turn it inside out, and so that I could finish the project more quickly.
Elsa actually asked for an Elsa crown, so I went looking for a template for one. While I found several, this one was the best suited to be stiff enough to stand up in fabric.
Supplies:
1/8 yard of felt
less than 1/8 yard of pellon (the super-stiff, non-fusible kind)
1-inch wide elastic (2 pieces each 1 1/2 inches long)
Beads or buttons to decorate (optional)
thread
Tools:
Scissors
Iron and Ironing board
Sewing machine
hand-sewing needle
Measuring tape
Sewing pins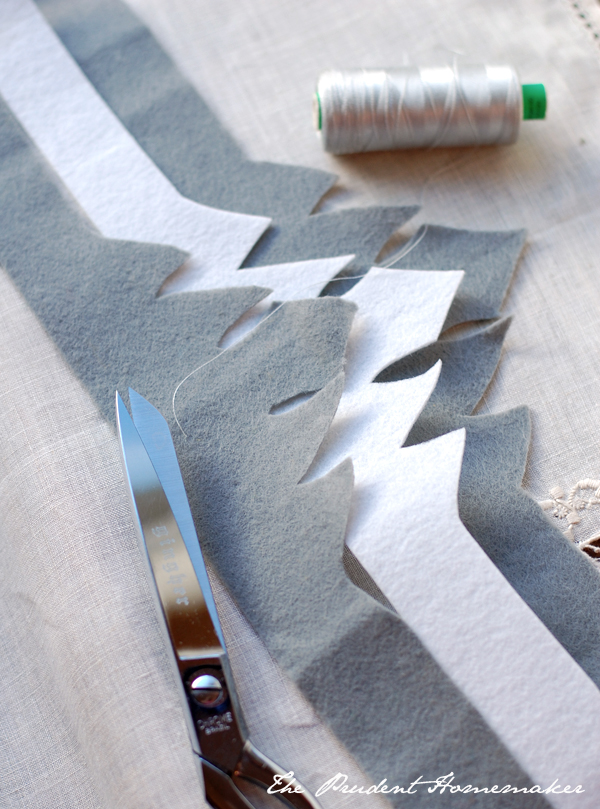 I measured both girls' heads so that I had a total length for each. I cut the final headbands an inch and a half shorter than their head measurements.
Use the Elsa crown pattern, adding a long amount on to each side to make it go around the head.
Cut two pieces from felt, and one piece from Pellon.
Trim 3/16″ inch off the pellon piece, all the way around. This helps to keep it inside the seam line.
Layer the crown pieces like a sandwich, with the pellon in the middle. Pin the pieces together and stitch all the way around using a 1/8 inch (2 mm) seam, leaving the ends open (the ends that meet in the back).
Insert the piece of elastic into one end of the crown and sew it in place. I sewed it in two parallel seams to make sure it stays put. Repeat for the other side.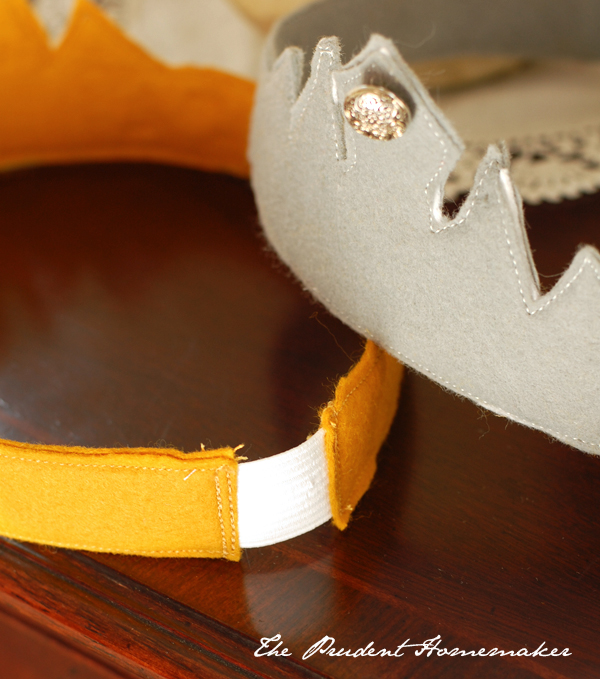 If you want a button or a bead, sew it on by hand afterwards. I only went through the top layer of felt when sewing it on.
Time:
It took me a few hours to get these done, but I had a lot of interruptions! Uninterrupted, I think you could make one in 30 to 45 minutes.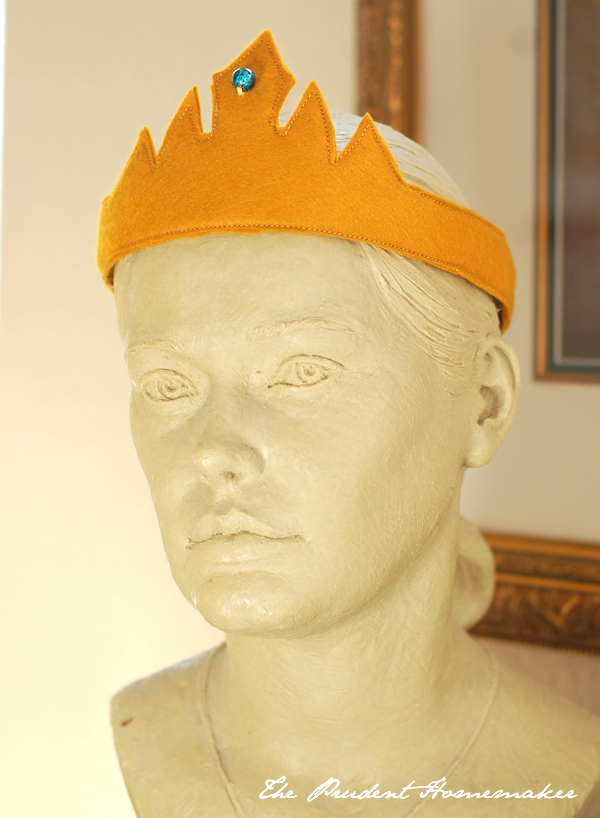 Cost:
$0.40 each.
The felt was a hand-me-down from a woman's sewing stash, given to me by her daugher after she had passed away. The grey felt is synthetic; the gold felt is wool felt. Your cost will depend on the type and source of felt.
The button and bead were from my button jar and bead box. I only had one of each, which made them perfect for this project.
I purchased the Pellon at Joann's with a 40% off coupon over a year ago. You just need a small amount for this project.
I bought the elastic in a large roll from Wawak.
What did you make today?