For the first day of A Gift a Day, I chose to make bow barrettes. Most of these are for Ivory. The flowered ribbon one in the back of the second photo will go to Wren and one of the pink ribbon barrettes will go to Elsa.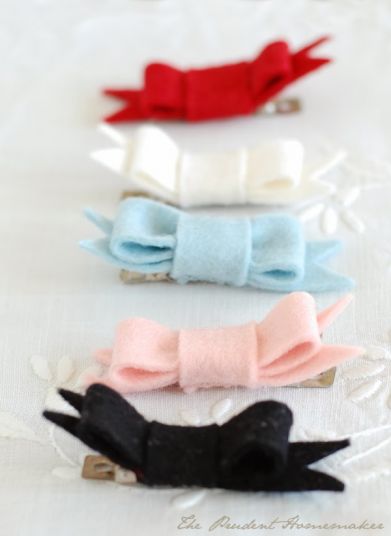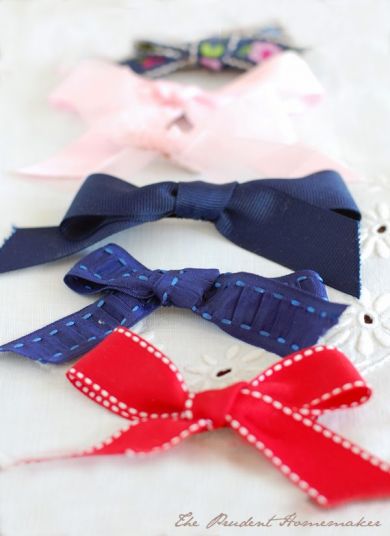 Bow Barrettes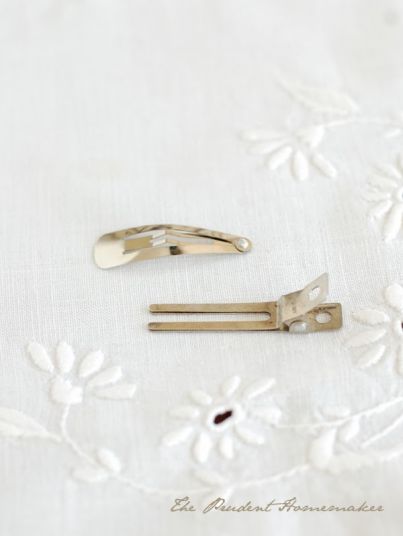 Supplies:
Ribbons
40 and/or 50 mm snap clip barrettes (I bought mine here); for a young toddler you can buy 40 mm barrettes
alligator pinch clips (do a search on Etsy under supplies for bulk sellers)
felt (you can use wool or acrylic felt; I used wool felt; check Etsy sellers for this as well)
thread
Fray check or clear nail polish (optional)
Tools:
scissors
sewing needle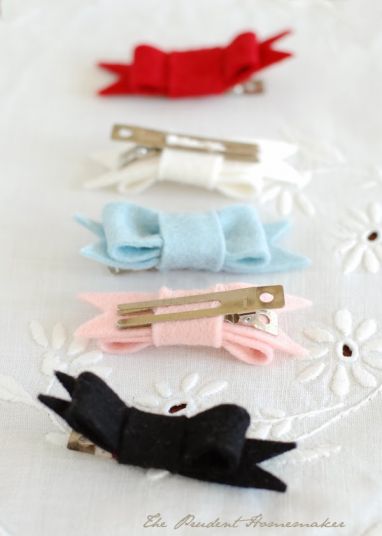 For the felt bows, I followed
the instructions here
. The I simply slid the back section of the barrette through the center part of the back side of the bow.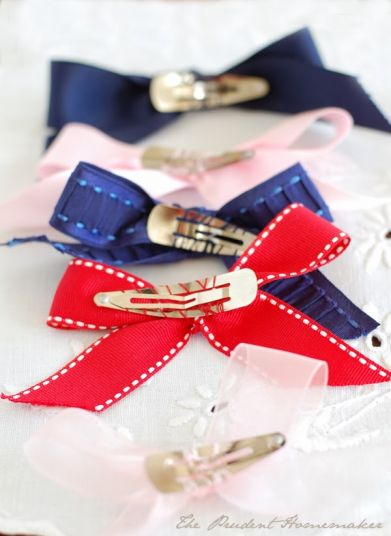 For the ribbon barrettes, I tied a bow with ribbon and trimmed the ends on the diagonal to slow fraying. If you desire, you can put fray check or clear mail polish on each end to stop tit from fraying at all.
I then sewed a few stitched by hand through the knot on the backside, and then sewed it on to the barrettes.
Time:
The total time for one felt barrette is 6 to 10 minutes.
The total time for one ribbon barrette is 5 to 10 minutes.
Today I made 11 barrettes.
Cost:
The felt barrettes made with wool felt cost $0.23 each, and the ribbon barrettes will vary, depending on the ribbon, but will be around $0.15 to $.20 each.
I bought barrettes in bulk on Etsy for .08 to .10 per barrette last year in packs of 100, so I have plenty leftover for birthdays and Christmases to come, as well as for gifts for my children's friends.
If you use purchased wool felt ($2.00 a sheet), your cost will be higher than if you use acrylic felt bought on sale (.20 a sheet). Each barrette used 1/16 of a sheet when I cut the pieces 1/2″ wide.
Ribbon costs will vary; I bought most these on 50% off sales at Joann's over many years when they were sold by the spool, and some cost more than others. The flowered ribbon was one from my grandmother and the pink satin ribbon I have had for many years. The next time I want to buy ribbon, though, I will order online from here. Notice the first time customer discount as well. If they don't have what I need I'll check this place that I found, too (they have velvet ribbons!). You don't need a long piece of ribbon, so you can use some ribbon that you may have received on a package. If it needs ironing, just iron it before tying it into a bow.
I already had all of the materials on hand, so this year these didn't cost me any money out of pocket.
Did you make any gifts today? What did you make?