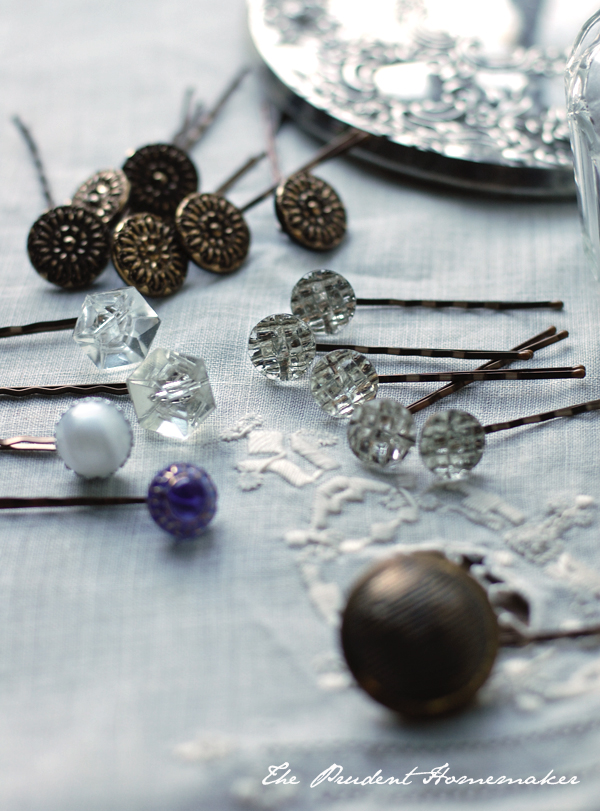 All of the new hairstyles that Winter has been trying have involved plenty of bobby pins. I made her these fancy bobby pins for some fun accents.
Supplies:
Bobby pins
Fancy shank buttons
Thin jewelry wire
Tools:
Needle-nosed pliers
Wire cutters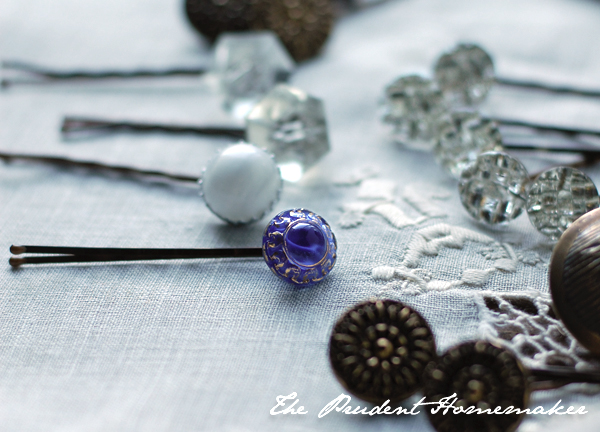 I cut a piece of jewelry wire about 3 inches (approximately 7.5 cm) long for each bobby pin. I threaded it through the bobby pin, and then lined up the pin where I wanted it. I bent the wire across the button and pin, and then and put it through the middle of the pin from each side.
I wrapped the wire through and around the end of the pin, through the shank button, and around the shank of the button several times, using the pliers to pull the wire tight each time.
When I got to the end of the wire, I used the pliers to tuck the ends into the holes of the button, so that nothing sharp would stick out.
Time:
It took me 5 minutes per bobby pin. I made 16 bobby pins.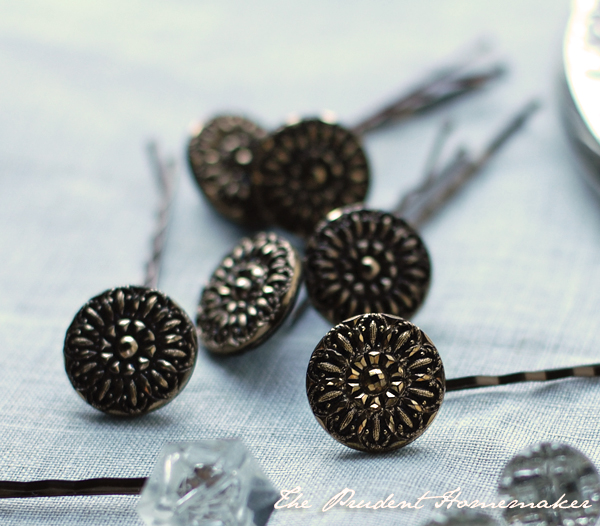 Cost:
$0.05 each.
I used buttons from my button jar. When clothes wear out beyond the point of being mended, I cut the buttons off and keep them to use for new articles of clothing. This particular project works well for both large numbers of matching buttons as well as smaller numbers of buttons, including a single button (such as the blue one) that is left, as it can be used as a single accent. These particular buttons were given to me from a reader, who sent me the buttons her mother had kept in her own button jar.
If you don't have buttons, you can purchase some on sale from Joann's, Hobby Lobby, etc. I usually buy buttons on sale for 40-50% off.
Black bobby pins can be bought from several different dollar stores. While those work perfectly for my own dark hair, Winter has lighter hair, so I bought her some brown bobby pins. The lowest priced-ones I could find were the Goody package of 90 at Walmart (Walmart had several choices in that color; I had to look around before I found these ones). If you are using the black ones and buttons you already have, your cost would be $0.02 each.
I purchased the jewelry wire on a 40% off sale at Michael's last year. This item regularly goes on sale, or you can use the coupon that comes in the weekly ad.
I saw similar looking bobby pins at Target last week; they were $5 for 4 bobby pins! Making my own was definitely worth the time.
Update: Here are some in my daughter's hair:
Did you make any gifts today? What did you make?