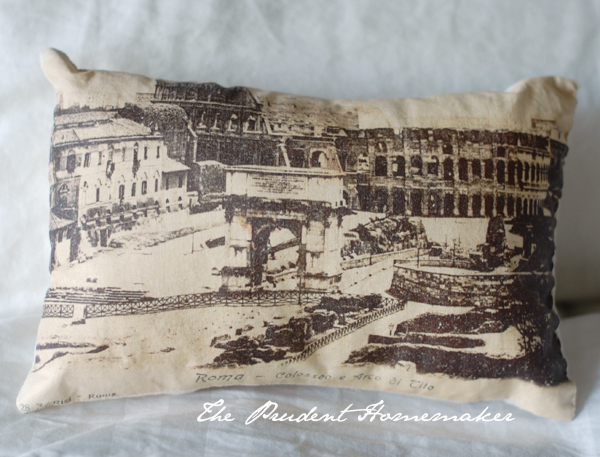 Ezrom and I talked about making this pillow for his room a couple of months ago. He chose the image that he wanted. The little pillow will go on his bed.
He doesn't know I made it for him for Christmas.
Supplies:
Iron-on transfer paper
Fabric for pillow and cover (I used unbleached muslin)
Batting
Thread
Tools:
Iron
Scissors
Sewing machine
Sewing pins
Paper cutter (optional)
My mom printed up the transfer sheet for me on her ink-jet printer (I have a laser printer and the sheets only work with ink-jet printers). I trimmed around the image with a paper cutter to make perfectly straight lines.
I used the trimmed image to meaure tow pieces of fabric. I put the image down on a double layer of fabric and added a sean allowance of 1/2″ all the way around. I cut the fabric out.
I ironed the image on one piece of fabric. After it had cooled, I put the two pieces of fabric right-side together and sewed them closed on three side. Then I turned the whole thing right-side out.
The instructions for the iron-on sheets say to wash the fabric after ironing on the image, so I washed it, but I did not put it through the dryer. I let it air-dry for a short while, and then ironed out the wrinkles. I also ironed the open edges along the edge of the image so that they would go inside the finished pillow.
I cut a couple pieces of batting the size of the finished pillow, making each long ebough to cover it four times. I folded the batting over until it was a thickness of 8 times, and I put that in the pillow.
I stitched the open end closed by hand.
Time:
It took me around 30 minutes to make the pillow.
Cost:
$.84
I had everything on hand except for the transfer sheets. These were .84 each for the iron-on sheets. I used batting that I was given from my mother-in-law; you could also use batting from an old bed pillow. The muslin was part of the fabric that I received from my grandmother.
Did you make any gifts today? What did you make?