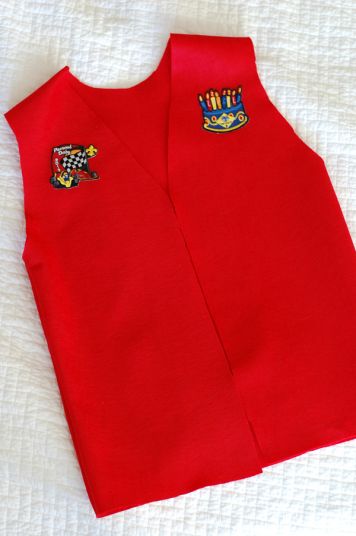 My son mentioned this week that he wants a Cub Scout vest.
This is the simplest thing to make. I used my son's uniform shirt to measure the width and armholes, and I cut the felt just like it looks from the Cub Scout store vest that I linked above. I then sewed the pieces together.
Cub Scout Vest
Supplies:
red felt (I bought mine on sale for $1.87 a 72″ yard after sale and extra discounts; you will need about 1 1/4 yards for 2 vests)
red thread
Tools:
scissors
sewing needle
sewing machine (optional; you could sew these by hand)
Time:
The total time for vest was 20 minutes
Today I made two vests. My younger son will start Cub Scouts at the beginning of next year, so I am going to give him one, too.
Cost:
$0.95 per vest. That's much better than the $14.99 at the Scout store!
You can see the rest of the gifts I've made in my Gift a Day series here.
What did you make today?