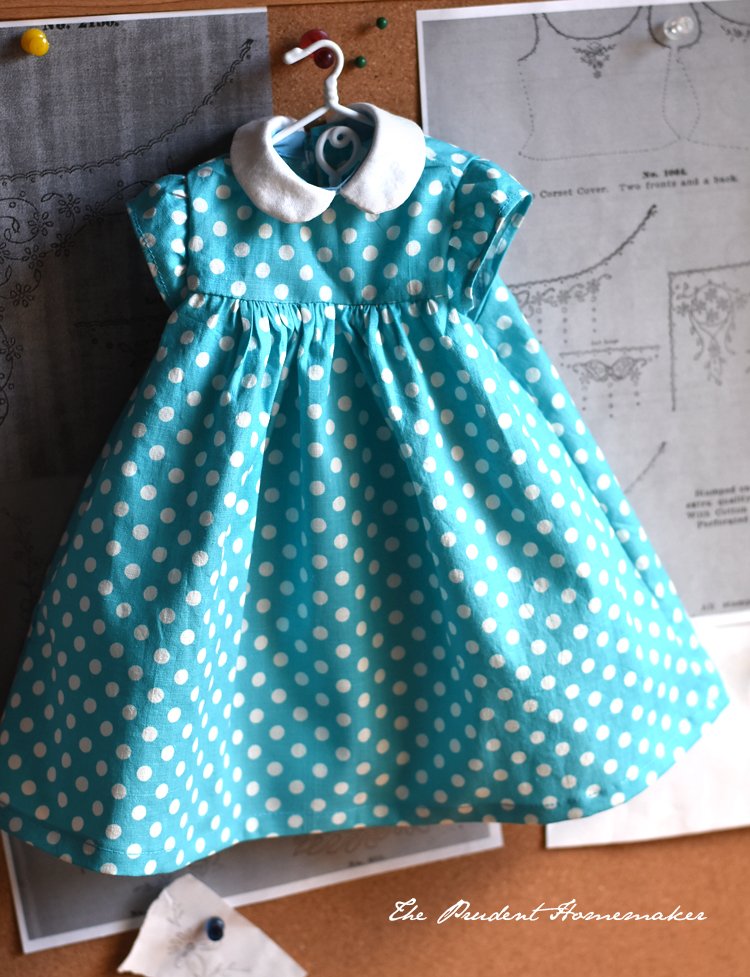 Supplies:
Polka dot fabric 15″ by 44″
Small piece of white fabric for collar
Tiny bit of fusible interfacing for collar
Pattern from A Closetful of Doll Clothes
Bias tape or self-made bias from fabric to line the inside neckline of the dress
Velcro, snaps, or buttons to close dress
Tools:
Sewing Machine
Iron
Sewing pins
Scissors
Copier to copy patterns or tissue paper to trace patterns
I like the simple pattern pieces from this book that allow for endless combinations. The book is not a beginner book, however; there are patterns for several sizes of dolls but no instructions, as a basic knowledge of dress construction is expected. I chose the cap sleeves for this pattern since the doll it will go on has full plastic arms, but for a doll with partial plastic and partial cloth arms, a longer sleeve would look better. There are several sleeve length choices in the book.
All of the seam allowances are 1/4″, save the edge of the collar, which is 1/8″ (saving you the need to trim the collar before turning it).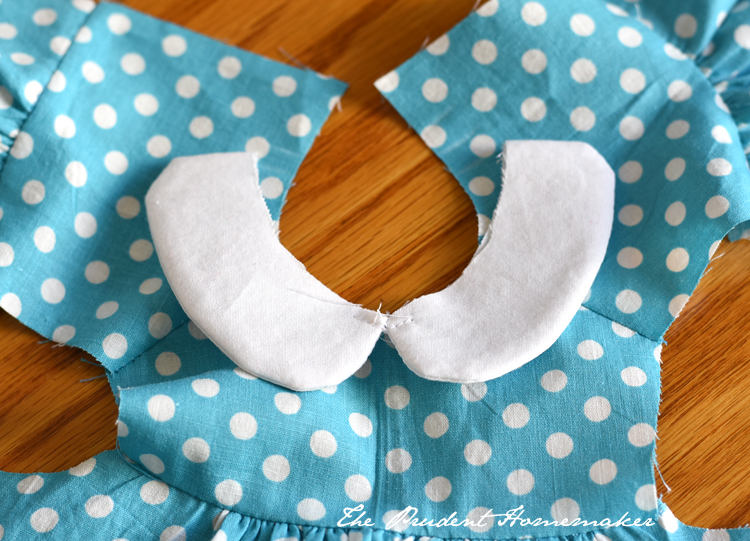 I lined the collar with lightweight fusible interfacing. I then turned and pressed it. I used a little trick I learned years ago for sewing collars: butt the collar pieces together and sew them together first within the seam allowance before pinning them on the dress.
I chose to finish the neckline with bias tape. You could also just cut a piece on the bias, but I have some hand-me-down bias tape and chose to use it for the sake of time.
I cut a piece of velcro in half lengthwise to close the back of the dress.
Time:
About 2 hours
Cost:
The polka dotted fabric was given to me. I bought the white fabric and interfacing at 50% off. I bought the book years ago and have made many doll clothes from it, so I am not including the price of the book with the price of the dress. I used bias tape that was given to me to line the neckline. I bought the velcro at 50% off.
Total cost: $0.25