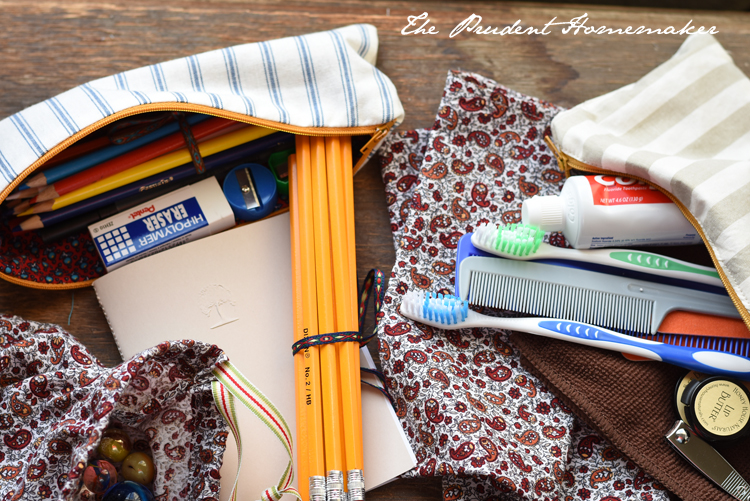 I am excited to participate in filling shoeboxes this year for Operation Christmas Child! These gifts go to needy children all over the world.
I spent some time recently reading stories of those who had received shoeboxes as children, as well as those who have helped distribute shoeboxes. I took note of what gifts were most useful and meaningful to so many.
You can choose to make boxes for a boy or a girl, in the age categories of 2-4, 5-7, and 10-14. Operation Christmas Child receives the fewest boxes for boys ages 10-14, so we choose that age. I also have two boys in that age group who gave me lots of feedback on gifts.
School supplies and hygiene supplies are especially needed.
Using fabric, zippers, and ribbon that I had been gifted (much came from my grandmother's collection, some from my mother-in-law's, and some from others), I made bags to hold our gifts that will be useful gifts in and of themselves.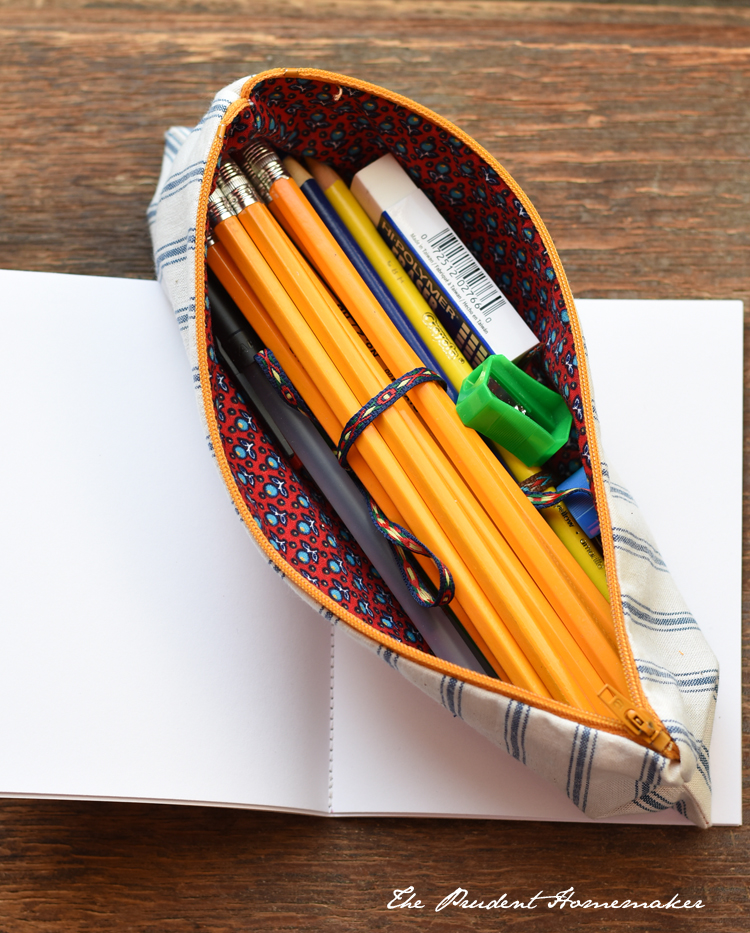 I made a lined pencil case. I chose a dark patterned fabric for the inside, so that any marks from the pencils won't be noticeable on the inside. Inside we placed 10 pencils (tied with a ribbon), 13 colored pencils (also tied with a ribbon), a black pen, a red pen, two pencil sharpeners, and an eraser.
I also sewed a little book with blank computer paper. I cut several sheets of paper in half, and enclosed it in a half sheet of cardstock. I sewed it closed down the middle. I embossed a tree on the front cover (picture of the front further down the page).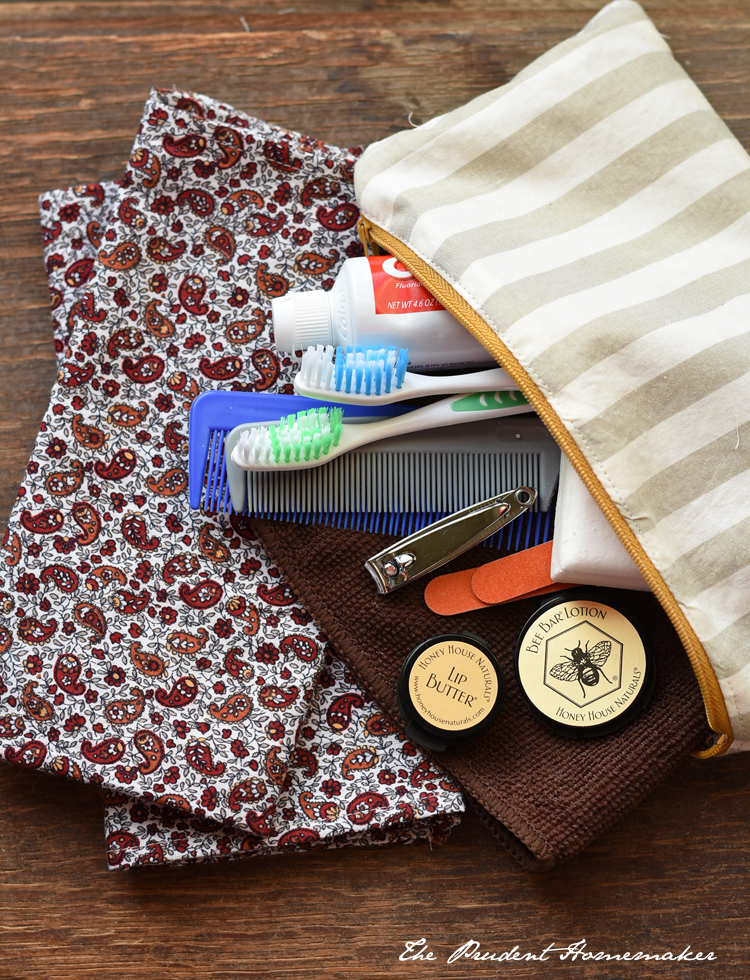 I made a larger bag in the same manner for a toiletry bag. Inside I placed 2 combs, a pair of nail clippers, 2 nail files, a washcloth, 2 toothbrushes, toothpaste, lip balm, solid lotion (like lip balm), and 2 handkerchiefs that I made from the same fabric I used to line the bag. It is a soft cotton.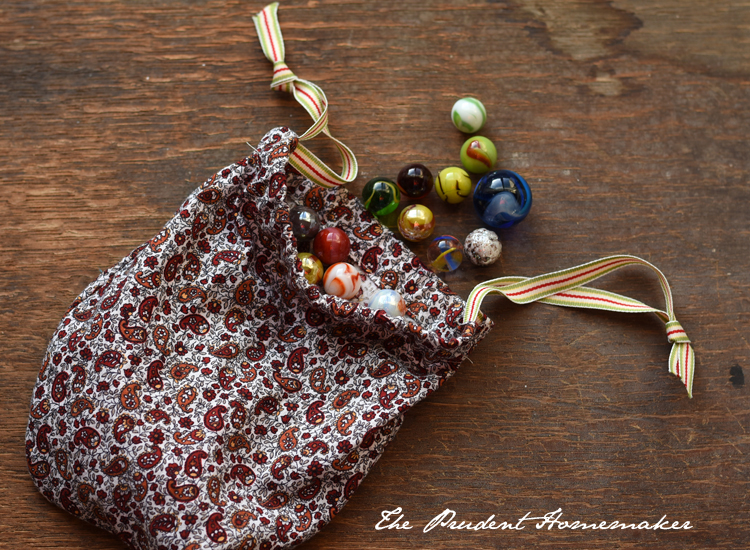 I made a drawstring bag to hold marbles.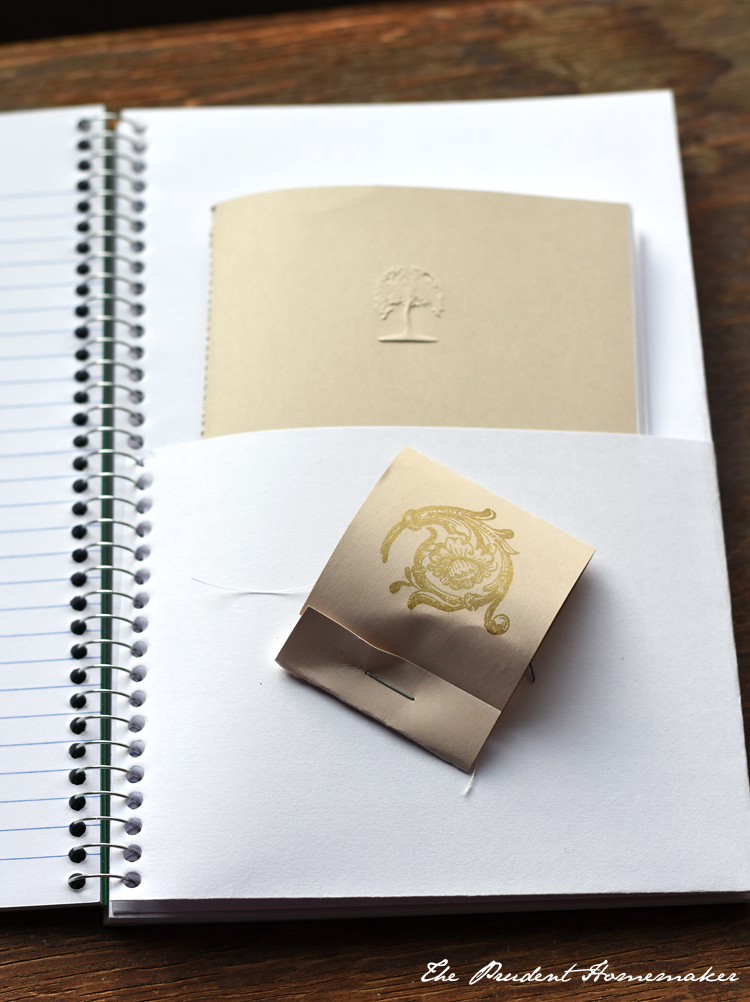 I made a small matchbook sized sewing kit with cardstock, thin cardboard, thread, a piece of felt, 2 needles, and 3 safety pins. On one of the safety pins I included 2 shirt buttons. I stamped a design on the front and stapled the cardboard holding the thread and felt holding the pins and needles into the bottom.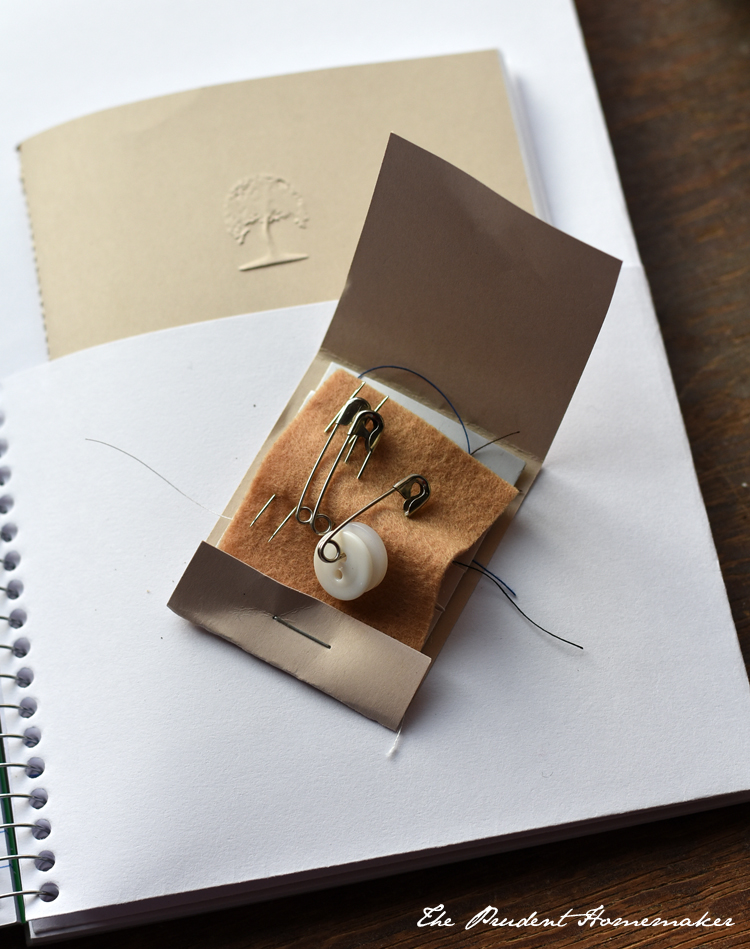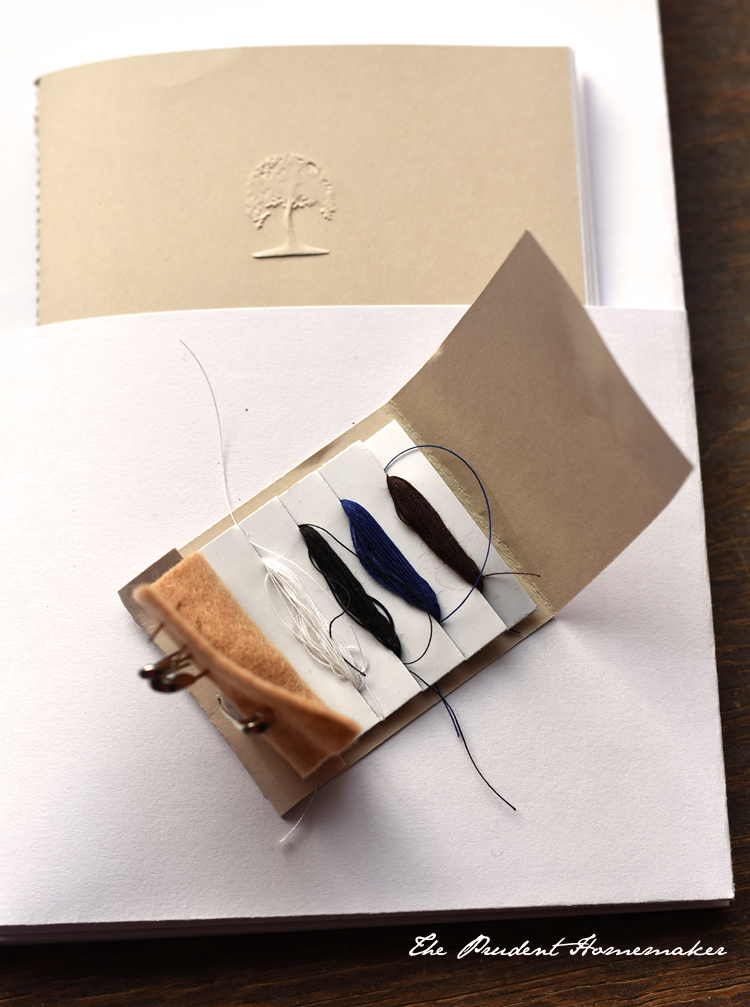 We also included a 2-subject notebook with lined pages. The notebook is divded in the middle with a blank page with pockets on either side. I put the blank book into one side and envelopes into the other. I think finding them there will be a fun surprise.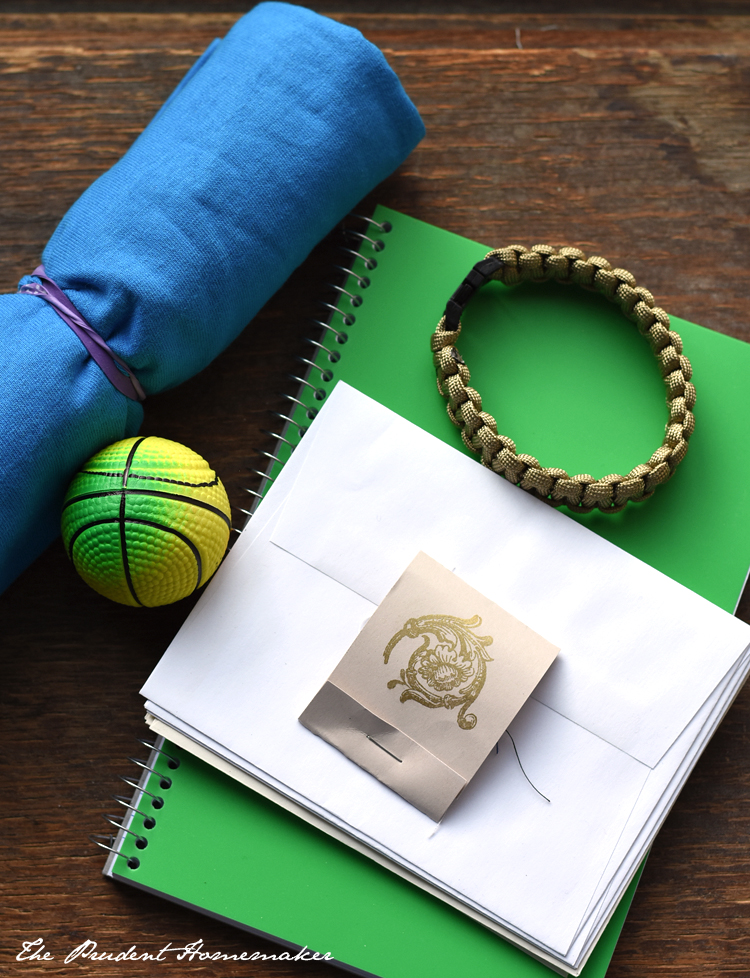 We packed a small ball and a paracord bracelet.
We packed a t-shirt.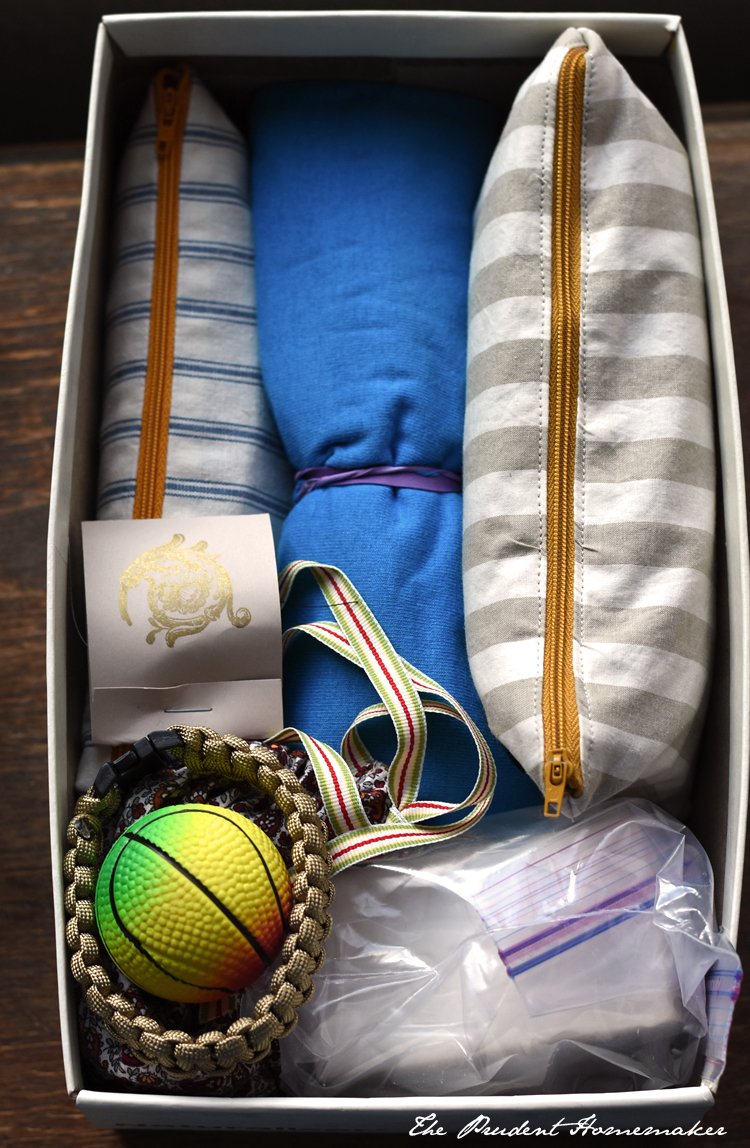 We included 2 bars of soap. One of these would fit in the toiletry bag, but two would not, so I packed them outside the bag. I double bagged the soap.
The toothpaste, lip balm, and bar lotion were all packed inside a ziplock bag inside the toiletry bag. (Note: These items are prohibited to ship from Canada but not from the U.S.)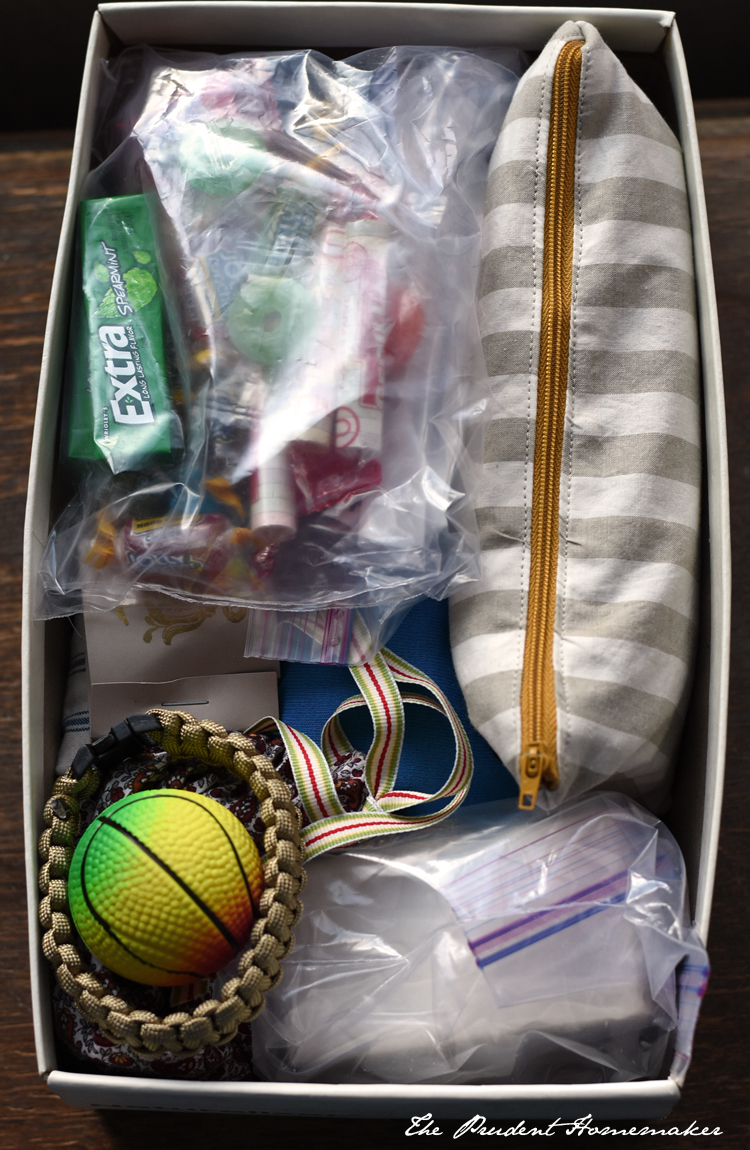 We also included a bag of hard candy and gum (these are also prohibited to ship from Canada but not from the U.S.) I also, per their recommendation, double-bagged the candy.
Sources:
Balls (in a three pack)–Dollar Tree
Washcloths (in a three pack)–Dollar Tree
Toothbrushes (in a four pack)–Dollar Tree (They also sell a three-pack that includes toothbrush covers)
Combs (in a multi-pack)–Dollar Tree
Paracord bracelets –Dollar Tree (We were going to make these, but one of my children wanted to buy them for the boxes)
2-subject notebook–Dollar Tree
Pencil sharpeners (in a twelve pack)–Dollar Tree
Marbles with shooter–$2.99 at Hobby Lobby
T-shirt–$2.97 at Hobby Lobby. Joann's and Michael's also sell inexpensive blank t-shirts, and they hold up well.
Toothpaste–$1 on sale at Smith's
Eraser, pencils, colored pencils, pens, blank paper–Back to school sales
Envelopes–Bought in bulk years ago from an office supply store
Lip balm and bar lotion–Samples. You can find a homemade bar lotion recipe here; pack it into a closeable container, such as a tin.
Soap–Given to me from someone who was moving, but Ivory soap can often be purchased for $0.50 a bar or less with coupons.
Fabric, zippers, ribbon, needles, thread, felt, pins, buttons–Hand-me-downs
Candy–Winco's bulk bins, bought on sale before Halloween
Ziploc Freezer bags–Sam's Club, bought on sale ($0.04 each).
It's not too late to pack a shoebox! Drop-off locations are open this week! Check here for a drop-off location and times near you.
Rubberband your box closed at each end and include the boy or girl tag with the age marked that you can print here. Boxes will be taped closed around the middle at the packing location.
It costs $7 to cover the shipping cost of your box. You can pay with cash at the drop-off location, or you can pay online and attach the tracking label to your box from here. If you choose this option, you will know to which country your box goes.
Don't forget to include a note to the child! You can also include a family photo if you like.