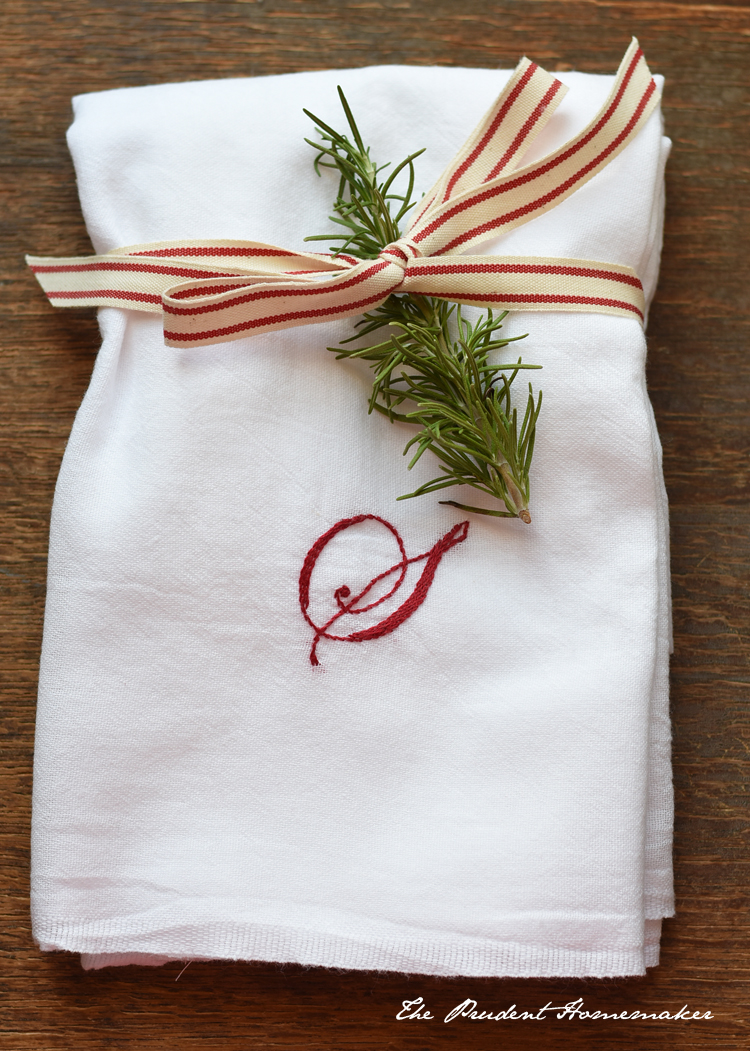 Here is a gift you can give as a housewarming gift or as part of a bridal shower gift. It's simple and inexpensive. You can include a loaf of rosemary olive oil bread as well if you like.
Supplies:
Flour Sack Towels (You only need one for this project to cut into two towels)
Dritz Mark-B-Gone Marking Pen
White Thread
Embroidery Thread
Tools:
Sewing Machine (optional)
Embroidery Needle
Scissors
Printer (optional)
Iron
Ruler
Embroidery hoop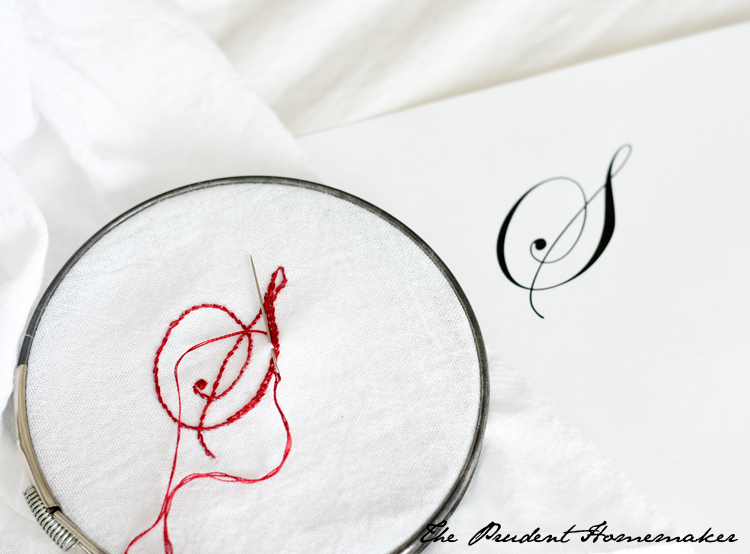 I purchased the towels from Sam's Club in a pack of 12 for $12.78. They are 30″ by 38″. If you only want to make a few towels, Target carries this four pack for $3.99 (they are 30″ by 30″), which you can buy in the store or online.
These are huge towels. I wash and dry them before doing the project to allow for any shrinkage to take place, as they are 100% cotton.
I then fold them in half and iron them. I cut them in half along the fold line. I iron and hem the sides that I cut on my machine. The twoels already have a hem on two sides, so when I cut them, I cut them in that same direction, so that it will have a hem on both sides along the length.
I then fold the towels in half again lengthwise, and I use the Mark B Gone pen to mark the middle of the towels along the bottom edge (just a short line works fine).
To make the initial, I print a letter in a font I like. If you don't have a printer, you can draw on an initial. If you don't have a font that you like, you can try a site such as dafont.com to download some free fonts. (And if you don't have a word processing program, you can download Open Office for free.) For these towels, I used the font "Edwardian Script" printed at size 150.
I used a light table to trace my letter, measuring the bottom of the letter 3 1/2 inches up from the mark I made on the center bottom of the towel. However, you can simply tape your printed paper to a sunny window and trace the letter with the washable marking pen.
I then place the towels in a embroidery hoop and get to work! You can use any stitches you prefer. I used a stem stitch to do the entire letter. Where the letter was thicker, I made several rows of stem stitch next to one another.
When you are done with the embroidery work, remove the towel from the hoop and rinse the blue marker off with clear water. It is important that you do not use soap, as soap will set the marker.
Hang towels to dry, and iron again before gifting.
Time:
About one hour per embroidered letter. To cut towel and sew each half, about 15 minutes. Total time for 2 towels: 2 hours and 20 minutes.
Cost:
$1.20 for two towels