I haven't bought green onions from the store for 7 years . . .
because I haven't needed to.
I grow green onions in my garden.
These are also known as green bunching onions. They don't form a bulb.
I started with green onion sets from the store. Several green onions grow in a container, and they are tiny, like green hair growing from the ground. I purchased 2 six-pack containers of onions.
I carefully squeezed each one from the container and separated the plants, tucking each one into the ground with my bare hands, carefully putting the root in place and spacing each one a couple of inches (4 cm) from the next one.
(I recommend doing this in the late evening to reduce the stress on the plants. Water them well after you have planted them).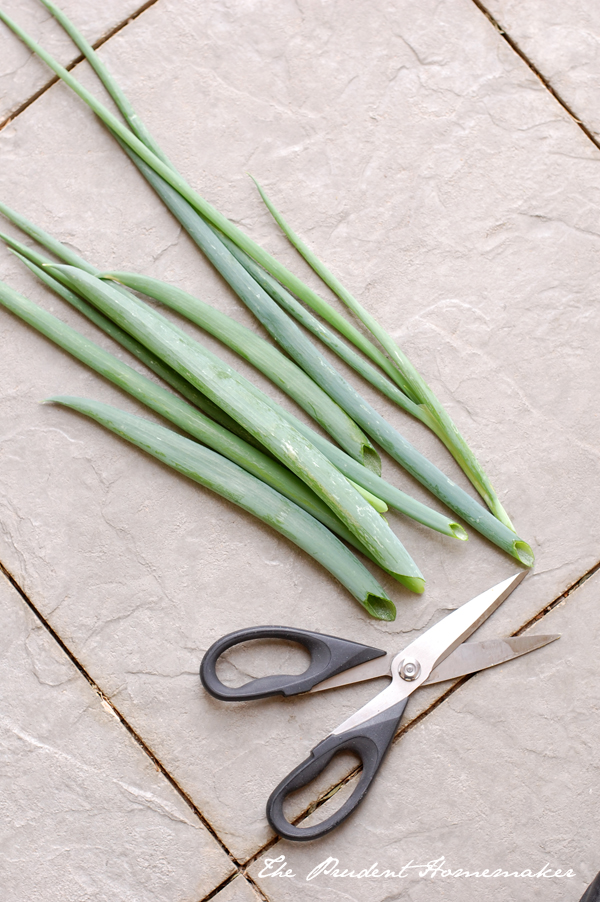 In a few months they had grown big enough to start cutting from them. Rather than pulling the entire plant out from the ground, you can just cut the green parts. I like to cut "side" shoots from different onions, but you can also just snip all the way across the top and leave some in the ground.
The plant will regrow.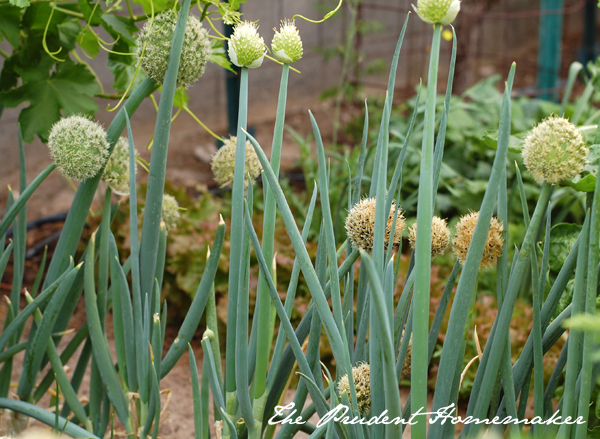 Since I cut side pieces and not the whole thing, the plant gets the opportunity, after growing in the garden for 11 months, to go to seed. It sends up a tougher shoot in the middle of the onion that looks like all the other parts, but it is thicker, and it has a little bud on it.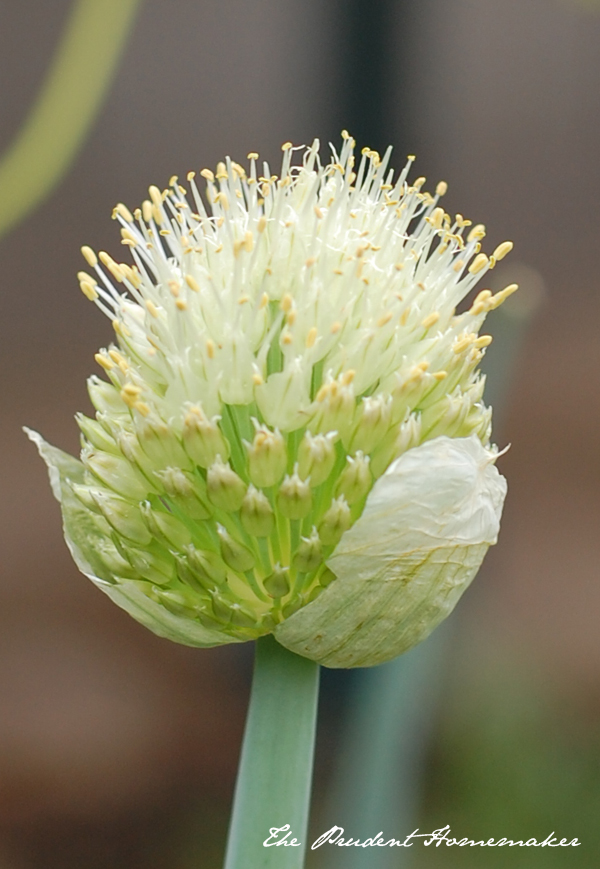 The bud opens after a few days.
When it is fully open, it makes a beautiful flower. The bees love to come visit. They pollinate the flower, which means in a few more weeks, you'll have seeds.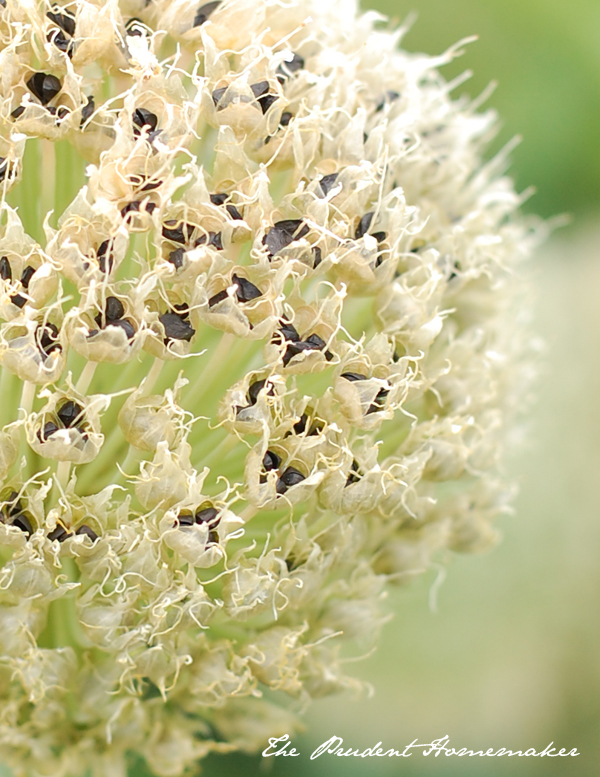 As the flowers die and dry out, you are left with many black seeds. Ignored but watered, they will fall to the ground and grow, making new green onions for you. You can also collect them to plant them where you would like (the seeds tend to fall a row width over from where you had them growing before as well as beneath the old plants). I cut the heads off several that were full of seeds and turning dry. I put them on a half-sheet pan and banged them on the pan a few times until the seeds fell out onto the pan. I'll let the seed dry a bit more before storing them.
A little while after the onions are done dropping seeds, the entire plant will die. By that time, new plants are already growing under the old ones.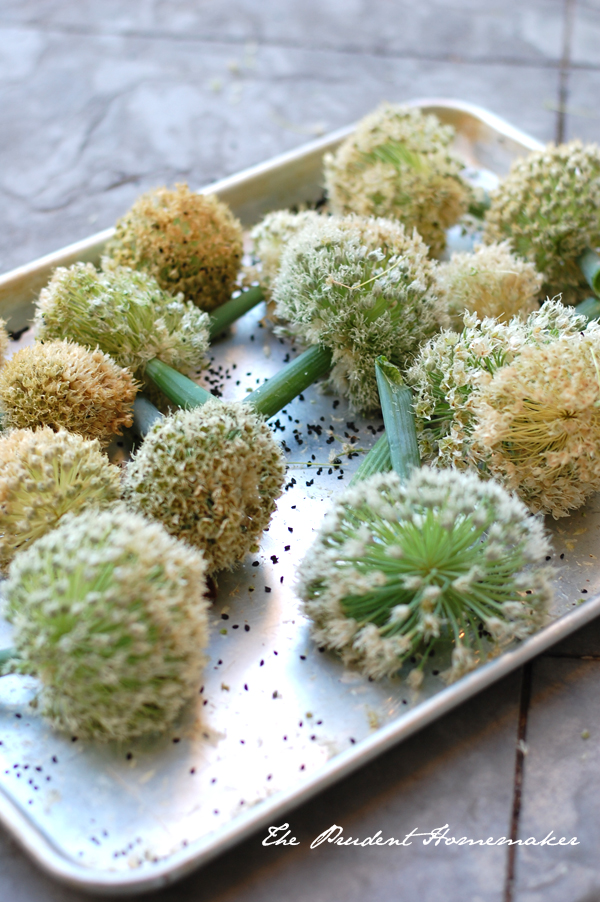 If you're looking to start green onions and want to collect seeds like I do, you can start from seeds or plants. You can also grow green onions from grocery store onions! Just don't use the white part and roots, and plant those in the ground. The onions will start regrowing fairly quickly.
Green onions can also be grown in a pot, if you don't have a place to grow them in the ground. You can plant a pot full of thickly seeded green onions and snip from them as you need them. They can be grown in both full sun and partial shade.
They can be directly sown in the garden both spring and fall.
We get one or two frosts a year here and the onions do just fine in the winter (the coldest it gets here is 22ºF for a few days). If you live in a cooler climate, you may want to overwinter your green onions in a cold frame, under a cloche, in the house, or in a greenhouse to keep them growing into the next year.
Growing green onions without buying seeds every year is one of the ways I am fighting inflation. I can cut fresh green onions from my garden all year long. I have also found that these do better in the heat than bulb onions, so I am increasing the number of them in my garden this year by making sure to plant many of the seeds in some new places in the garden, including in the front yard.


Note: affiliate links
Burpee sells seeds for these. They are labeled "Bunching Onion, Evergreen Long White" and are $4.95 for 850 seeds. You may be able to find them locally in a smaller amount. If not, they have a few deals going right now:
Get Free Shipping on all orders $30 or more with code AFFB54FS through 5/14, only at Burpee.com!
Get 20% Off Gift Cards for Mother's Day with code AFFB54MD through 5/14, only a Burpee.com!
Get $10 off orders of $30 or more with code AFFB44DD through 5/31 only at Burpee.com!
The last time I saw a bunch of green onions at the store, the price was 50 cents! I can easily cut that many three times a week ($1.50 x 52 weeks = $78 saved). I am definitely coming out ahead by growing my own.