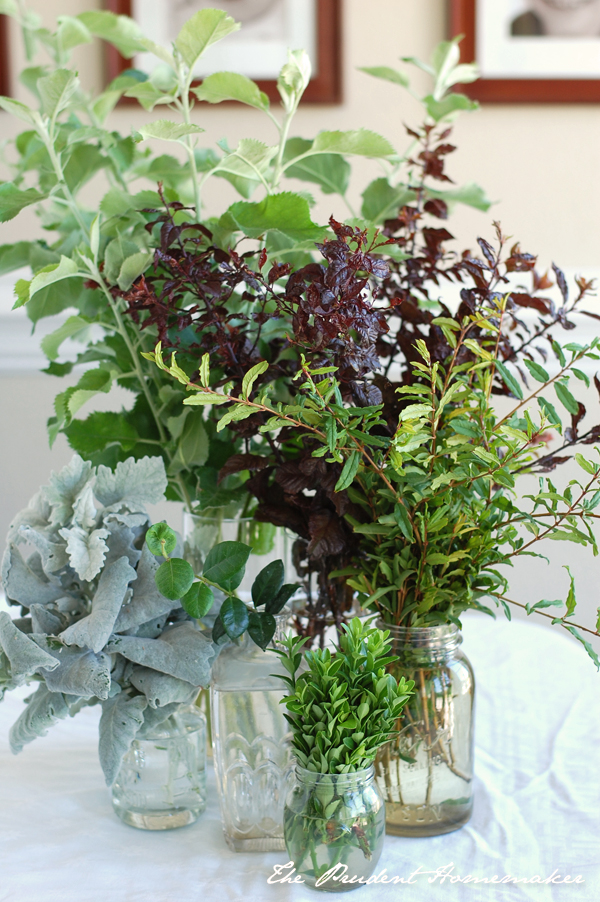 I had a chance to peruse a Pottery Barn catalog recently. I know that a lot of bloggers have been making their own version of Pottery Barn offerings, so I looked at it with that in mind, wondering what new projects I would see online soon.
I noticed that it wasn't always the products that make the room appealing. The windows and molding play a huge difference in the way the room looks. The other thing I noticed is that all of the rooms have something green and living in them–and it's usually not flowers.
I love flowers. I would love fresh flowers in every room in my house. Flowers aren't always growing in my garden, however. Sometimes, it's just something green.
And that's okay.
Fresh greenery can help your spirit, too.
In many of the pictures, the green living thing was just branches. It's the same with the interior home pictures that you've pinned on Pinterest. Look carefully, and you'll see the way that simple cut branches can make a room look elegant.
I like to trim my euonymus bushes and put them in jars, and march them down the center of the table. They are fun in a windowsill, too.
Another super easy option is to cut leafy branches from a tree and put them in a tall vase or jar, and place it on a mantel, on your piano, on a table, or your bathroom counter.
Both of these options are simple arrangements that can brighten your day.
Here is what I've cut from my garden in the image above: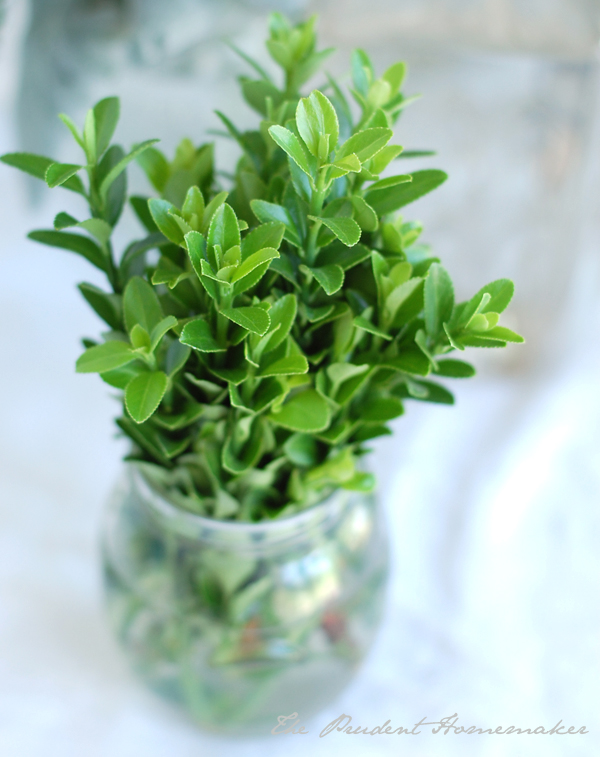 These are euonymus branches. They look similar to boxwood and I grow them as hedges in the garden. Eventually some will be tall enough to shape into spheres. When they grow taller or wider than you want them, give them a trim and bring them indoors. As long as the water is changed out, these should last three weeks indoors. These ones are contained in a jar that contained sauce from the store (the empty jar was given to me).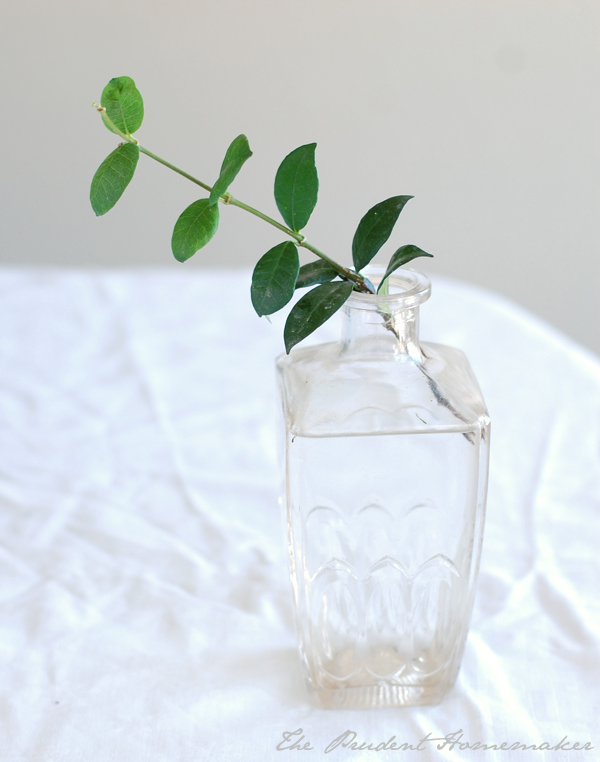 This is a spring of jasmine. It's done flowering for the year, but the greenery is still pretty. The vase had a bit of cork in it when I got it (for free) so I think it may have contained bath salts previously. One man's trash is definitely another man's treasure in this case.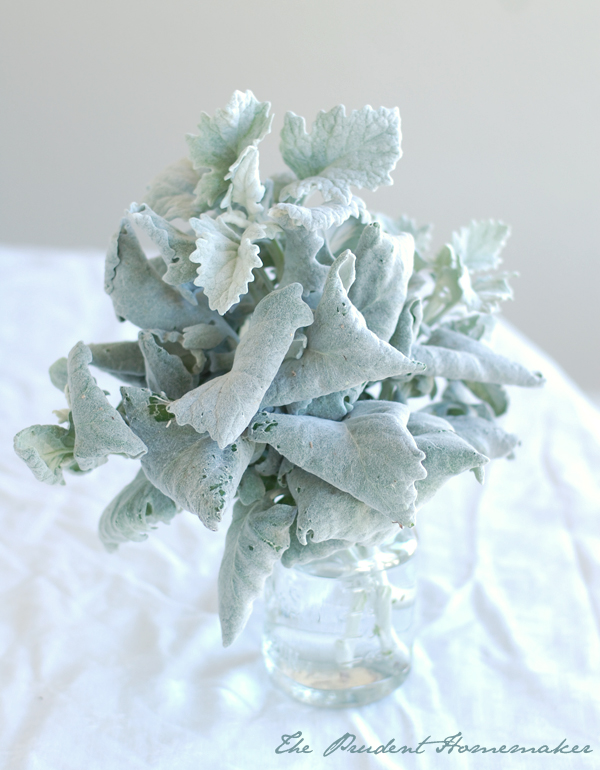 This is dusty miller. Our nursery carries two types; the other type has lacier leaves. It's great as a base for flower arrangements, but it's also fascinating on its own. The vase is a store reproduction canning jar, which also was saved from the trash (this piece and the two above came from the same person who saved these jars from her trash for me).
These are flowering plum branches, contained in a vase from the Dollar Tree, which also happens to look just like the one I saw in the Pottery Barn catalog–but for a lot less. I bought three of these, so I can also arrange them in groups.
These trees are still young. As they grow taller this year, I am needing to take off the bottom branches, so that the branches will start higher on the trees. This is the second time this year I have cut the bottom branches (which these are) to shape the trees into what I want them to be.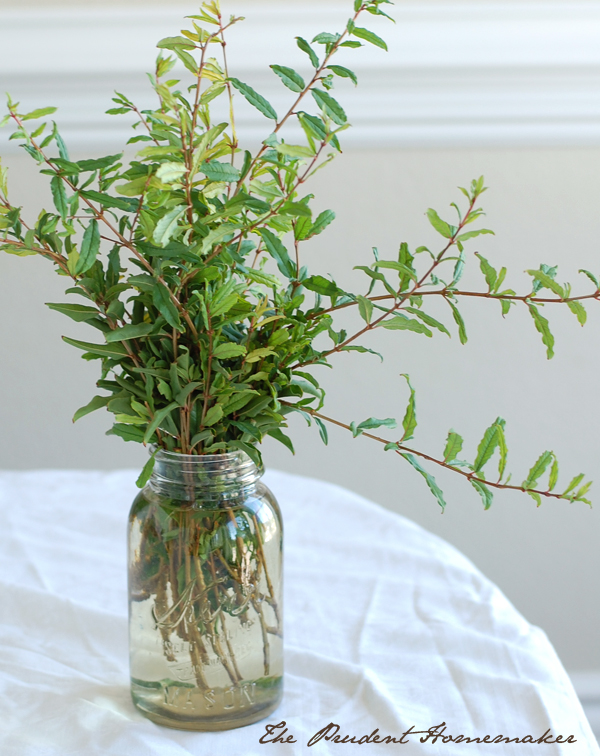 Pomegranate branches are an easy trim; the plants like to produce an abundance of them towards the base of the tree, which need to be pruned. These are arranged in a vintage canning jar. Look for canning jars at garage sales and thrift shops at 50 to 75 cents each, or buy a new set of 12 for around 75 cents each.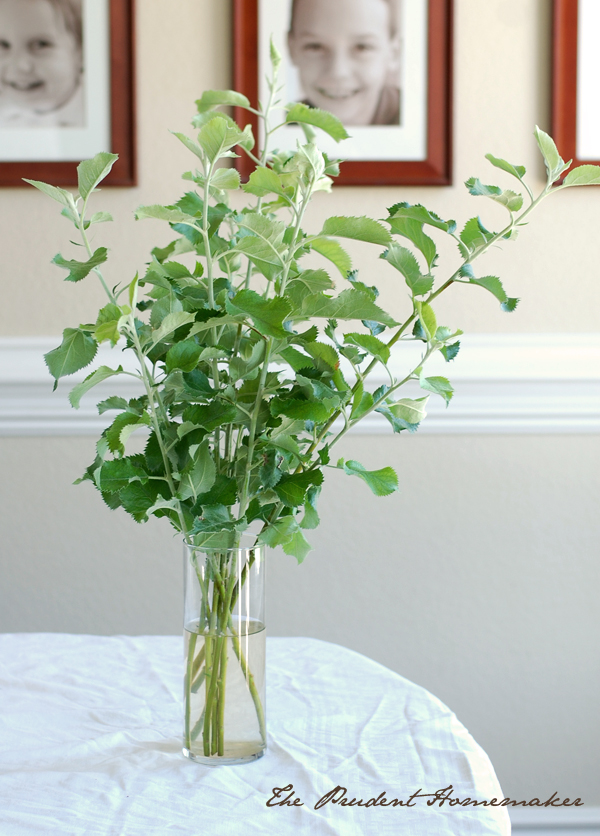 Apple trees have a good number of small branches in mid-summer. Cut the water spouts–the ones that are growing straight up in the middle of the tree. Those need to be pruned in winter anyway, so you may as well enjoy them now and allow your tree to spend its energy on branches that will produce fruit. These are in a vase from the Dollar Tree. I have them on my entry table, where a tall arrangement works really well.
Brighten your day today with something living from your garden!