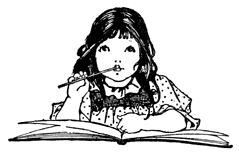 Sewing:
1. Make a Mother's Day gift for my mom
2. Turn 2 pairs of jeans into jean shorts for Winter
3. Modify 3 dresses
4. Finish skirt for Wren
5. Sew arrow points on Ezrom's Cub Scout shirt
Gardening:
1. Pull weeds
2. Pull out peas
3. Plant Aremenian cucumber seeds and red noodle beans (long red "green" beans) in place of the peas
4. Plant zinnia seeds
5. Pull out some of the bolted Swiss chard (silverbeet). Plant new Swiss chards in the same place (I am leaving some chard to finish going to seed).
6. Deadhead roses
7. Pick peaches (these will most likely be ripe this week on my Desert Gold peach tree)
8. Pick apricots on the Katy apricot (just a few as I planted this one in the front yard last year). Cut the bottom branches off after picking the fruit. (The branches are lower than I want them to be. I'll cut them now so that the tree can put more energy into the higher branches).
9. Reseed lawn. We did not plan on doing this again this year, but grubs destroyed a large amount of the grass and it needs to be redone before it gets any hotter.
10. Collect green onion seeds and plant some in the garden (they have reseeded themselves for 6 years from the ones I planted 7 years ago, but I want to plant some this year to make sure I have plenty).
11. Plant butternut squash seeds
Cooking:
1. Make yogurt. Freeze some starter to use for later batches.
2. Make popsicles at least twice
3. Make bread at least twice
4. Make mulberry muffins
5. Make granola
Blogging:
1. Write four posts this week, including one on Mother's Day gifts
Shopping:
1. Buy nylons. I was recently recommended the George brand of thigh-highs from Walmart. If these work, I can hopefully salvage one when the other gets a run to put with a new one.
2. Buy translucent face powder from Lancome through Ebates. Lancome has discontinued my powder twice in years past and I found out that they decided to bring it back yet again. In the meantime I had been using Pixi brand pressed powder, as it was the only powder the same shade. (I am the lightest shade and most companies don't make a shade light enough for me). The Pixi brand powder seemed like less money up front, but it is gone in a year; the Lancome one lasted me 3 years (looking on the container I could see why; there is 3 times as much in the Lancome one!), so it ends up being a MUCH better deal–and I prefer loose powder. Plus, Ebates has 10% off Lancome this week, free shipping on orders over $49, and two different free gift with purchase deals (coupon codes and details are on Ebates under Lancome), which makes it a much better deal!
(Ebates is giving double cash back to a ton of stores all this week in honor of Mother's Day; in the case of Lancome, their double is actually more than double this week!)
Other:
1. Finish necklace that I started for myself a year ago so that I can wear it on Mother's Day
2. Cut flowers and arrange them for the table
3. Take family picture
4. Take silhouette pictures of the children. I have been wanting to do this for Mother's Day for years and I hope that by putting it on the list I will remember to make it happen.

This post contains a referral link.