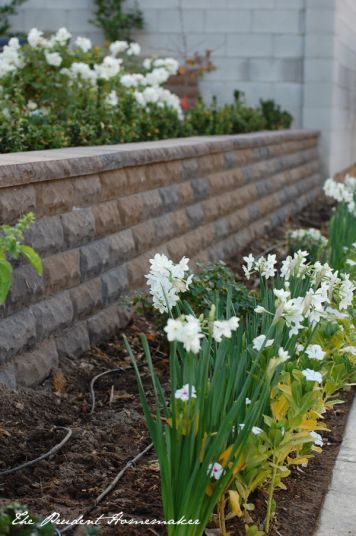 The paperwhites are up in the white garden! The vincas in front of them will die with the frost and are turning yellow with the cold.
I cut the last of the good white zinnias from the front garden, and Winter arranged them for the table.
We can have a frost anytime between now and a month from now, though it's usually closer to mid-December. I had planned to leave the zinnias in the front until then, but I noticed that they had powdery mildew on them, so I went ahead and pulled them all.
I cut some flower heads that were brown and dried so that I can pull the seeds from them and save them to plant next year.
I harvested five large zucchini from the garden: three from the front and two from the back. Considering that last year I got three zucchini from five plants, I'm very happy with this fall harvest. I will be planting mid-summer for a fall harvest next year. The plants in the front yard had powdery mildew, so I pulled them out to make way for the ranunculus that are coming up from under them. The plants in the backyard are fine, but they don't have any female flowers on them. I hope to get some more zucchini before we get a frost.
I also cut Swiss chard and chives from the garden.
Winter wanted the piano music to "Dance of the Sugar Plum Fairy", so I checked to see if I could get a copy of it for free on 8notes.com. I checked and they had it!
I watched a couple of shows with my husband on Hulu for free.
I made pumpkin pie, granola, turkey curry, spaghetti, rosemary olive oil bread, peach pie, Swiss chard soup, and fried chicken.
I cooked a big pot of beans and served it with rice for dinner one night. The next day we ate more of those beans with more rice in burritos.
I paid a bill online.
The weather turned colder this week, and we had three straight days of rain where it rained all day. I know for some of you, that is nothing unusual, but in all the years I've lived here, rain is a fleeting thing that comes for 20 seconds and evaporates when it hits the ground. I can count two days a year when we normally get more rain than that; one is in late January and the other is in mid-July. I don't know if I've ever seen rain in November here in the thirteen years I've lived here.
So, I turned off the drip systems to outside, and since everything is so soaked, I won't be turning it on for many more days.
Because it was colder, I rolled up some towels and put them by the front door, in three bedroom window and in a bathroom window. It really keeps the drafts down and makes the house warmer. We are not yet running the heater.
What did you do to save money last week?