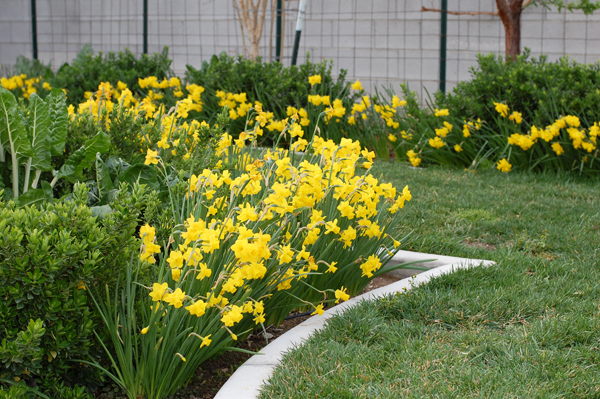 My garden in February 2012
A garden is an ever-changing thing. This year, I am going to make some big changes in the garden. Here is my to-do list: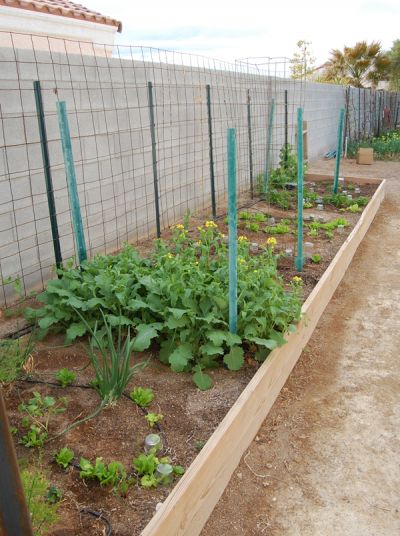 My raised bed planter on the side of the house in February 2011.
Move the raised bed planter. This requires moving asparagus, which I don't like to do, but we have decided to move the planter down, so the asparagus has to be replanted. We have several reasons for moving the planter, and I am glad we are doing it. It will be moved south to where the box is in the above photo (touching the other planter area). Some of it will stay put, but most of it will be moved.
Take out the dead Stella cherry tree and replace it with a new one (it died from a water leak from our valve box last summer). This is a horrible loss and we are quite sad over it. I already moved the calla lily starts that were growing under it; I hope they make it in their new location under the fig tree. They are small and young and have never flowered yet; these were a share from someone's garden in town.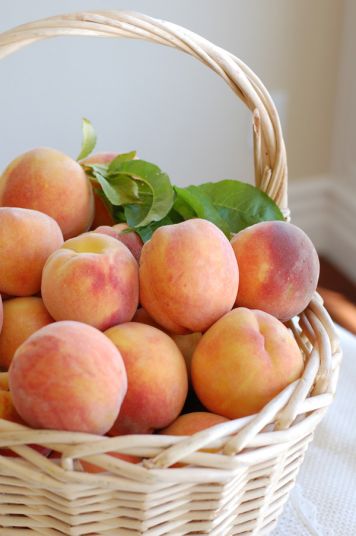 Take out the Liberty apple tree. As much as it pains me to remove not just a living tree, but one that shares the same name as one of my children, this tree has never given us any apples. I will replace the tree with another Early Elberta peach. The Early Elberta peach tree has been the best fruit tree in my garden, yielding me enough to can a few quarts each year. A second tree would be wonderful.
Take out the pomegranate. Relocate it and/or plant another pomegranate tree in a different location that isn't overshadowed by other trees, including the neighbor's trees.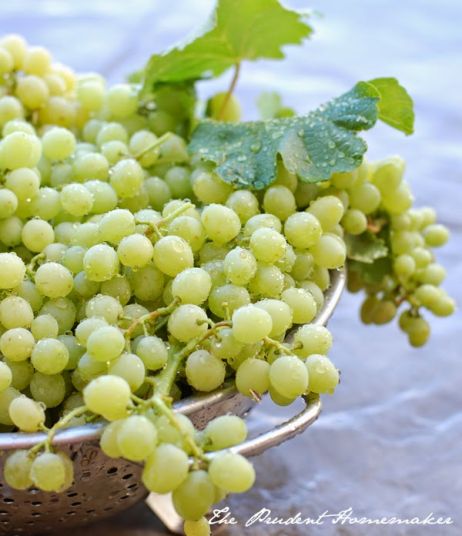 Relocate 3 grape vines. I hope they make it; grape vines have lots of roots and they grow deep. They need more sun. I only know where one of them will go (into the raised bed planter), so I will have to figure out what to do with the other two.
Take out the tangerine tree that has never done well.
Take out the lemon that froze last year. It has started to regrow, but it will take quite some time, as it lost all of its branches. I may move this tree if I can find a place for it.
Add more manure and compost to the garden. In several places, the dirt has settled greatly in the last 5 years, and it 6 inches lower than where it started.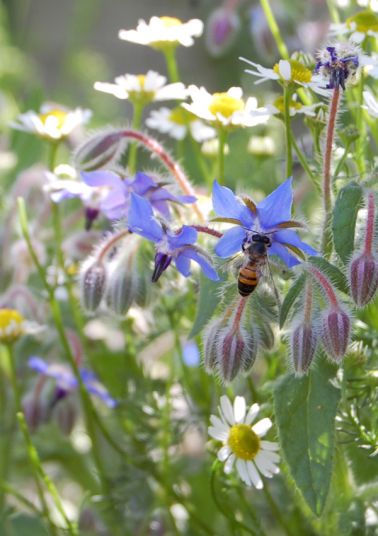 Borage and Chamomile in the garden. Both reseeded themselves.
Add at least one more blackberry plant to the garden, and several more if funds permit.
Add at least 2 more blueberry bushes to the garden, and more if funds permit.
Reseed the bare spots in the lawn.
I am going to focus on planting more of what I know works, and less experimental seeds of varieties that sound intriguing, but that may or may not work. Just because a variety of lettuce says, "heat tolerant" or "bolt resistant" doesn't mean it won't bolt in April when it's 90º! (It will!) I am planning to stick with more tried and true varieties this year. I hope this means more success this year.
I also will be planting more flowers this year. I want to be able to bring flowers in from the garden even more than I did last year.
Are you planting any new fruit trees, bushes, or vines this year?