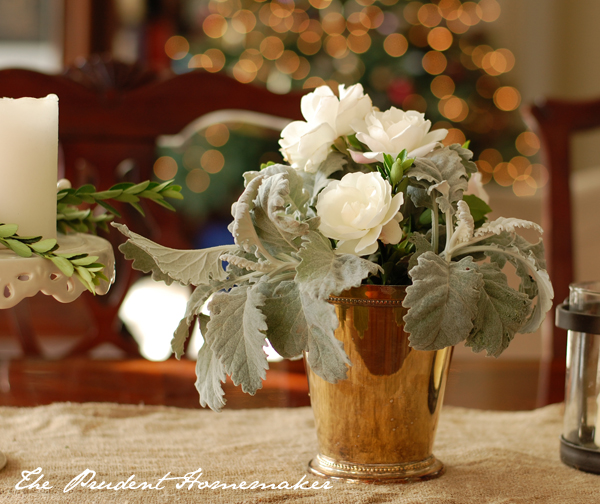 I hosted two courses of a progressive dinner for a church activity this week. Food was provided for all of the homes except for salad dressing. I made ranch, Italian, and Orange balsamic vinaigrette.
I cut roses, dusty miller, and euoyonomous from the garden to make arrangements for the table.
I also cut euyonomous to decorate in other places.
The children gathered pinecones for our decorations as well.
A friend of mine is friends with a woman who has a huge ranch with lots of chickens. She gives away the eggs all the time. My friend brought me several dozen eggs.
I used grocery store gas points that I got last month at Smith's to get .20 off each gallon of gas, making the gas $2.49 a gallon. The store gives points on each dollar you spend, but it also gives points for bringing your own reusable bags. (It seems to me that the store gives points based on the regular price of the item, because I didn't spend that much at that store in November!)
I bought 4 packages of cream cheese for .29 a package combining coupons and a sale. In speaking with the cashier, I found out that taking the grocery store survey on the receipt gives me an additional 50 points towards a gas discount. For each 100 points, the store gives .10 off a gallon of gas. One survey can be taken per week. If I take the survey, and then if any of the other things I need are on sale at this store later this month, and I take the survey on that reciept, I'll have at least .10 off each gallon again for January. My husband usually is the one to get gas, and he said that this store and another nearby have the same price on gas, and are the lowest around, but if I can get the .10 off or more discount, that the grocery store's gas becomes the cheapest.
My husband cut Ezrom's hair.
My husband and I watched a few episodes of shows on Hulu for free. We started a new show called, "State of Affairs" that so far looks quite promising. The first three episodes are still available to watch on Hulu. It's a spy show, if you like that kind of thing.
I sold two items through Facebook garage sales.
We watched two live performances online this week. One was a Chamber Orchestra performance and the other was a Christmas concert with choirs and a philharmonic orchestra. I cannot express how happy it made me to be able to see these for free online. When I was in junior high, I saved my babysitting money to buy season tickets for myself and a parent to the symphony each year. I continued that through high school. I have long wanted to take my children to do the same. Watching a live performance online for free allowed them to enjoy what I have long enjoyed. The children had some definite favorite pieces, especially from Friday's performance. (There is one more performance coming up on the 10th that we will also watch.)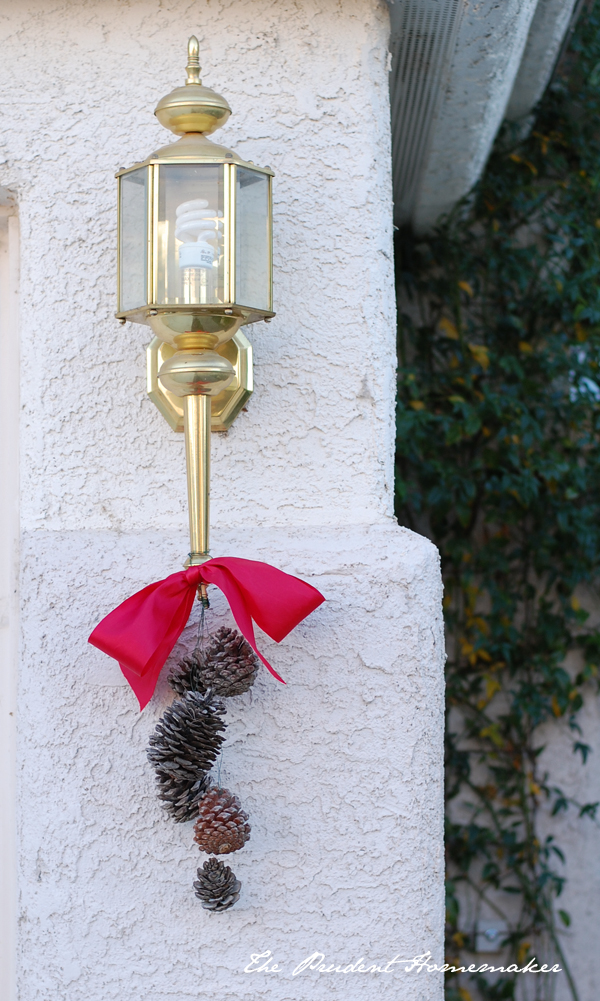 The children gathered pinecones. We used them to decorate. I placed some in bowls. Winter wired some to a garland that she bought last year and my husband helped her hang it. She also made these decorations using ribbon we had, floral wire, a small dowel, and pinecones, and hung them on our outside lights.
I printed another free Christmas chalkboard printable and put it in a frame that I had.
We had a lovely warm spell this last week that is suposed to continue into the next week. We opened the windows and enjoyed the fresh air. We also enjoyed some rain last week (close to a quarter of an inch, which was very nice for here); I turned off the drip irrigation and sprinklers.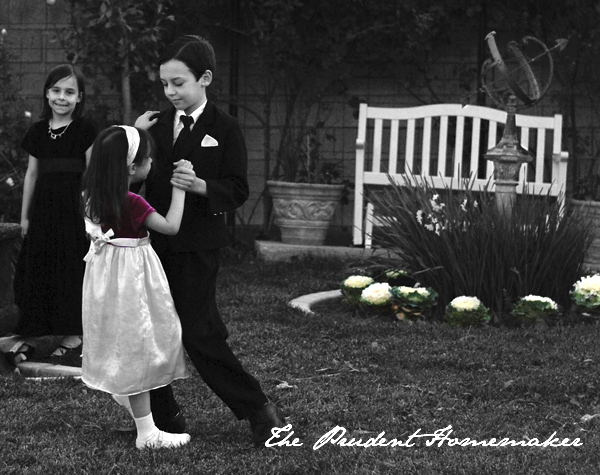 The children decided to dress up and have a ball. Ezrom wanted to dance with all of his sisters.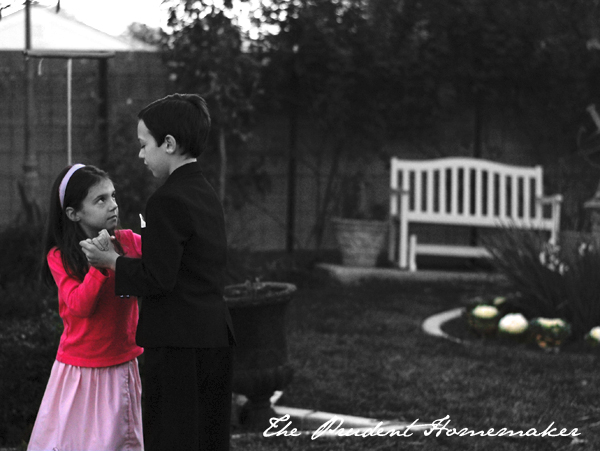 I cut Swiss chard, thyme, parsley, sage, oregano, chives, and lettuce from the garden.
I bought two 25 pound bags of beans for $15 each at the LDS cannery. The workers there confirmed my suspicion that the 25 pound bags will be discontinued at the beginning of the year (meaning the price will be considerably higher, if not double next year, to buy the beans in #10 cans). I am considering buying another bag of white beans this month, even if it means pulling the extra money from another part of my budget.
While I was there, I went around the corner to the thrift store to see if I could find an olive green sweater for Winter. I've been looking for one all year at garage sales with no luck. I found one in her size! I also found a lavender sweater in her size. Both of these will be birthday gifts for her.
What did you do to save money last week? Did any frugal blessings come your way?