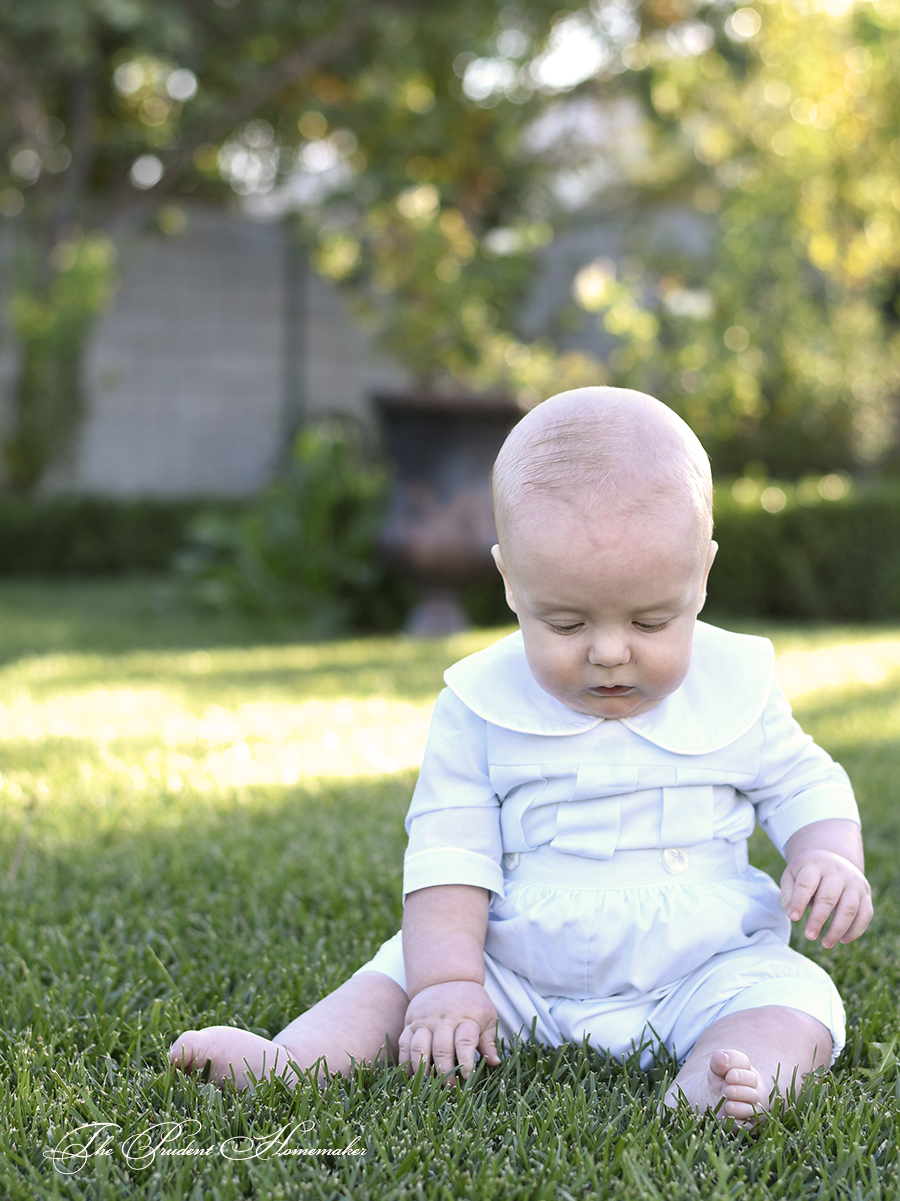 Hamish discovers grass in this beautiful classic baby outfit that I purchased for $4 at a garage sale.
The weather was perfect this week. We enjoyed having the windows open all day long every day. We only had to use the fans for a few hours this past week.
I brought the electric bill down $43 this past week from what the electric company estimated by bill to be this month. Each week, I receive an estimated bill amount, based on past and current usage. I always challenge myself to bring it lower than the estimated amount. The week before I brought it down $10. My bill will now be $53 less than it would have been. I continue to be diligent in turning things off when not in use, using the lights less, even in the early morning before sunrise (For instance, I use the single light over the tub rather than the entire set of bathroom lights while showering, using one bulb instead of 8, and even though our kitchen has no windows, I keep the kitchen lights off as much as possible once the sun is up.) I have 8 days remaining and I am trying to bring the bill down even more, as always, though it will be more of a challenge this week as temperatures won't have dropped as much, so I'll have to be more creative and mostly more diligent about my electricity usage in order to achieve my goal of coming in under the estimated amount. Last week's electricity cost $22 for the week ($3.14 a day). I know I can get it just a little lower (just under $3 a day) when the weather is as good as this if I am diligent.
From the garden, I harvested Armenian cucumbers, rosemary, cherry tomatoes, peppermint, and chives. We cut lots of fresh peppermint for herbal teas, which we had with breakfast or else for snacks with either homemade bread or homemade oatmeal cranberry white chocolate chip cookies.
While pulling weeds, I accidentally pulled a branch of a bush that had been growing where it should not have been. It had rooted under the dirt, so I planted it in the garden where I am making a new hedge.
I used free samples of beauty products.
I made yogurt in the crockpot.
I am diligently working to use up as much as possible from our freezers this month. I want to use up the old things before the turkey, ham, and other harvest and holiday food sales of November and December. I cooked a ham this week, some whole chickens (I cooked two at once to save on natural gas as well as to save time on two busy nights; it was too windy to use the solar oven so they cooked together in one pan in the oven along with baked potatoes at the same time), and made some inexpensive things such as homemade Rice-a-Roni and several salads with leftover chicken and homemade salad dressing.
I mended a pair of jeans and the case for an item where the zipper had come unattached from the case.
I read an e-book from the library on my phone.
I collected shower warm-up water and used it to water potted plants in the garden.
I did some free French study, listening to YouTube videos the teach French.
Saturday was the community garage sale in our area, where several master-planned communities have garage sales. There are so many communities having sales on the same morning that it is impossible to visit all of them before lunchtime, when most people close up, even though the houses are all within a 2-3 mile radius. The people who live in these neighborhoods are only allowed to have garage sales two weekends a year on specific dates. The houses are close together; often, I can park in one place and walk to two or three houses having a sale next to one another.
This time, I went to the two neighborhoods that in the past have been the places where I've had great success in finding items on my list. The pickings were slim this year, though, with fewer sales and fewer items for sale. I noticed this trend in April as well. One neighborhood of about 75 houses usually has 30-50 sales. This time only 3 or 4 houses had items for sale in that tract.
Frustrated with not even finding many sales worth stopping at, I left those neighborhoods and went to other tracts close by.
I stopped at a sale that completely surprised me. First, I found some plastic links that babies play with, an item that was on my list as most of mine have gone missing. I then walked from the seller's driveway into the garage and found a plethora of classic baby boy clothing. This is not a style that one even finds for sale in this part of the country, but the seller had moved here from South Carolina, and she was selling smocked and other classic clothing. I have always wanted to buy these for my boys; I have bought a few for my girls online in the past, and I know that even on eBay, these clothing items go for $20-$30 each used, plus shipping! She was selling the outfits for $4 each (most being two-piece items, such as a smocked romper with a shirt underneath). She said if I bought a bunch, she would make me a deal, and she did, giving me an extra $15 off the clothing I purchased after I made a large pile! She also gave me a large bag of disposable nursing pads for free.
I also bought some clear plastic drawer organizers from her to use in the bathrooms ($1) each. I took them home and my eldest daughter was able to use one to organize hair supplies in the bathroom where the girls do their hair, and I used one for makeup and one for hair supplies in my bathroom, so three drawers were organized in my house this week. My daughter said the organization of the bobby pins made doing her hair faster the next morning. I love how a little organization saves time every day! If my mother had told me this as a child I wouldn't have believed her, as I always had a messy room, so mothers of children with messy rooms, take heart!
I found two men's ties for $0.50 each. One I will gift to my eldest son and the other to my husband for Christmas.
I bought two silicone baking mats for $0.25 each. I use these often for baking instead of parchment paper, and they're fantastic to line a half-sheet pan to freeze fruit that you don't want to stick together into one hard lump (such as berries or sliced peaches). I freeze them first on those and then put them into a freezer bag once the entire pan is frozen, so I can take out as many or as few as I would like.
I purchased three boxes of new-in-the-box LED Christmas net lights to use outside for $3 a box.
At another sale, I found a small inflatable toddler pool that had only been used once by a grandmother when her grandchildren came to visit ($10). My children have been wanting one of these. At the same sale, I found several pairs of brand-new earrings (marked at $2 a pair) and a little toddler plate with a matching fork and spoon ($1).
What did you do to save money last week?