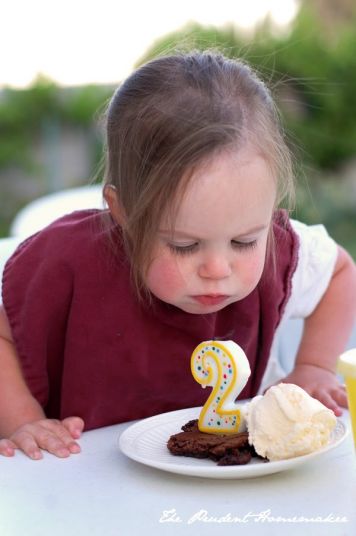 I made birthday presents for Ivory using felt, embroidery thread, and stuffing that I had on hand. We enjoyed an alfresco meal outside. Winter made brownies and my parents brought ice cream (The number 2 candle is one we've used for each of our children as they have turned 2).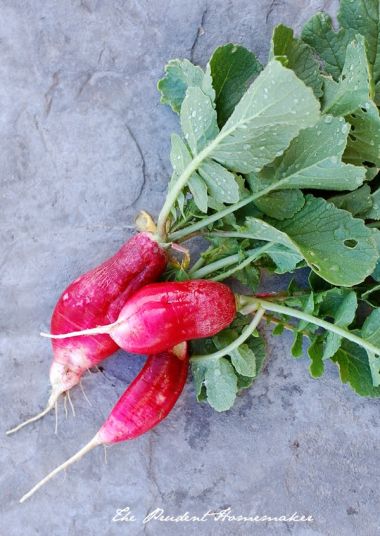 I cut Swiss chard, snow peas, green onions, lettuce, and tarragon from the garden. I pulled a few radishes.
I purchased 14 dozen eggs at .99 a dozen. I was also gifted 5 dozen eggs from a friend of my mom's (an older woman who buys little things for my mom all the time, including food, because she just likes to do nice things; she has joined us for holidays in the past). That probably seems like a lot to some of you, but we eat 18-20 eggs in a meal if everyone has 2 eggs (20 if my husband and I each have 3), so only 12 2/3 breakfasts if we were to just have fried or scrambled eggs for breakfast (yes, we could go through 20 plus dozen a month, easily!) We dyed 3 dozen hard-boiled eggs for Easter. We dyed them using dye that I purchased on clearance several years ago. In the last 13 years, I have bought Easter egg dye twice. I buy several all at once when they go 75% off to use for several years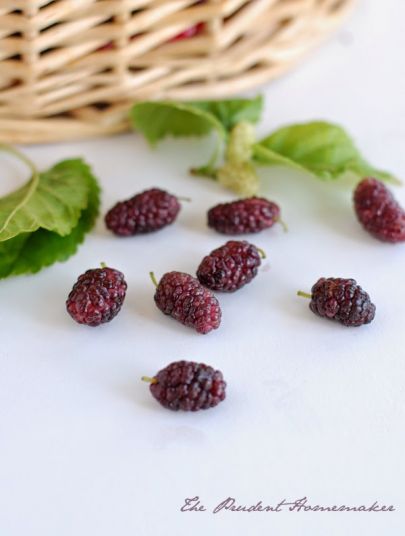 I picked mulberries from a neighbor's tree. I will be picking more this week and making jam with them. The neighbor told me that she never planted the tree–birds must have done it for her. (She told me that I could pick them and that they had just gone to waste last year). I shared lettuce with her twice last week.
I made pancakes, French bread, soup, and balsamic orange vinaigrette. We had a myriad of salads from the garden.
I cut both boys' hair. My husband cut my hair.
I received a $10 off $10 coupon from Kohl's in the mail. I only receive these a few times a year, and the only time I go there is when I get these. I usually keep my purchase as close to $10 as possible to keep my out of pocket cost under $1. This time I spent more, however, spending $10 out of pocket to purchase some summer pajamas for myself (I had this item on my garage sale list but had not found anything). It wasn't the $1 I was hoping to spend at a garage sale, but my 50 cent garage sale pajamas that I bought a few years were wearing out and it was time for a replacement.
My parents took my husband and I out on Saturday for my birthday (my birthday was Easter Sunday) while Winter babysat. I had a very nice meal. My mom also gave me two bottles of Olive Garden salad dressing as part of my gift.
My husband found the rest of the items he asked me to look for at the community garage sale in one Craig's List ad. For $60, he got an engine stand, an engine hoist, a creeper, and 5 jack stands.
I received a free copy of Martha Stewart Living magazine in the mail, thanks to a free subscription that I have from Recycle Bank points.
I printed several free printable worksheets for schoolwork.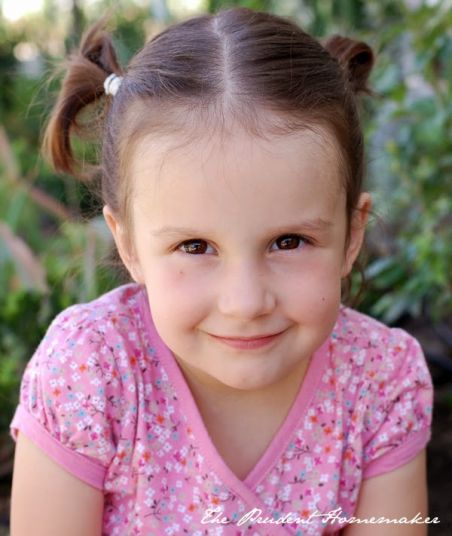 Elsa wearing the shirt I purchased for her at the community garage sale for $1.
What did you do to save money last week?