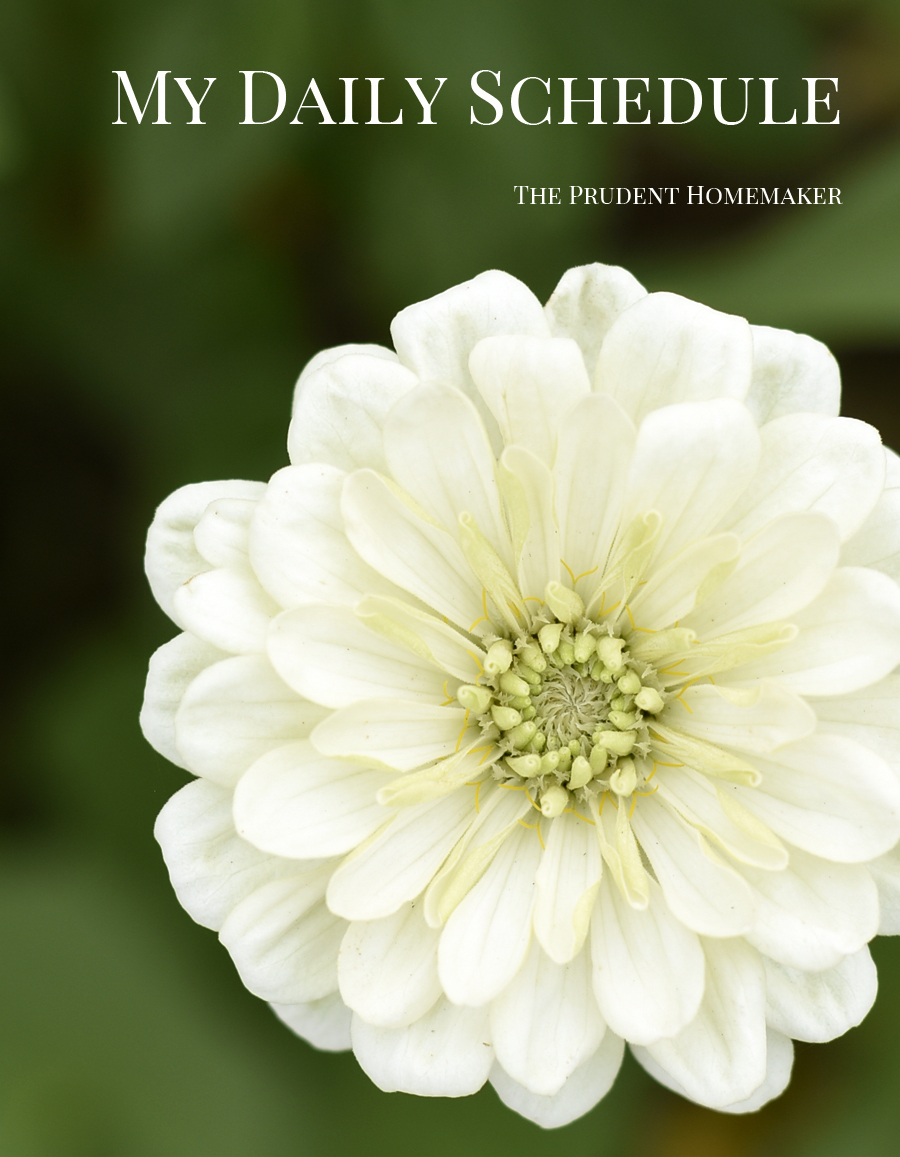 My schedule has not changed much since I posted it 2 1/2 years ago, but I have made some small changes. I also have a nursing baby now. I can count on him waking every morning at close to the same time (Can I just say "hooray!" that it's usually around 5:30 a.m.? My poor mother; I woke every day at 4 a.m.!)
I usually have 4 loads of laundry a day to wash Monday – Saturday. My goal is to get them done early in the morning.
On Saturdays, we have a bit of a relaxed schedule, and we sleep in just a little. We don't have school on Saturdays, but chores, laundry, and meals generally follow the same schedule. When it's cooler, I'll often spend most of Saturday out in the garden. Sundays I don't do laundry. We have church and spend a relaxed day together, playing board and card games together.
Schedule
4:45 Wake and prayer
4:50 Move laundry from the washer to the dryer; start a new load in the washer
5:00 Shower and dress
5:30 Nurse baby
6:00 Wake children
6:05 Move laundry to dryer and put another load in the washer. Move laundry that is dry to couches for children to fold.
6:10 Put away large pots and pans. Encourage children with chores.
6:15 Brush girls' hair. Start breakfast.
6:50 Move laundry from dryer that is dry to couches for children to fold. Move load of laundry to dryer and put another load in the washer.
7:10 Plate breakfast
7:15 Breakfast
7:30 Encourage children with after-breakfast chores
7:45 Move laundry to dryer. Wash pots and pans; tidy kitchen
8:00 School with children
11:00 Start making lunch
11:30 Lunch
12:00 Encourage children with after-lunch chores
12:15 Wash pots and pans; tidy kitchen
12:30 Continue school with children
1:30 Garden, make bread, sew, take photographs, blog (usually one or two of these). Children's nap time/quiet time in their rooms.
3:00 Household chores
3:30 Snack time
4:00 Wash snack dishes. Start dinner. Children's playtime.
5:00 Work on dinner. Have children do before-dinner chores
5:30 Liberty piano practice
6:00 Wren piano practice
6:30 Dinner
7:10 Have children do after-dinner chores. Put a load of laundry in and program it to wash in the morning to be done before I get up (using the delay start option).
7:30 Scriptures, songs, and family prayer
7:45 Wash pots and pans; tidy kitchen
8:00-9:00 Work on blog and website; spend time with my husband (talking, playing a game, watching a show on the computer together, etc.)
Bedtime sometime after that, but usually before 9:30 (later if I'm posting on the site, like tonight!)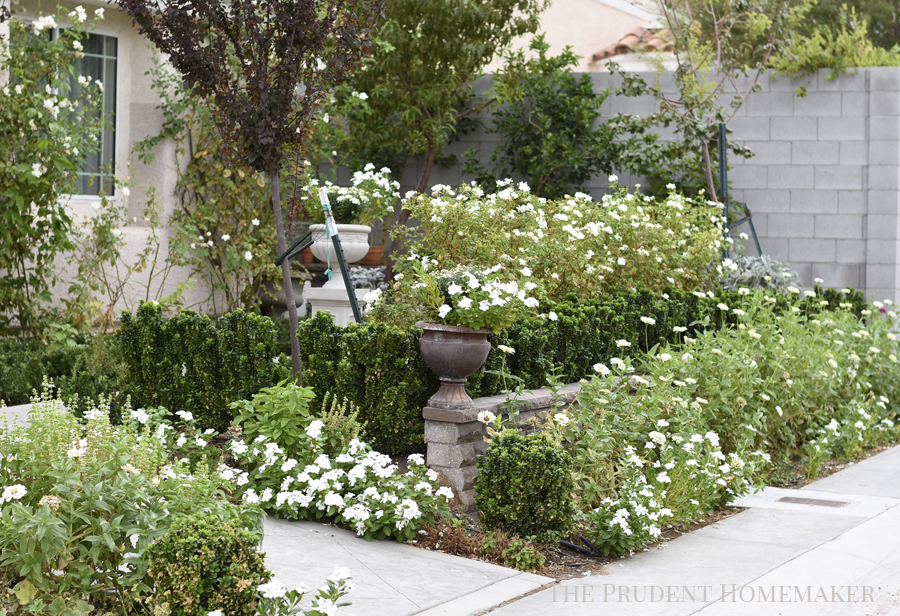 I'll sneak in a bit more time in the garden, in the sewing room, or cleaning the house if I have a dinner that takes a bit less time, or if I'm making a more hands' off meal where the dinner is in the oven instead of on the stove. I've been finding myself using the oven and the solar oven a lot more recently; it's nice to put something in and walk away, giving myself extra time to work on other tasks.
For our homeschool schedule, see here.
Tomorrow I'll post our current chore schedule.