One of the most frequently asked questions that I get is what my daily schedule looks like. I will answer that today, but I don't think it will answer the real question, which is, "How do you get so much stuff done?" The answer to that is a lot deeper than just telling you my schedule, so this post will be the first in a series on accomplishing more in your day.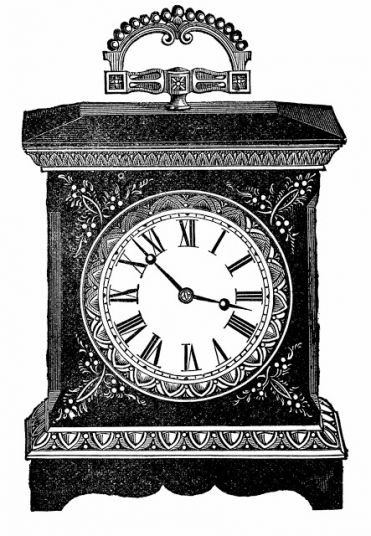 This schedule is of course the ideal day. No day is ideal. I do my best to keep to this plan, but it never works perfectly. I have found, however, that since I decided on a schedule several years ago that I accomplish much more than I did without a schedule.
I have also found that I accomplish more if I am up before my children. That's not always possible; I have early risers and sometimes they will be up before I am, or before I would like them to be. I used to have children who would be up at 5:20 every morning, and I found it really hard to get much done until I started getting up before them (which meant 4 am!) Those children have stopped waking so early now, though I do have 2 children who still seem to wake rather early most days.
I'm sure as you read, you're going to be thinking, "Why doesn't she do it this way?" or, "Why isn't x, y, z on there?" This is an honest schedule. My house is far from perfectly clean at the end of the day. I could spend all day cleaning, but then I'd never get anything else done, and that's not the way I want to live, either. So here it is!

4:45 Wake and prayer
4:50 Start a load of laundry to wash; if there is one washed from the night before, put that one in the dryer.
5:00 Drink a glass of water and read scriptures
5:10 Work online on blog
5:30 Shower and get ready for the day
6:00 Wake children who are still sleeping
6:05 Move laundry to dryer and put another load in the washer. Move laundry that is dry to couches for children to fold.
6:10 Put away large pots and pans. Encourage children with chores. Make bed and tidy bedroom and bathroom.
6:30 Brush girls' hair. Start breakfast.
6:50 Move laundry from dryer that is dry to couches for children to fold. Move second load of laundry to dryer and put third load in the washer.
7:10 Plate breakfast
7:15 Breakfast
7:30 Encourage children with after-breakfast chores
7:45 Move laundry to dryer and put fourth load in the washer
8:00 Start school with children. Wash pots and pans
9:00 Move fourth load to dryer. Continue school with children
10:00 Take fourth load from dryer. Continue school with children.
11:00 Start making lunch
11:30 Lunch
12:00 Encourage children with after-lunch chores
12:30 Continue school with children
1:30 Garden, make bread, sew, photograph, blog (usually one or two of these). Children's nap time/quiet time in their rooms.
3:30 Snack time
4:00 Clean kitchen/wash pots and pans from lunch. Start dinner. Have Liberty start piano practice. Children's playtime.
5:00 Work on dinner. Have children do before-dinner chores
5:30 Have Winter do piano practice. Continue dinner
6:30 Dinner
7:00 Family Scriptures, songs, and family prayer
7:10 Have older children do after-dinner chores. Put pajamas on youngest child. If I have one that day, start a fifth load of laundry, or put the load in and program it to wash in the morning to be done before I get up. Tidy/clean bedroom.
7:30 Tuck children in bed
7:45 Work on blog and website
8:30 Spend time with my husband (talking, playing a game, watching a show on the computer together, etc.)
Bedtime sometime after that, but usually before 10:00

There are lots of things that aren't on here. If I'm cooking a pot of beans, I'll usually start that either while I'm making breakfast, or sometime between then and before lunch. Sometimes I'll start caramelizing onions mid-morning during school time to have them ready for a soup for lunch, since they take 40 minutes to caramelize.
My husband and I will often (almost daily) talk about finances between 6:00 and 7:00 a.m. while I'm making the bed and tidying the bedroom (he often helps me make the bed). He usually gets up and starts working at his desk in the bedroom right away. Later he'll shower and go in to the office. We have family prayer with him right before he leaves. If decides to work from home, we'll have it around 9:00 a.m.
If we are having leftovers for dinner (which is usually once or twice a week) I have more time to work on a project, such as sewing or gardening. It gives me 2 extra hours in my day if I have leftovers for dinner. If I'm working in the garden and the weather is nice, the children are usually playing in the garden near me. It's harder to sew after naptime than garden, but I will occasionally be able to sew a bit then.
Summer is different, in that I'll usually take a day or two a week and work in the garden in the morning (when it's only 100º out!) while my husband makes sure the children do chores. He makes breakfast on those days.
We have school year-round. We take off extra days at Christmas, and on really beautiful spring and fall days. I'll usually take off some pretty spring days to work in the garden and the children will have a picnic lunch on the grass in the garden on those days.
Saturdays are similar, but I don't get the children up early as there is no school. I do still expect them to do chores.
On Sundays we go to church and chores are limited. I do not do laundry or major chores on Sunday. I also do not garden, sew, or make bread on Sundays. Sunday is a day of rest for us. I try to prepare as much of the day's meals as possible on Saturday.
I know some of you are surprised that I use a dryer. Our dryer is natural gas. Our water heater, stove, oven, and central heat are also gas. My bill most months is around $33. The only loads I hang up are things that cannot be put in the dryer, which are usually 2 loads of delicates per week. Using the dryer saves me a lot of time as well.
My house is a one-story house. The laundry room is right off the kitchen, which I love. We set up the dining area right next to the kitchen. During school time, their schoolwork is done at the table. If they don't need help for a few minutes, I can work in the kitchen. If they do need help, I am just a few steps away.
I don't leave the house most days. When I do run errands it is usually at night after the children are asleep. Other times I will go in the early morning (while my husband stays home with the children and makes sure they do chores) or occasionally on Saturdays. If I have more than one place to go, I try to get them on the same trip, so I'll do two or three stores on one trip out of the house.
When I am pregnant or I have a new baby (so every other year!) the schedule is a bit different, as I am sleeping more/nursing/changing more diapers.
That afternoon quiet time to work on projects is pretty important to me. If it happens and I get things done during that time, I feel good about myself and my day. If it doesn't happen, I find that I feel a lot less satisfied. How well it goes depends on how well the children decide to nap/read/play without fighting or coming out of their rooms. If I don't get planned projects done, you can be assured that that is what happened several days that week!
In a few upcoming posts, I'll be talking about some ways that I try to maximize my time so that I can use it well. We all get 24 hours in a day, and I like to make the most of them.